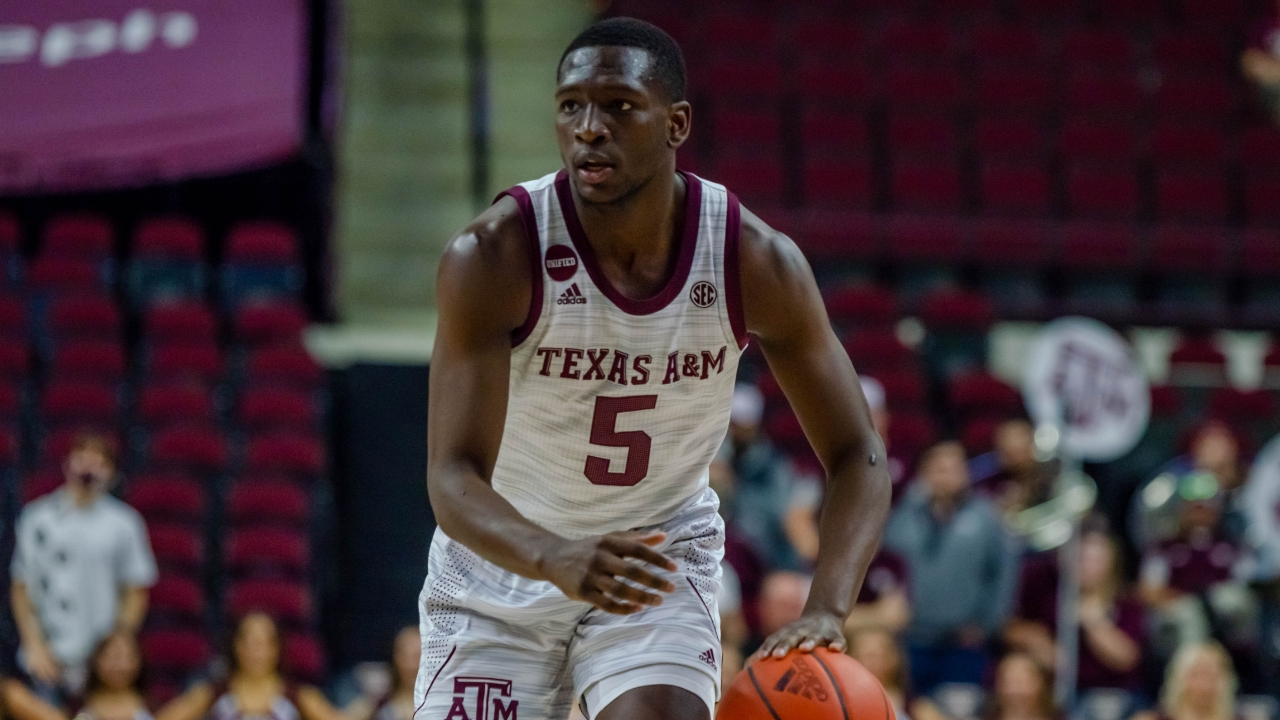 Photo by Corinne Moody, TexAgs
Texas A&M Basketball
Despite comeback, Texas A&M falls to Arkansas in overtime, 76-73
---
Hassan Diarra just couldn't repeat himself.
Diarra forced overtime on a clutch 3-pointer but came up just short on a bid to extend play a second time as Texas A&M fell 76-73 to Arkansas on Saturday night in a Southeastern Conference basketball clash in Fayetteville.
Diarra caught a long inbounds pass from Tyrece Radford and immediately launched a desperation shot which caromed off the backboard and off the rim.
"That was a draw up," Texas A&M coach Buzz Williams said. "Aaron (Cash) did a good job. Dre (Andre Gordon) executed. Marcus (Williams) did right. Boots (Radford) went through the reads in the right chronological order. Hass was the last option.
"I thought considering all that transpired with a short clock — I think it was 1.2 (seconds) — probably can't get a dribble. I thought it had a chance to go in."
That A&M even had a chance to win was shocking, considering how the game opened.
"You just trust him at the end of the game, there's not a stat for the leadership and the DNA of who Hass is as a winner."
The Aggies (15-4, 4-2) trailed by as much as 16 in the first half and by 10 midway through the second half of regulation.
Yet, freshman Wade Taylor IV keyed a comeback charge that brought the Aggies painfully close to sweeping the season series with Arkansas (14-5, 3-3) for the first time since 1986.
"So thankful he had the presence that he had for us on both ends of the floor," Williams said of Taylor. "I thought a lot of guys did so many good things, but Four (Taylor) was really good for us and helped us play from behind after such a slow start."
Taylor led all scorers with 25 points. Quenton Jackson contributed 13, and Marcus Williams and Redford each had nine for the Aggies.
Arkansas guard JD Notae had 17 to lead four Razorbacks in double figures.
The Aggies did almost everything required to win. They shot a stunning 95 percent (19 of 20) at the free-throw line, hit eight 3-pointers and held Arkansas to 37.5 percent shooting (24 of 64) from the field.
But A&M was always playing from behind after falling into a 20-4 hole to start the game.
However, Taylor hit all five shots he attempted — including three treys — to score 13 in the first half and help the Aggies pull within 33-29 at halftime.
He also hit a runner with 4:08 remaining to forge a 56-56 tie.
Still, A&M trailed 64-58 with a minute left in regulation.
But Jackson drew a foul outside the 3-point line and converted all of the three free throws.
After forcing a stop on the defensive end, Marcus Williams passed to Diarra on the left wing. Diarra ducked under leaping Arkansas guard Stanley Umude, dribbled to his left and drilled a game-tying trey.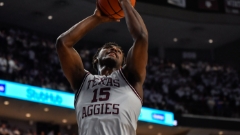 Jamie Maury, TexAgs
"You just trust him at the end of the game," Buzz Williams said of Diarra. "There's not a stat for the leadership and the DNA of who Hass is as a winner."
The Aggies took their first lead of the game on a Jackson layup to open overtime. They maintained a 68-66 lead when Diarra weaved through the lane for a layup with three minutes left.
But Arkansas came back to take a 74-71 lead on a jumper from forward Jaylin Williams with 13 seconds left.
The Aggies looked to Taylor, who had hit 5 of 8 attempts from behind the arc. They hoped he'd get a ninth.
Instead, Arkansas intentionally fouled Taylor with 5.5 seconds left. He made both free throws to cut the deficit to 74-73.
Then Arkansas beat A&M's defense for a dunk by Umude with just 1.2 seconds remaining.
"(We) tried to get a five-second call," Buzz Williams said of Arkansas' in-bounds play. "Tried to get a steal. Tried to get a tie-up. The jump ball favored us. With the fourth option being to foul."
Radford then threw a long inbounds pass to Diarra, whose shot came tantalizingly close to hitting its mark.
Never miss the latest news from TexAgs!
Join our free email list