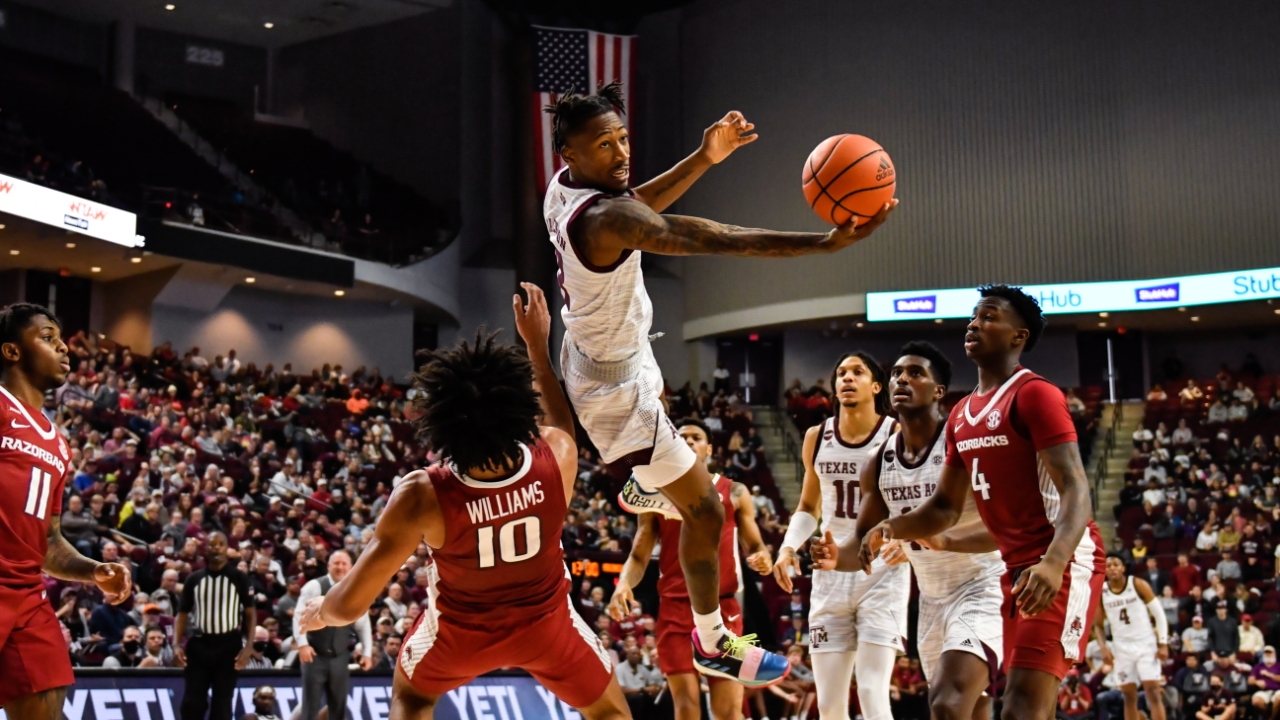 Photo by Jamie Maury, TexAgs
Texas A&M Basketball
Aggies seek sweep over suddenly surging Razorbacks on Saturday night
---
The Texas A&M basketball schedule indicates a rematch against Arkansas on Saturday night.
Aggies' coach Buzz Williams disagrees.
Yes, the Aggies face Arkansas at 7:30 in Fayetteville, but Williams said A&M is facing a different team than the Aggies defeated 86-81 on Jan. 8.
"Their team is different than two weeks ago," Williams said. "They had nine guys get offensive rebounds against us. They haven't played nine guys since then. They're playing six guys 175 minutes, and then the other 25 minutes goes to one and a half other guys.
"You can easily see the priority that they're trying to play with, particularly offensively. Forty-one percent of their shots have been in transition. That's a really high number."
Since losing to A&M (15-3, 4-1), Arkansas (13-3, 3-3) is on a three-game winning streak in Southeastern Conference play.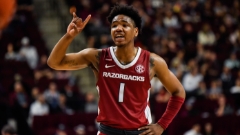 Jamie Maury, TexAgs
Guard JD Notae has averaged 18.3 points in that stretch and averages 20.4 points in conference competition. That includes a 31-point outburst at Reed Arena.
Also, guards Au'Diese Toney, Chris Lykes, Stanley Umude and Davonte Davis all average more than 10 points.
However, Arkansas has been more impressive on the defensive end during its winning streak.
Each of their last three opponents have scored fewer than 60 points. That's the first time Arkansas has limited three consecutive SEC foes to less than 60 points since 2015.
A&M wasn't much bothered by Arkansas' defense in the first meeting.
Quenton Jackson scored 16 points. Henry Coleman III had 14, and four others scored at least nine points in a game that was closer than it should have been.
A&M held a 17-point lead with 11 minutes to play. Arkansas rallied to pull within one in the final minute, but Hassan Diarra and Marcus Williams knocked down four free throws to clinch the win.
The Aggies can glean a measure of confidence from that victory.
"I think there is something about a mirror opponent," Williams said. "You have five of them, so at least five times a year, when you do a scouting report and prep, you have some footage of what happened recently.
"I do think there is some strategy and stuff that goes into that. How that attacked what we were trying to do the first time and what will be our counter to that.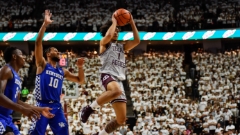 Jamie Maury, TexAgs
"Just like we do they have a plan for new things."
A&M shot 56.4 percent from the field and hit eight times from 3-point range in the win over Arkansas. That compensated for A&M converting just 16-of-30 free throws.
However, the Aggies — who lead the SEC in 3-point percentage — were woefully inaccurate in a frustrating 64-58 loss to No. 12 Kentucky on Wednesday. They also shot 38.5 percent at the free-throw line.
Despite their poor shooting, the Aggies led most of the way and trailed by just three points in the final minute.
They're very aware they must shoot considerably better to sweep the series with Arkansas for the first time since 1986.
"You can't shoot four percent from three and 39 percent from the free-throw line and beat Central Arkansas or any other opponent we've had," Williams said.
"But I will say: If you only lose by six and were fouling the last minute to push it to six, you must have done a lot of good things against a team that's good enough to win the national championship."
Never miss the latest news from TexAgs!
Join our free email list