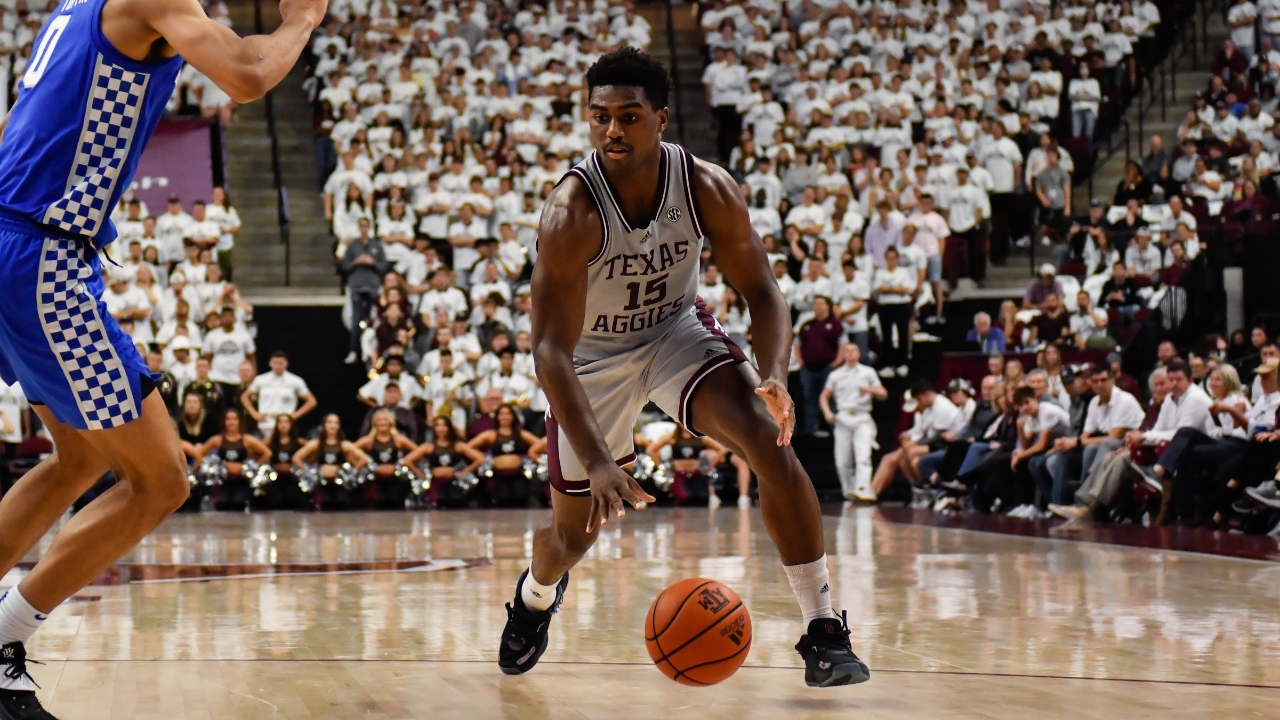 Buzz Williams
Coleman & Cash
John Calipari
Texas A&M Basketball
Ice-cold 3-point shooting dooms Aggies in nail-biting loss to No. 12 Kentucky
---
The Aggies missed almost everything on Wednesday night.
They missed badly from 3-point range. They missed frequently at the free-throw line. And they missed a chance to capture a big Southeastern Conference basketball victory over No. 12 Kentucky (15-3, 4-1).
The Aggies (15-3, 4-1) converted just one of their final seven shots and did not score in the final two-and-a-half minutes to suffer a gut-wrenching 64-58 loss before a record Reed Arena crowd of 14,036.
Henry Coleman III scored 17 points and had eight rebounds to lead the Aggies. Aaron Cash came through with eight points and 11 rebounds. Marcus Williams also had eight points.
Former A&M signee Sahvir Wheeler led Kentucky with 12 points. Guard Davion Mintz had 10. Forward Oscar Tshiebwe, who was averaging 16.5 points, was held to eight.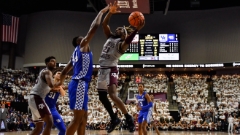 Jamie Maury, TexAgs
As is typically the case when Kentucky visits Reed Arena, A&M pushed the Wildcats to the brink. The Aggies did it with a relentless defensive effort.
But that could not compensate for A&M's shooting deficiencies. The Aggies converted just 1-of-22 attempts from behind the arc and shot only 38.5 percent at the free-throw line.
"It's hard to win when you shoot four percent from three or 39 percent from the free-throw line," A&M coach Buzz Williams said. "But specific to the things we wanted to try to accomplish… the four things that we thought were priorities to give us a chance, we tried really hard."
A&M sought to limit turnovers, slow down Kentucky's fast break and minimize Kentucky's offensive rebounds and second-chance points.
A&M committed just 12 turnovers while forcing 17. They allowed Kentucky only 10 fast-break points. The Wildcats had 15 offensive boards and 18 second-chance points. That's not a bad showing against the SEC's top rebounding team.
Consequently, A&M was in a position to win or force overtime in the final minute.
Trailing 61-58, Tyrece Radford could not connect on a 3-pointer with one minute left.
The Aggies got another chance after Coleman got a big defensive rebound with 36 seconds left.
The Aggies came out of a timeout looking to tie, but Hassan Diarra misfired behind the arc. Kentucky then hit three-of-four free throws to close out the win.
"I didn't think we played bad," coach Williams said. "I didn't necessarily think on the four priorities that we were as good as we could be. Our turnover rate was lower. We did a better job on the glass on both ends. We did a lot of good things, but I still don't think that we've necessarily hit our ceiling. We'll learn from the lessons that come from this."
"We did a lot of good things, but I still don't think that we've necessarily hit our ceiling. We'll learn from the lessons that come from this."
The Aggies were the aggressors at the outset and never trailed in the first half.
They shot 50 percent in the half, to build as much as a 13-point lead. A&M maintained a 33-22 advantage with just two minutes remaining in the half.
However, A&M managed only Quenton Jackson's breakaway dunk for the remainder of the half.
Wheeler sparked an 8-2 Kentucky run to end the half and cut A&M's lead to 35-30 at the break. The Wildcats were shooting 25 percent before hitting their last four shots in the final two minutes.
The Wildcats maintained that momentum to start the second half. Keion Brooks hit a pair of free throws and Wheeler drained a three-pointer to forge a 35-35 tie.
The score remained tied, 54-54, when Coleman rebounded Wade Taylor IV's errant trey and dunked with 6:32 left.
Kentucky's Jacob Toppin answered with a dunk. Then, Washington hit a jumper after Cash missed the front end of a one-and-one.
The Wildcats couldn't pull away, though. Radford hit a layup with 2:47 remaining to bring A&M within 60-58.
But the Aggies could not score again as their eight-game winning streak came to an end.
Their confidence did not.
"We have 13 more SEC games, and we're excited for those," Coleman said. "We've just got to keep chopping wood and carrying water."
Never miss the latest news from TexAgs!
Join our free email list