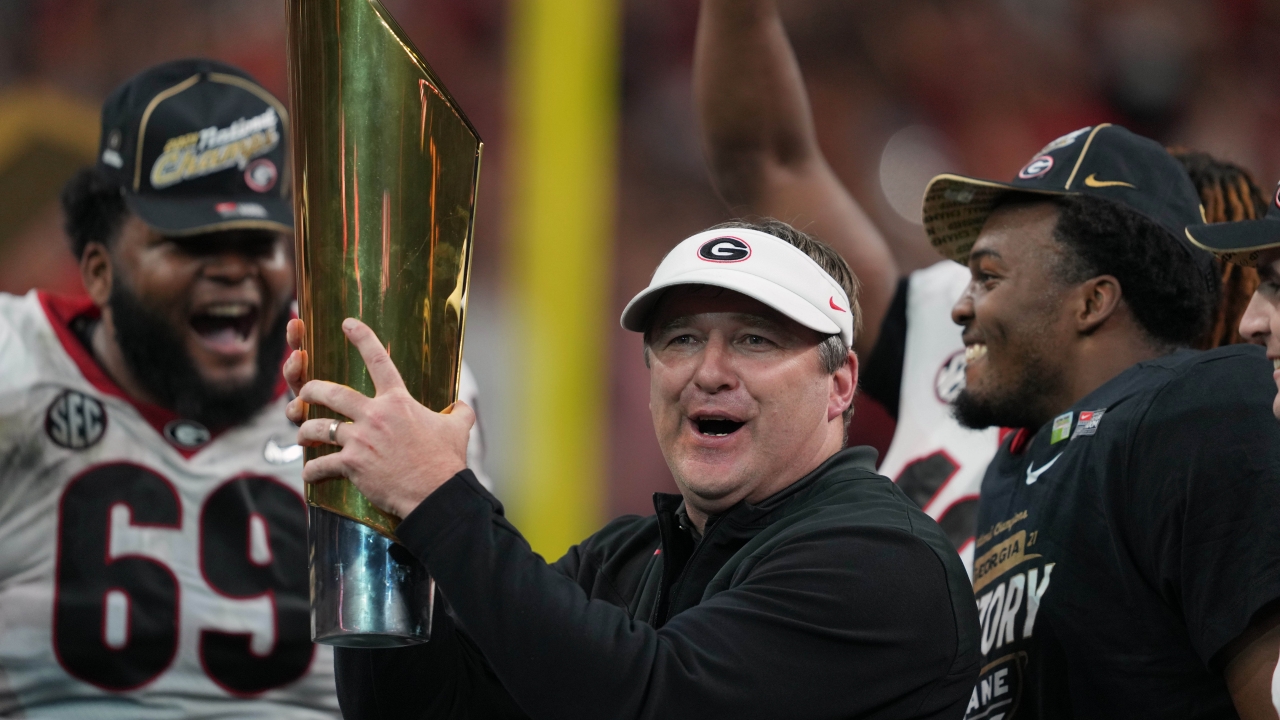 Photo by Kirby Lee-USA TODAY Sports
Texas A&M Football
Landry: Sustainable program allowed Georgia to finally reach mountain top
---
Key notes from Chris Landry interview
The SEC championship game was the anomaly. Georgia, of the two teams, had been the team that looked better on film all year long. They did not look good in the SEC championship game. Their defensive front was worn out, but I think they used the 40 days to work on their conditioning and simplify their defensive scheme. They played freer and generated a lot of pass rush on Monday night. The pass rush was the biggest difference between the first game and the second. The defense dominated as they have all year long.

Georgia was able to run the football late for some big plays. That was a difference, and we saw what I thought we'd see in the SEC championship game. It just came a few weeks later.

Georgia has had a program that has been on an elite level for a while. This is not like LSU in 2019. That was obvious that it wouldn't be sustainable. Georgia has sustained it. They've received criticism for not winning it all, but now that will go away. Anybody compared to Alabama is usually going to come up short because nobody is at that level.

Consistency is the key, and I'm always more impressed by someone that is there because you can't win it unless you're in it. I think that's where Georgia is. If you look at Georgia now, you think they might not lose but one game almost every year now. They're at that point. The other thing is recruiting. They've been recruiting at the highest level every year for a while. That program is already there, and this championship just puts the cherry on top. Does that mean they'll win three of the next five? I don't think anybody will do that, but Georgia will be in a position to do that year in and year out.

I think it will be Georgia and Alabama ahead of the pack for a while because they're so far ahead. It's going to be so hard to challenge them.

When Georgia and Alabama were in the old 10-team SEC league, they never played each other because there was no conference championship game, and they never played across divisions. I think this rivalry will be interesting for the foreseeable future.

The most important thing isn't about recruiting ranking. It's about the grades on the players. The top three classes each year might be virtually the same with very little separation. The ranking is only for hype, and it's great for Texas A&M to have that hype. It's now about the roster and the talent level. Recruiting is a big part of it. A&M needed the type of class they got, and they hit a home run getting it. You don't have to be the No. 1 class every year. If you develop those prospects and keep them around every year, you won't have to have the No. 1 class every year. Can you do what Georgia has done by getting the high-level graded class every year? That's the key to sustaining the program and getting to the level that Alabama and Georgia are at.

Everything in the recruiting cycle has moved up, and I don't necessarily think that's good. You offer guys sooner, and you know less and less about what you have. Do the juniors develop properly as seniors? The kids are recruited earlier. They come in earlier, and they leave earlier. It's a different way of going about developing players. For guys with a lot of talent, you have to get him ready sooner because you won't have him longer than three years. In the old days, you'd like to redshirt a guy and save him. Now, you have to get him on the field because if they don't contribute at a high level, they'll transfer. If they do, they're going to the NFL Draft early.

I saw some of the Jimbo Fisher broadcast. It's good exposure to have them there and to have their names up there. Being in a position where people are talking about you is good. A&M has gotten a lot of good exposure from the recruiting standpoint, and to have their staff talking during the national championship is good. It's great exposure to see what they're all about it. What's really good about it might be the young men out there that liked what they saw.

There are a couple of things at play with Jim Harbaugh. Maybe there is some mutual interest in the Raiders situation, but the Raiders are in the playoffs. Rich Bisaccia is in a good position to keep that job if they win this week. Harbaugh actually got his first job coaching with the Raiders, and he was a quarterbacks coach before he got the University of San Diego job. I think Harbaugh would be more intrigued with the Raiders job than the Bears job. Most coaches strike when they're hot. Michigan made the playoffs. He took a pay cut last year. Michigan would probably rework that deal. Either way, I think he'll be paid more money next year.

I always thought David Culley was put in a tough circumstance with the Texans. There was a lot of turmoil that started with the quarterback situation. A lot depends on who they can get, and if they can get a new coach, I think Culley would be gone. It's really tied to who they can get. They don't want to let him go and then miss out on the guy they may want. They want to make sure the guy they want is coming. Otherwise, they don't want another placeholder. They'd want a guy that Nick Caserio will be comfortable with.
Never miss the latest news from TexAgs!
Join our free email list