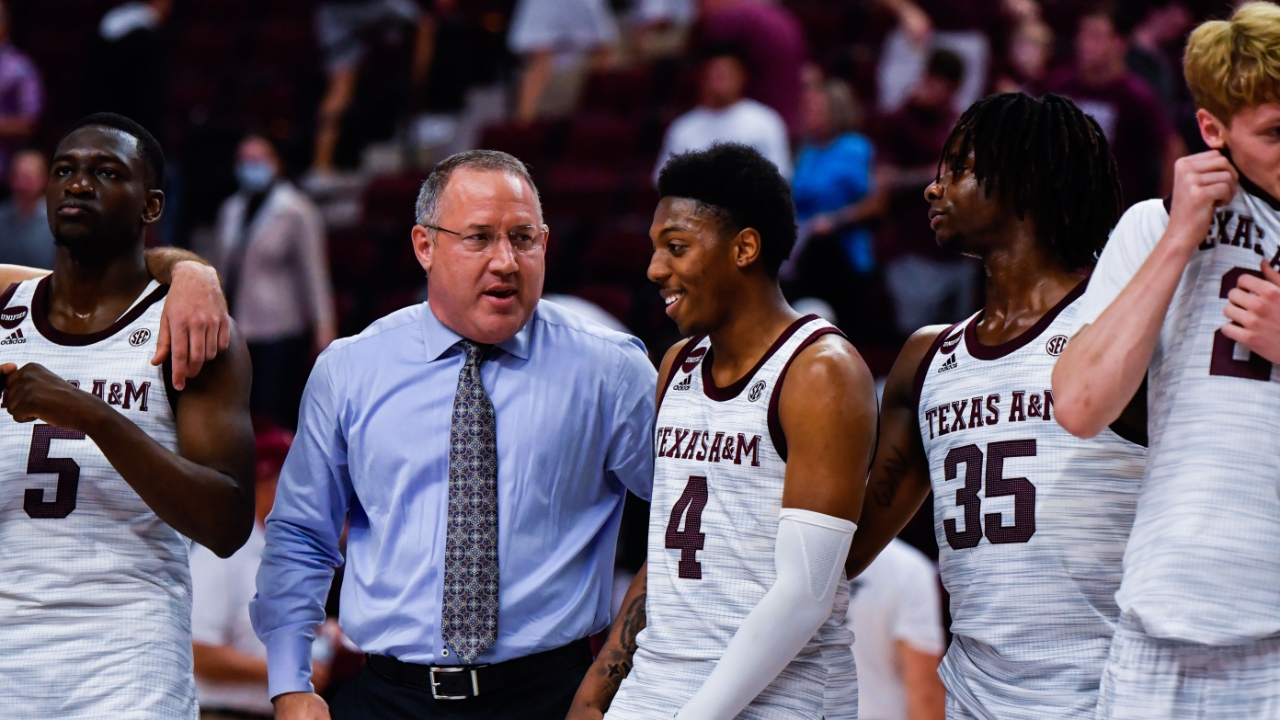 Buzz Williams
Wade Taylor IV
Ethan Henderson
Texas A&M Basketball
Texas A&M aims to capitalize on bench advantage vs. Ole Miss on Tuesday
---
Finding Texas A&M's edge on the basketball court is easy.
Just don't look on the basketball court. It's on the sidelines.
The Aggies routinely have had a significant advantage on the bench. A&M is averaging 36.2 bench points, while opponents average just 17.8.
A&M has outscored every opponent except North Florida in bench points. The Aggies' bench outscored Notre Dame's 60-13. Most recently, A&M outscored Georgia 23-14 and Arkansas 34-21 off the bench.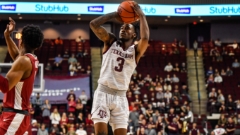 Jamie Maury, TexAgs
The Aggies (13-2, 2-0) aim to continue capitalizing on that advantage when they face Ole Miss (9-5, 1-1) on Tuesday at 7:30 p.m. at Reed Arena.
"We do have multiple guys who can pass, dribble and shoot," Texas A&M coach Buzz Williams said on Monday. "I think our roster is going in the direction we'd like it to go in. I think our guys have done a really good job accepting how we're asking them to play, particularly offensively."
Why not? The Aggies have won six straight and suddenly are being counted as a contender for March Madness.
Also, those coming off the bench are making a big impact on the scoreboard.
Senior Quenton Jackson has not started a game but leads the Aggies with a 13.5 scoring average. Wade Taylor IV averages 8.1 points coming off the bench.
Neither has lobbied Williams to start.
"I know he has enough on his plate," Taylor said. "I know my time will come. I just play my role and be the best I can be in that role."
Williams said Jackson hasn't even mentioned starting even though he has scored in double figures in five of the last seven games.
"I never said a word to (Jackson) about it, and he's never asked," Williams said. "It's never been a conversation with Q and I. The reason there hasn't been a word said is I think he trusts me, and I know I trust him."
Along with their deep bench, the Aggies have relied on trusty defense and 3-point accuracy to compensate for inconsistent free-throw shooting and erratic rebounding.
"I know my time will come. I just play my role and be the best I can be in that role."
A&M shot just 53.3 percent at the free-throw line and surrendered 20 offensive rebounds in the 86-81 victory over Arkansas.
Rebounding might not be as much of a challenge against Ole Miss, which is mediocre on the boards.
However, the Aggies figure to need a strong defensive effort. Ole Miss has five players averaging at least 9.1 points. Guard Jarkel Joiner averages 13.6 points, and guard Daeshun Ruffin averages 12.
Overall, the Rebels are shooting 33 percent from 3-point range, but in conference play, they've converted 22-of-45 attempts from behind the arc.
"They have shot the ball from three," Williams said. "In their two conference games, they've shot 50 percent. They've had some injury problems that plagued their team, but it seems like they're going in a better direction."
Never miss the latest news from TexAgs!
Join our free email list
PRESENTED BY