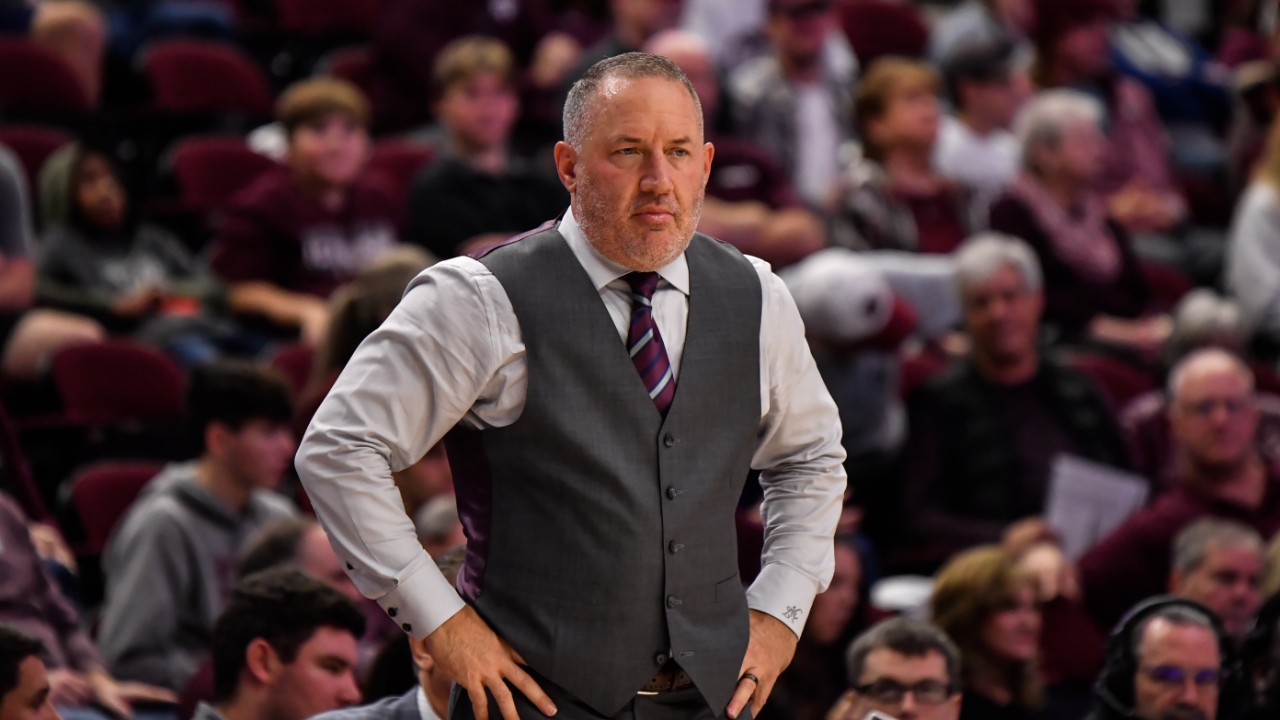 Photo by Jamie Maury, TexAgs
Texas A&M Basketball
Good or bad, Buzz Williams & Co. refuse to shy away from the truth
---
Key notes from Buzz Williams interview
It's fun to watch this team. It's fun to me, and it's a dream come true to coach this team. I thought I'd be a middle school or a high school JV coach, so to coach at this level is a dream come true. To see all the work and energy that our staff and players have put in come to life and have success on a public stage is what's the most fun to me.

Javonte Brown went in when we had three guys with two fouls. Henry Coleman III, Ethan Henderson and Aaron Cash each had two. Javonte hadn't played since Dallas Christian. We do individual skill work when we're not practicing, and his attitude towards not playing has been tremendous. His impact in the first half on Saturday when things were not going well completely changed the game. I thought he played tremendously, and if you were watching our bench, you could see how happy our kids were for him because he was playing hard and finding success.

I don't know how many games we can win going forward with the numbers we had. Arkansas outrebounded us more than TCU did, and TCU was our worst. Our ability to not get completely crushed on the glass will be an important characteristic over the next 16 games. Our line and the season will be determined by our turnover rate and everything that goes into rebounding. Arkansas had 20 offensive rebounds, and we only rebounded 57 percent of the shots they missed. That is atrociously bad. We are distinctly last in the SEC in defensive rebounding percentage, and that's hard to overcome to win games.

This tells you how thin the line is. It's an invisible line, and you never know where it is. You'll never know which players won't be able to play because of injuries and COVID-19. There are so many variables involved. At Georgia, Aaron Cash was so important, but he gets two fouls in two possessions and can't play. Brown changed the game. Everybody is important. The way we address it is to take the red pill because that's the truth. You acknowledge the truth, whether the truth is a good stat or a bad stat. Our team has been as good as any at receiving the truth and not shying away from it.

I'm one of the few coaches in the country that runs my own Twitter account, and I try hard that it's not a coaching commercial. I think there has been a groundswell over the last few weeks of the community supporting our team. I do a poor job of not looking into the stands. The older I get, it's like I'm Kevin Costner in "For Love of the Game," where all the things drown out. Still, you can sense how the energy changes. When the students come back, hopefully it will work out that they can come and see us. Hopefully, we can continue to get our crowd back to the level of some of the crowds in this league. Hopefully, it can be better than some of those great crowds in this league. You can see how this team is changing the ambiance of Reed.

I read one book a week. That's the easiest way to explain it, but within each week, I read four books. The fourth book is so that I can go to sleep. The three others that I read, I read them throughout the day, and my reading is scheduled. Every hour of my day is planned. Every day of the week is planned. If you look at my calendar for January, everything is planned. It's updated every day, and everyone on staff and my wife gets a copy of my calendar. We have an assistant coach in charge of time for our team and another coach in charge of my time. I have reading time throughout the day.

Whatever Dr. John Thorton says is more important than what I say because he knows more ball than I do. Kermit Davis' Ole Miss team plays a unique style, and it takes a considerable amount of time preparing for what they do on one side of the floor, which takes away from your preparation at the other end. Davis has a distinct style in how he coaches, recruits and how they play. We've been preparing and studying Ole Miss since Saturday because you can't spend an inordinate amount of time on the opponent and not on yourselves in a short turnaround. We'll have our hands full for sure.
Never miss the latest news from TexAgs!
Join our free email list