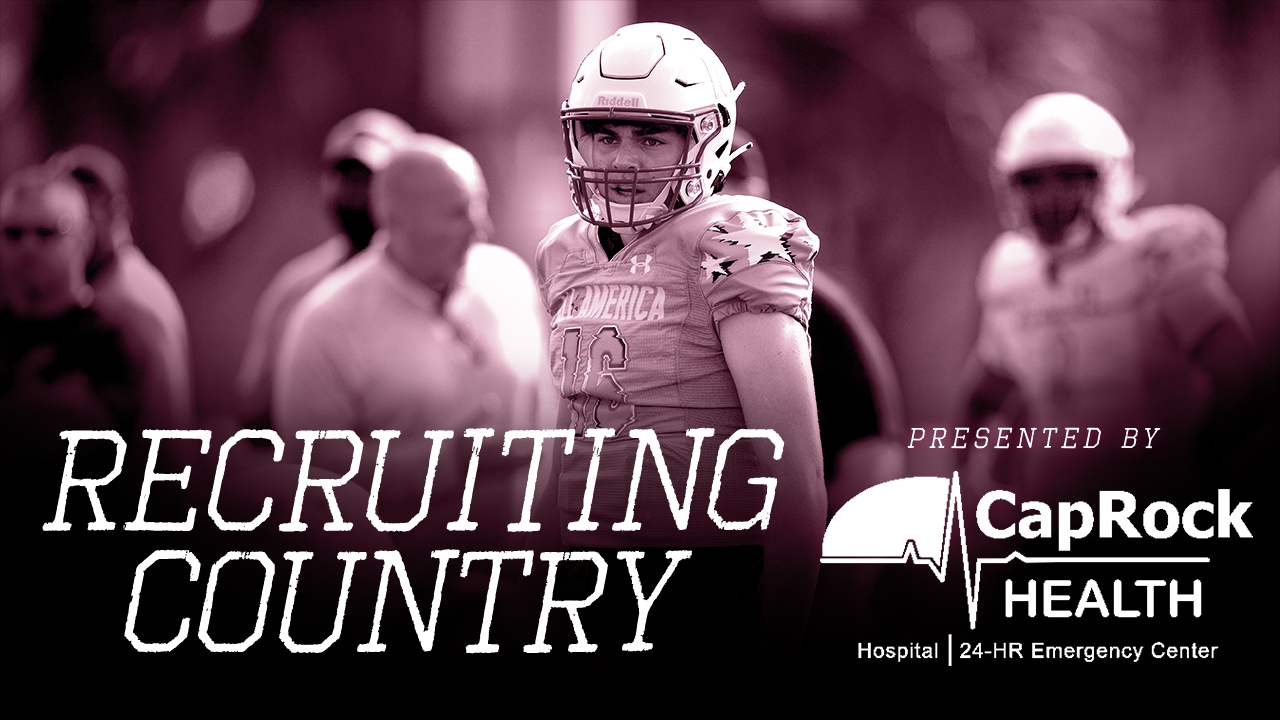 Texas A&M Football Recruiting
Recruiting Country: The latest recruiting news surrounding the Maroon & White
---
Key notes from Recruiting Country
It was a busy couple of days in Orlando. After media day was canceled due to COVID-19 concerns, we just had two 15-minute windows to interview 15 or 16 kids. Thankfully Jason Howell hopped on a flight to help me out because we wouldn't have gotten all our interviews with him. The Under Armour All-America Game was essentially a 2.5 hour Texas A&M infomercial. It was cool to see these kids end their high school careers like this. For a majority of those Texas A&M signees, they'll be here for move-in day in about six days. Some will even trickle in this weekend.

Some of the stuff that has come out about NIL deals and how they've been brokered, their longevity and their length is completely false. What A&M has done this cycle is destroy the cookie-cutter world that people like to live in. People are OK if Alabama, Georgia or Clemson are No. 1 in the recruiting rankings, but not A&M. There has been a lot of discussion about how NIL played a role, and I'm sure it did to some extent. How many times did we talk about it on this show? With this class, maybe once or twice. It was not a big talking point with this class at all. There were a lot of other reasons why A&M pulled this off, and NIL was not the main focus for any of these guys. It was the momentum and the feeling inside Kyle Field. It was the momentum of the program under Jimbo Fisher. It was the momentum of guys like Bobby Taylor‍ and others. NIL is probably not even in the top-five most significant factors with this recruiting class.

This class is so comfortable with each other. You never saw an A&M guy without another A&M guy in Orlando, whether at the hotel, practice or elsewhere. Anytime all of those guys were in the big-name skills competitions, their fellow signees were hyping them up. They've known each other for so long and been on so many recruiting trips to A&M and on so many video calls together that they're coming in with the feeling that nobody is a stranger.

Certain Aggie fans can't have anything nice without being worried and complaining. You just got the No. 1 linebacker in the country in Harold Perkins‍, and you're worried about losing him because he's not signed yet? He might take visits, and if he goes to Miami or Florida for a visit, those programs are way behind A&M. I mean WAY behind. That's because of the relationship with Tyler Santucci. Another reason is all the guys from Houston that he knows well. Guys like Conner Weigman‍ and Chris Marshall‍. These are things that other schools will have a very hard time overcoming. It's not a walk-in-the-park for A&M, and they'll have to work to keep him. However, nothing tells me right now that he won't be an Aggie.

If he were making his college decision today, Shemar Stewart‍ would choose Texas A&M. However, he's not making his decision today. He will visit Texas A&M. Somebody will have to catch and pass Texas A&M in this recruitment. That's something we've heard over the last couple of months, and it's still true today.

Walter Nolen‍ is going to play next year. There are a few guys that will play regardless of what the depth chart looks like in front of them. You don't see a guy play with that speed and power at that size very often. He takes on double teams and everything. He's the best interior defensive line prospect that I've ever covered. It's a different level of get-off and explosiveness in a 320-pound body. It matters to him, and he wants to prove that he's the best player on the field on every snap. When you have that talent and that want-to, it makes you the No. 1 defensive player in the country.

Tyler Santucci is a genuine, personal dude. Kids and families want to be around that. He has a ton of positive energy. Kids want to play that way, and his teams play that way. Santucci is an intelligent guy, and he's a bright, young coach. I think he played the long game with Perkins and never pushed him to commit to the class. Perkins appreciated that. Santucci made it very clear that Harold was a No. 1 priority for A&M and expressed what A&M could do for him for the next 40 years of his life. Santucci did a great job selling that. Guys like Elijah Robinson and Santucci are taking the next step in their coaching careers with what they're doing in recruiting.

I think you put Perkins in the best position that you believe will help you win games. The majority of that will be on defense. If he wanted to play receiver or running back or safety, he could. He'd be a high-level, impact player at those positions. He told me that Jimbo has talked to him about running the ball a few times throughout his career. If that's something that ends up happening, I'd feel comfortable with him doing it.

With the Adidas All-American Bowl, I'd like to see how Hunter Erb‍ stacks up against some of the best talent in the country. I've loved Erb's tape since A&M took him as a junior, so I'm excited to see how he holds his own. I'm disappointed Enai White‍ is out for the rest of the week. I know Jason said he was looking good off the edge. I'd love to see him back out there if they adjust their protocols.

The Polynesian Bowl is a little bit later out in Hawaii, and that's a game that Demond Demas played in. I think Harold Perkins is playing in that one as well.

Chris Marshall also talked to me about a guy like Jakoby Banks‍ as a player A&M would have a chance to get, but then Banks commits to Houston at midnight on New Year's. We'll see if Dana Holgorsen holds onto him as Fort Bend Marshall has been a program that has been very good to A&M. I would not count A&M out in that recruitment.

The rest of the country is finally figuring out what we already knew about Chris Marshall. He did have a smaller sample size, but I knew Chris was different the first time I saw him on the practice field. His rare athletic ability is off the charts. He knows how to use his body to create separation. He's an absolute dog when the ball is in the air, and you're not going to out-compete him for the football.

I don't want to get into why Weigman didn't start. It has been addressed. I watched the first two days of practice. He was the best quarterback there by far. Conner showed himself in the game and put his talent on display on a national stage. When the lights are on, he shines the brightest. His ability and time are just incredible. His internal clock of when the ball should come out, the trajectory it should be on and the receiver it should go to is so impressive. That's what reminds you of Johnny. The players have a lot of differences, but they are similar in that they can make crazy things happen. Weigman will challenge whoever is in front of him, and it will make the entire position group better. There will not be a position on this team that has a bigger swing.

Let's see how LSU finishes. They have players already, including a five-star quarterback in Walker Howard‍. Things that have been said about Brian Kelly have not been very endearing, and every time he makes a public appearance, he puts his foot in his mouth in some way. It has been a rocky start for him in Baton Rouge.

Bobby Taylor was always a big-time personality and someone who was always fun to talk to, even before he picked A&M. I know Johnny Bowens‍ is fun to talk to. Colton Thomasson‍ is another one like that. Eli Holstein‍ is on his way to being a five-star quarterback as well.

We won't know Texas A&M's recruiting calendar of events until they hire somebody to replace Marshall Malchow. They've had a Super Bowl Party the last couple of years, and it has been a big hit. I know Jimbo Fisher has enjoyed it, and it gives them a chance to sit down and watch football together. In terms of Junior Days, we won't know the calendar until they get their recruiting staff all hired.
Never miss the latest news from TexAgs!
Join our free email list
PRESENTED BY