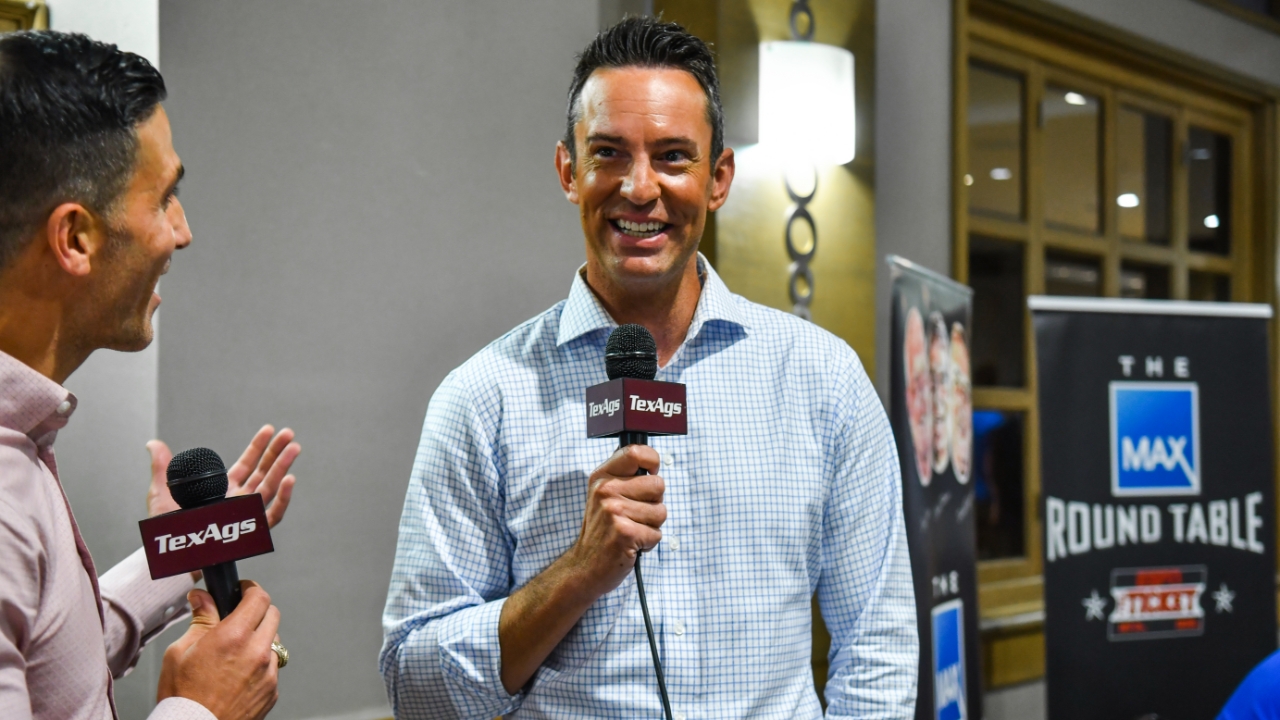 Photo by Jamie Maury, TexAgs
Texas A&M Football
He was right: Peter Burns called Brian Kelly to LSU before all y'all
---
Key notes from Peter Burns interview
I did say it was going to be Brian Kelly on SEC Network on October 18, and yes, I remember the date. I'm not sure how it played out, but I'm pretty sure Scott Woodward did not listen to me or my opinion. Other than Kelly doing the fake accent at the basketball game, I'm pretty fired up about the situation.

At the SEC Championship this weekend, we were talking about some of our shows. After the Kelly fake accent video came out, I wanted them to set up an interview with him immediately with either myself or Marty & McGee to steer into it. I think he's trying to acclimate himself with the people of Louisiana. This is college football, and that's the craziness and chaos he is knowingly signing up for.

I made the declaration that I wanted Brian Kelly. I got a tip from Liucci not too long ago that there was definitely smoke there. There were some context clues around the hiring. If I'm not mistaken, I'm pretty sure that Kelly and Woodward share the same agent. We should've known that he wouldn't have gone too far from the Woodward tree.

Go back and look at coaching carousels from like 2014 or 2016. Re-read some of those things. It's hilarious. We don't know how these hires are going to play out. The only no-brainer that I saw was Lincoln Riley to USC. It's a no-brainer for USC, the Pac-12 and college football as a whole. Never when Clay Helton was at USC did I make it a point to watch them. Now, I'm intrigued. I think Kelly and Billy Napier will have tough times, but I like the hires.

Being in the SEC is like being in an NFL Division. There is so much talent that any team can jump out and get you. It's a murderer's row. A&M went 8-4 in the SEC, and they're still a good football team. Going 8-4 in this league is like going 11-1 in the Pac-12.

Joe Brady was relieved of his duties after a year and a half with the Carolina Panthers. He was the architect of what LSU did in 2019, but he wasn't calling the plays. He presented concepts of what they should do. Part of why Brady went to the NFL is because he's not a big-time recruiting guy. I don't think he'll become the offensive coordinator at LSU.

The opportunity in the Gator Bowl for A&M is to get that ninth win. They should be able to dominate them physically. I watched NC State give Wake Forest living hell with their defensive line. I can't blame DeMarvin Leal for not playing, but they should still handle what they have on the defensive line. I'm not sure what the line is, but I think the Aggies should be favored by double digits.

Holy hell, the SEC Championship Game. That's just the demon of the Georgia Bulldogs. I've never seen so many fans look like somebody had just kicked their puppy.

I think JT Daniels will play in the College Football Playoff if ish hits the fan. It did not matter if it was Daniels or Stetson Bennett playing on Saturday because they played so conservatively. Georgia played like the beta when they were the alpha dog. If he plays in the Playoff, it will be telling of how terribly wrong things have gone.
Never miss the latest news from TexAgs!
Join our free email list