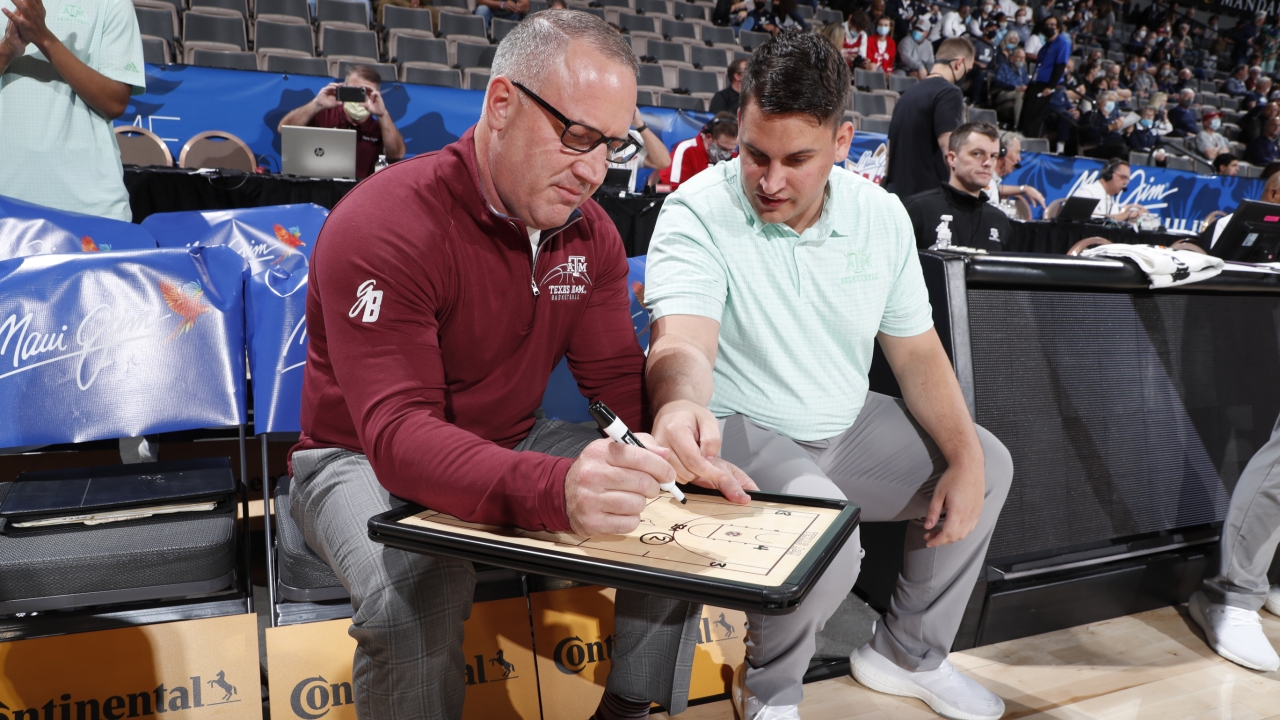 Photo by Brian Spurlock/Maui Jim Maui Invitational
Texas A&M Basketball
Buzz Williams, Aggies return home looking to build on recent success
---
Perhaps Texas A&M's band of largely unknown transfers that sealed-and-dunked their way to a 73-67 victory over Notre Dame might have piqued the interest of fair-weather basketball fans.
Maybe those fans will head to Reed Arena tonight at 6 p.m. to see the Aggies face New Orleans (3-4) and get an introduction to these new faces and the Nolan Richardson-type defense they've shown.
Call it 40 minutes of Hello.
The Aggies (6-1) resembled Richardson's old defense-fueled Arkansas teams in closing the Maui Invitational with that impressive come-from-behind victory over Notre Dame.
The Aggies trailed by as many as 14 points in the second half before holding the Irish scoreless for almost nine minutes amid a plague of turnovers.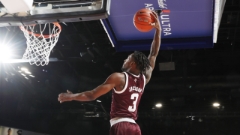 TexAgs
Overall, A&M parlayed 18 Notre Dame turnovers into 16 points, the majority of which came in the second half.
Quenton Jackson finished that game with 18 points. Hassan Diarra had 17 and freshman Wade Taylor IV had 14.
The Aggies' performance raises the question of just who are these guys and can they continue that dominant play.
"I feel like that's how we're supposed to have been playing from jump every game," said senior Tyrece Radford, a transfer from Virginia Tech. "That was the true us that came out. We were in a situation where that's what we needed. I feel like we should start off like that. That's what we're working on. Bring that energy when the game starts."
That second-half effort against Notre Dame looked quite familiar to A&M senior Ethan Henderson, a transfer from Arkansas, who is well aware of Richardson's style of defense.
"Just pressing the whole game. Getting them out of their sets. Us getting the ball rolling, offense is doing well, coaches responding well, we're responding well. That's what we need," Henderson said.
What the Aggies really need is to build on the success they had against Notre Dame.
They need to prove they weren't just playing lights out, but that the light came on.
"The energy that we played with, specifically defensively, I thought was the turning point," A&M coach Buzz Williams said.
"I have an idea about the personality of each player. I think we hope the personality of our team is what it was to close down the Notre Dame game."
"The energy that we played with, specifically defensively, I thought was the turning point."​​​​
The top priority against UNO is to close down guard Derek St. Hilaire, who is averaging 21.6 points.
"He's really good," Williams said. "There's similar vibes to Abilene Christian and New Orleans as far as how they want to play, how their guards play. They're downhill. They play fast in transition."
A&M struggled for an 81-80 victory over Abilene Christian on Nov. 12.
"We're going to have to find something that we can take away," Williams said. "You can't let them score in transition the way they want. You can't let them get downhill and you foul or they take uncontested threes at the clip they've been going at."
Play defense like they did against Notre Dame and the Aggies will accomplish those goals.
Never miss the latest news from TexAgs!
Join our free email list