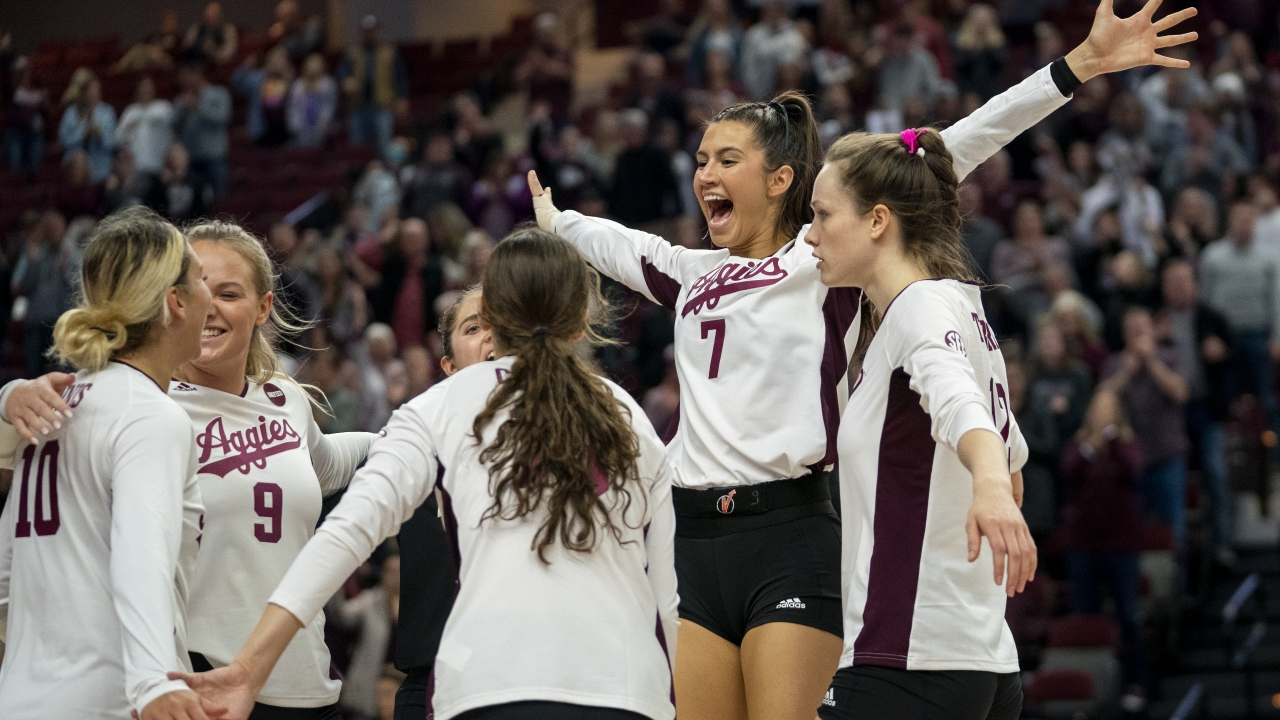 Photo by Sam Craft, Texas A&M Athletics
Texas A&M Volleyball
Aggies close out season with dominant win over Mizzou, 3-0
---
Texas A&M volleyball displayed a dominant performance against Missouri on Saturday at Reed arena, finishing with a 3-0 sweep (25-16, 25-21, 25-22) to conclude their season. the game also marked the Aggies' senior night, where the team showed their appreciation for graduating seniors on the team.
"For our team to go out and execute and win in three was the most appropriate send-off for the senior class, but a testament to the core of who we are as a team," said Texas A&M head coach Bird Kuhn. "The production from the middles, and Camille, especially her last kill. That is Camille and who she is as a player and how she attacks with her weapons. To display that in front of the 12th Man, on senior night, that was huge for our team and I'm proud of them."
Senior Mallory Talbert led the team offensively with 12 kills and two blocks, putting up a hit percentage of .500. Lauren Davis followed closely behind, slamming 7 kills and 2 blocks. Camille Connor set a match-high 34 assists and served 2 aces.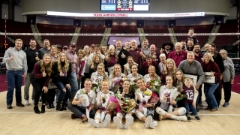 Sam Craft, Texas A&M Athletics
Texas A&M started the first set with a four-point streak, setting up the frame for a one-sided performance as the Aggies charged forward. Despite a four-point run from the Tigers to bring the total to 18-14, Texas A&M capitalized on Missouri errors to end the frame at 25-16.
The Tigers started the second set with a lead, but A&M quickly pulled forward to make it 12-10. The Aggies held onto that momentum for the remainder of the frame as Connor slammed a service ace to bring the total to 25-20. A Talbert kill brought the set to a close, 25-21.
The third set began with an A&M lead, but Missouri managed to keep the score close as the teams exchanged blows, keeping the score tight for the majority of the frame. An Austin-Roark kill sent Voss behind the service line at 18-20, where she immediately landed a service ace.
Talbert slammed a kill to lock the set at 22-22 and Connor followed up with a kill of her own as the energy on the court turned in the Aggies' favor. An attack error by Missouri put the game at set and match point with Carrabine on the serve. A Talbert kill completed the sweep at 25-22.
"We need to continue to invest in each other. That's the biggest thing we've learned with this group. We have to invest in each other and have the feeling we had tonight," said Kuhn. "Playing for the seniors, playing for each other and playing for this program every time we go out and compete."
Never miss the latest news from TexAgs!
Join our free email list