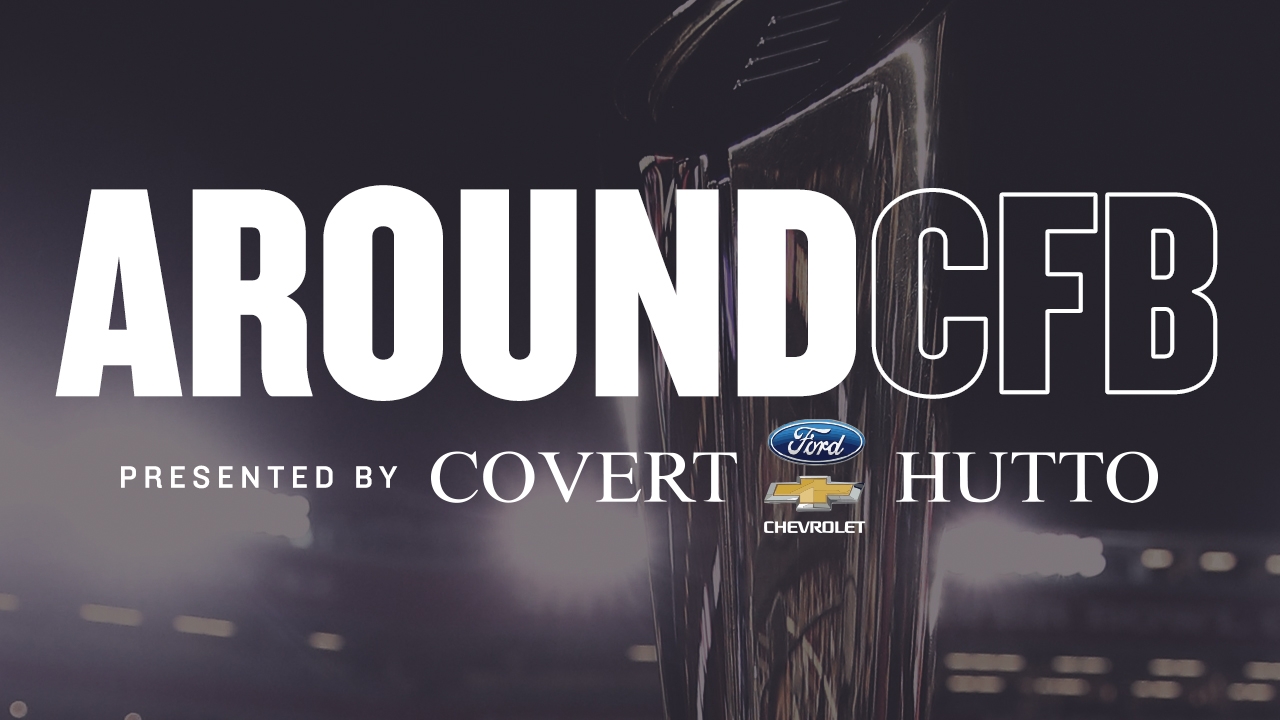 Photo by Mark Rebilas-USA TODAY Sports
Texas A&M Football
Around CFB: Michigan looks to end Ohio State's win streak in 'The Game'
---
Thousands of disappointed Ohio State football fans traveled south on Highway 23 after a 24-17 loss to arch-rival Michigan in 1999.
As the caravan neared Toledo, a large white banner hanging from an overpass was visible in the distance.
When the Buckeyes got closer the numbers 9-2-1 were clear. The message was, too.
That was Michigan's record against Ohio State over the previous 12 seasons. The Wolverines would increase the streak to 10-2-1 the following year in Columbus.
Gloating and taunts have always been as much a part of that nasty rivalry as winged helmets and buckeye stickers. The vitriol is as legendary as former coaches Bo Schembechler of Michigan and Woody Hayes of Ohio State.
Indeed, Woody Hayes famously only referred to Michigan as "that school up north." He even went for a two-point conversion after the Buckeyes final touchdown in a 50-14 victory over the Wolverines in 1986.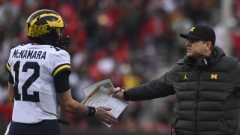 Tommy Gilligan-USA TODAY Sports
Asked why he went for two, Hayes growled: "Because they wouldn't let me go for three."
Nobody is going for two with a big lead anymore, but the rivalry is still intense.
"We'll be channeling Bo and Woody: blocking and tackling," Harbaugh said. "The game will, in large part, come down to it."
There is as much at stake in the 11 a.m. clash in Ann Arbor as any time since the end of the "Ten Year War" between Schembechler's and Hayes' teams from 1969-1978.
Ohio State (10-1, 8-0) was fourth in the College Football Playoff rankings before Tuesday night's reveal. Michigan (10-1, 7-1) was ranked sixth.
The winner will represent the East Division in the Big Ten championship game. The winner likely will be selected to the four-team College Football Playoff field.
"Both teams have a lot on the line," Harbaugh said. "It's a true playoff in that sense. In the College Football Playoff world, this is the start of the playoffs. The team that wins will advance. The team that doesn't, won't. It's that and it's also, you know, the big game, the game, the rivalry."
Perhaps, but the rivalry just isn't what it used to be. Ohio State has won eight straight and 15 of the last 16 over Michigan.
The streak will probably extend to 16-1-0. Maybe Buckeyes fans will write that on a banner and hang it on an overpass in Michigan.
Heisman watch (If my ballot was due today)
1. Bryce Young, Alabama, QB: The second-year quarterback passed for 559 yards and five touchdowns in a 42-35 victory over Arkansas. He's thrown for 3,584 yards and 38 touchdowns with only three interceptions this season.
2. C.J. Stroud, Ohio State, QB: In a 56-7 victory over Michigan State, Stroud completed 32 of 35 passes for 432 yards and six touchdowns. Overall, he's thrown for 3,468 yards and 36 touchdowns with five interceptions.
3. Will Rogers, Mississippi State, QB: Rogers has thrown 15 touchdown passes in the past three games. Last week he threw for 391 yards and five touchdowns in a 52-10 drubbing of Tennessee State. Rogers has passed for 4,115 yards and 34 touchdowns with eight interceptions.
4. Matt Corral, Ole Miss, QB: Corral passed for 326 yards and two touchdowns and rushed for another 29 yards in a 31-17 victory over Vanderbilt. Overall, Corral is ranked ninth in the nation with 3,657 yards of total offense. He's passed for 3,105 yards and 19 touchdowns while rushing for 552 yards and 10 touchdowns.
5. Kenneth Walker, Michigan State, RB: One subpar game does not dismiss a great season, but 25 total rushing yards in a crucial game will damage a candidacy. Walker was limited to 25 rushing yards on six carries in a 56-7 loss to Ohio State. Overall, he's rushed for 1,498 yards and 17 touchdowns.
Predicted playoff participants
1. Georgia: The Bulldogs are a defensive… uh… juggernaut. Kirby Smart is a… uh… mastermind. That cannot be debated. Neither can the fact that Georgia is the best team in the country.
2. Ohio State: The beat down of Michigan State shows the Buckeyes are back to normal. Normal means beating Michigan again.
3. Cincinnati: An undefeated season, a win over Notre Dame and political pressure likely ensures Cincinnati gets in.
4. Notre Dame: Personally, the feeling here is Alabama would crush Cincinnati and Notre Dame. But Alabama figures to finish with two losses. Will the committee take a two-loss Alabama over a one-loss Notre Dame? Maybe the committee will prove me wrong, but I'm skeptical.
Games to watch
No. 4 Ohio State at No. 6 Michigan: A key clash of Top Ten teams and arch-rivals. National championship hopes are at stake. Look for Harbaugh to fall again.
No. 13 Oklahoma at No. 9 Oklahoma State: Bedlam might be the first of back-to-back games. The Sooners and Cowboys could meet again in the Big 12 Championship game. That might depend on OU winning.
Oregon State at No. 3 Oregon: The Ducks need a victory to clinch a rematch in the Pac-12 Championship game. But Oregon State is no longer a pushover.
Florida State at Florida: For those that are fascinated with train wrecks and dumpster fires. A victory gives either team bowl eligibility and another game. Therefore, the winner may actually be the loser.
Never miss the latest news from TexAgs!
Join our free email list
PRESENTED BY