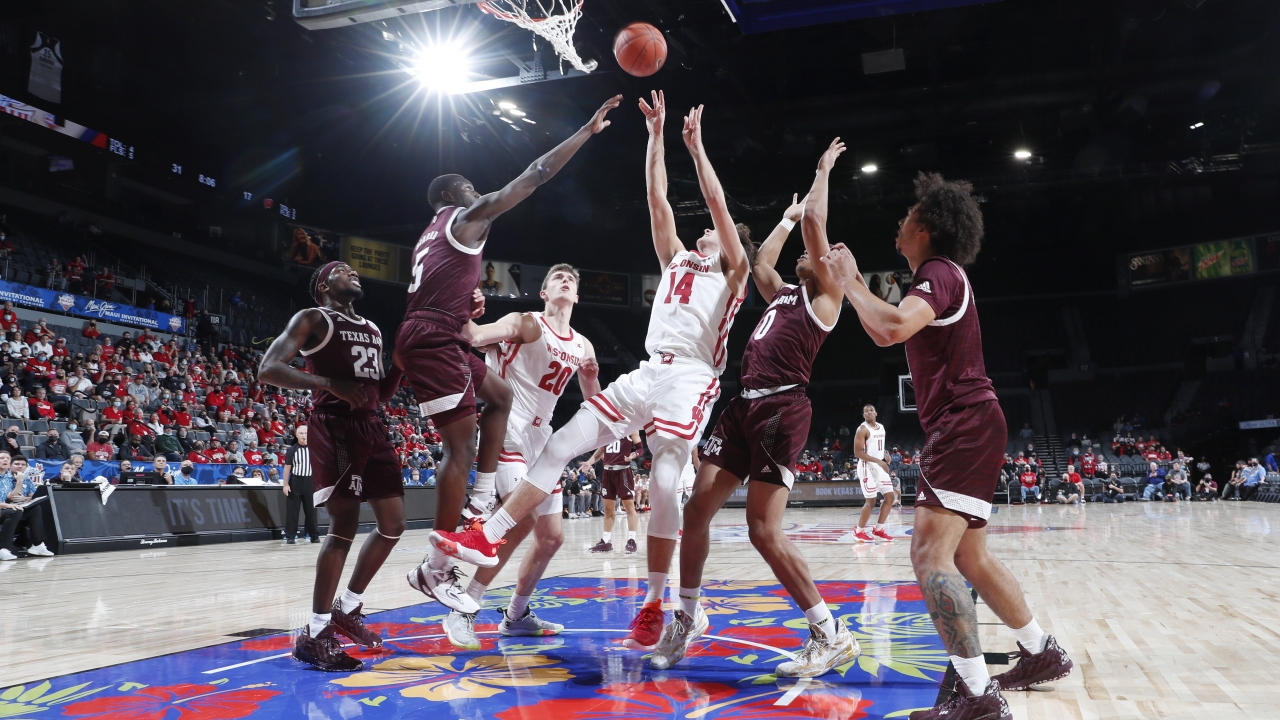 Photo by Brian Spurlock/Maui Jim Maui Invitational
Texas A&M Basketball
Texas A&M falls to Wisconsin in Maui Invitational opener, 69-58
---
It was the best of times. It was the worst of times.
Texas A&M basketball's first game of the Maui Invitational against Wisconsin certainly followed the storyline of the great Charles Dickens' classic, "Tale of Two Cities." Unfortunately for the Aggies, there were more bad times than good in a 69-58 loss to the Badgers in Las Vegas.
Wisconsin used a dominating 51-19 run that spanned nearly 20 minutes from the 12-minute mark of the first half to midway through the second half, as Johnny Davis led the Badgers both in points (21) and rebounds (9). Wisconsin's size and physical play affected A&M during this portion of the game.
"We didn't respond the way we should have. I wouldn't say it caught us off guard, but we need to respond better."
"We didn't respond the way we should have," Quenton Jackson said. "I wouldn't say it caught us off guard, but we need to respond better."
For the game, the Badgers flexed their muscle in the paint, out-rebounding the Aggies, 36-29. More importantly, they outscored A&M in second-chance points, 15-5, and points in the paint, 22-14.
The Wisconsin run overshadowed Texas A&M's red-hot start.
Behind a blistering three-point barrage, the Aggies jumped out to a quick 13-2 lead that expanded to 26-10 at the 12:04 mark of the first half. During that stretch, A&M made six of its first seven shots beyond the arc, powered by a trio of makes by junior Andre Gordon. Jackson added three long-range baskets and led the Aggies with 15 points as the only player in double digits for Texas A&M.
That's when the storyline flipped.
A&M was held without a field goal over the final 7:10 of the first half, and a 33-20 lead turned into a 35-34 deficit at the break. The Badger run continued after halftime, and Wisconsin's lead bloated to 61-45 at the 8:45 mark of the second period.
The Aggies eventually got things turned around and closed the deficit to within seven, 65-58, with 1:14 left in the game. However, that's as close as they would get.
"I thought we did a lot of good things," A&M head coach Buzz Williams said. "We just didn't do them long enough.
"We ended (the game) fine. We started great. But we exhaled in the middle, and you can't exhale when you play Wisconsin."
The Aggies return to action tomorrow and will face Butler. Tip time is 1:30 p.m. CT, and the game will be televised on ESPN2.
Never miss the latest news from TexAgs!
Join our free email list