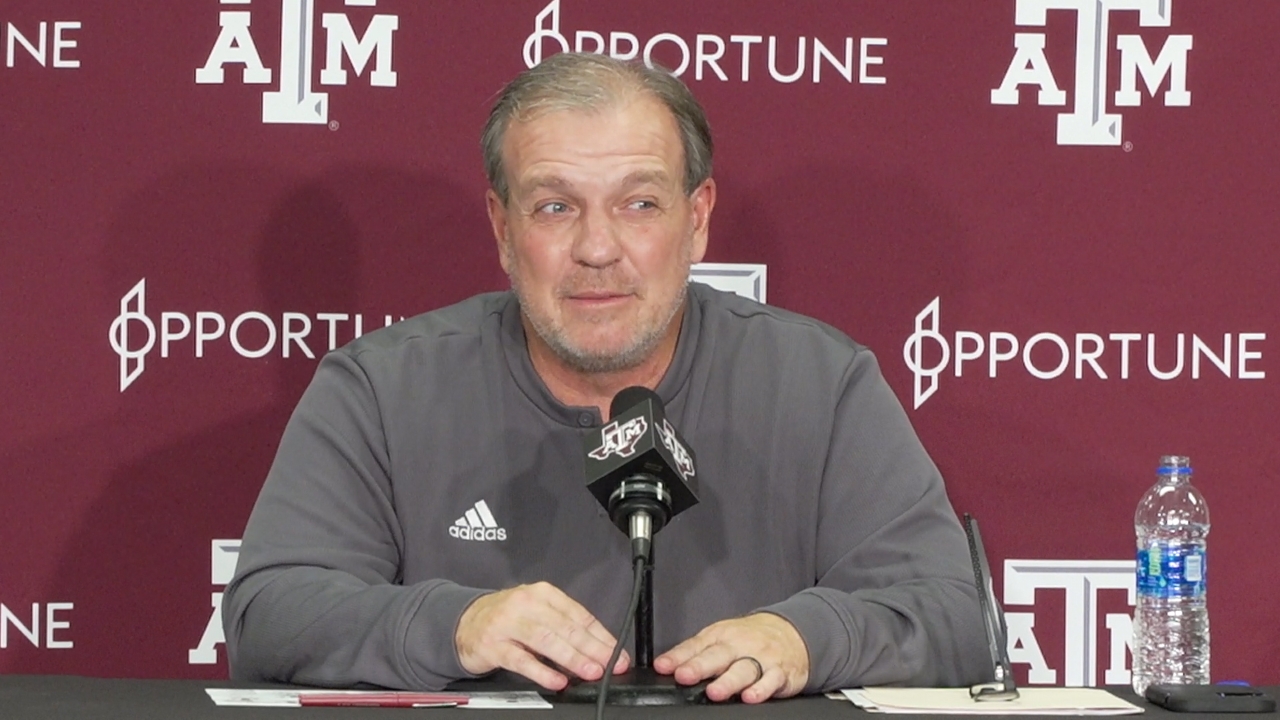 Jimbo Fisher
Jaylon Jones
Antonio Johnson
Jalen Preston
Texas A&M Football
Press Conference: Fisher, Aggies focused on regular-season finale vs. LSU
---
Texas A&M will conclude the 2021 regular season on Saturday night when the Aggies face LSU at Tiger Stadium in Baton Rouge. On Monday, Jimbo Fisher, Jaylon Jones, Antonio Johnson and Jalen Preston spoke to the media about the upcoming showdown.
---
The following are live, paraphrased notes from Jimbo Fisher's Monday afternoon media availability:
After reviewing the film, the thing I was most proud of was our ability to execute without a lot of negative plays or penalties. We played well and won by a lot of points. We communicated well. They were challenging in their looks. They did a nice job defensively. It was good to get back to winning and playing well in a game. We had a good week of practice last week. We need another one this week. An extremely hard opponent in LSU. Very talented football team. Max Johnson is doing a great job. Young receivers have really come on. Offensive line is always really good. They've given up 20, 16 in overtime and 14 points in the last three games. Outstanding defense. They have 330, 340-pound guys. The two backers are natural and move really well. The defense is doing an outstanding job. Their field goal kicker is outstanding. He missed one last week. That was his first miss of the year. We got to play really well. They play well there. We need to play really well. We have a lot to play for to close the season out. I know it's Ed's last year, so he'll have them ready to play.

You have to allow yourself to grow. Growth is optional, and it's a choice. Leon O'Neal bought in that he wanted to be part of something bigger than him. It has been fun to see him become a man. I'm proud of how he's doing things in life.

There was never an LSU job offer in 2015 then. I was at Florida State. We were very happy and winning a lot of football games then.

They're important games because they're SEC West games. I call them double whammies. They're all rivalries to me. We recruit Louisiana, and they recruit Texas, so we're very close. It's always a big game.

I like playing a lot of the teams we already play. Playing LSU and Alabama are great games, but we will have to wait to see what the new dynamic is. It's always a great game, that's for sure.

Tyreek Chappell has handled the load well, and he believes in the process. He executes on the field and doesn't overload himself. He covers very good players. He covers all types of players and has handled things extremely well. Sometimes, being thrown in early can be good. He was sure he wanted to play. That's even tougher sometimes.

Antonio Johnson's hit was impressive. He got clean off the edge. I was most proud of how he tackled the guy. It was clean. He didn't try to headshot the guy. He stayed focused in the moment, and it was a very pretty tackle. Good teaching reel.

I call Reuben Fatheree the babyface. They're 18, 19 years old. Those young guys and the load upon those guys are stressful. Fatheree has done a great job. He's intelligent and very contentious. He wants to do good. He feels good if he lets you down. He's a great talent.

It matters who you're playing on the road. They're all big games, tight games. What makes any stadium hard to play in? The players on the other team. Why is the crowd so loud? Because the players are playing well.

Trusting the process is key to winning in Baton Rouge. Focusing on what you have to do and not the result. If you worry about the result, bad things happen. Keep your poise.

If you play in this league, you better match all of the intensity. Our opponents are faceless. It doesn't matter who you play. It matters what we think and what we do. You have to match execution, physicality and toughness. It's about our standard.

Tiger Stadium has a dynamic atmosphere. It was fun to feel that atmosphere. We had really good teams when I was there, winning national championships and SEC championships. It was electric and fun. They're great people who love their Tigers. It's a great place when you're home and a tough one when you're on the road.

Chase Lane is still status quo.

There is trust. You have to trust. People say that coaches have the players' careers in your hands, but they have our careers in their hands. It's a trust factor. I'm coaching them for who they can be. You have to be uncomfortable to be a great player. You have to push for something. To build that trust and love together, they have to understand that everything you say is in their best interest. I have trust in them, and I hope they have it in me. We're building it every single day.

You have to have balance on the offense. In games where we haven't, we've been hurt by that. LSU's defense is good, so you're going to have to win the ball in both the run and pass to be able to school.

You don't change. You have to learn to get more juice early in practice. How well you practice, you have to take it to the field. There have to be more tweaks and urgency.

Ainias Smith and Caleb Chapman should be good.

Texas A&M-Texas was on Thanksgiving, and there weren't many games. Cowboys and Lions were on. I remember watching those A&M-Texas games. That was back in the 70s and early 80s.

Muhammad played with great consistency and ran good routes. He had a good week of practice, so I'm hoping he has another one.

Jaylon Jones came back with big expectations, but he is learning not to put pressure on himself. The second half of this season, he has played great football. He's a leader on this team.

We'll practice earlier on Thanksgiving, and then we'll have a team dinner that night. We'll leave a couple of hours after that.
Never miss the latest news from TexAgs!
Join our free email list