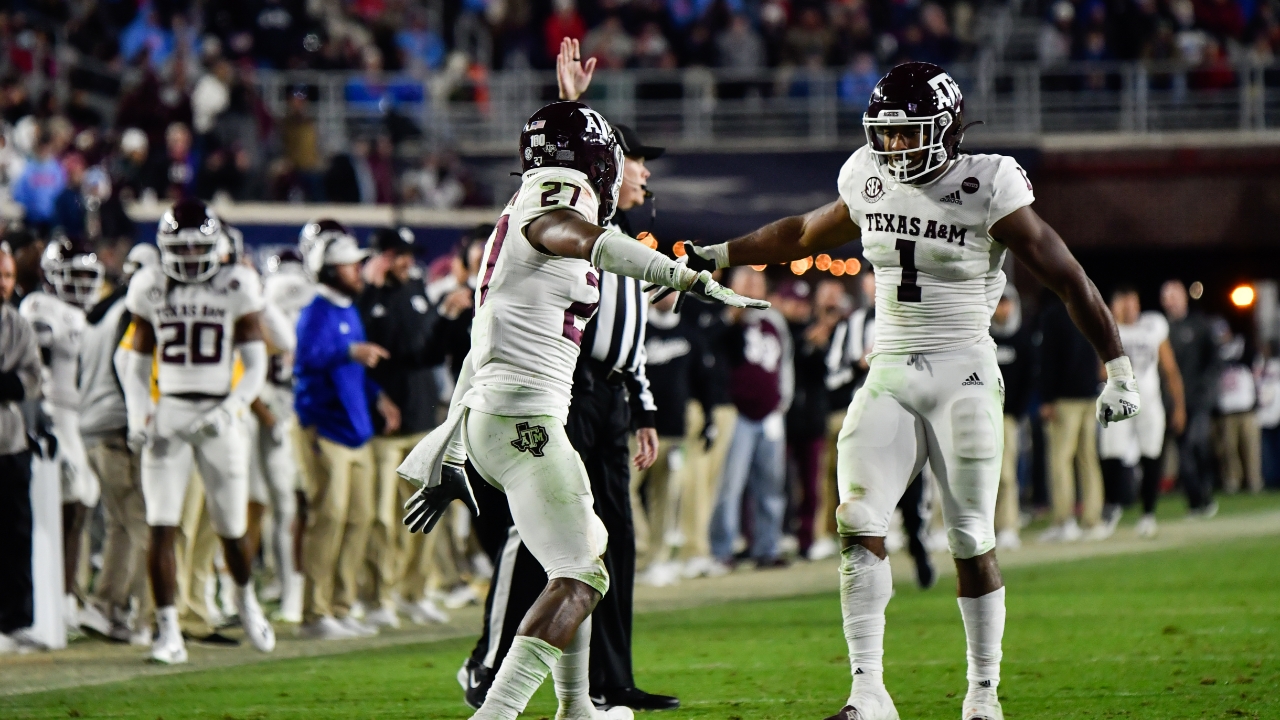 Photo by Jamie Maury, TexAgs
Texas A&M Football
Landry: A&M's stout red-zone defense kept Aggies in Ole Miss game
---
Key notes from Chris Landry interview
You've got Mississippi State and Ole Miss playing in the Egg Bowl, and that will be a big win for one of those teams. Both beat A&M. With bowl picks, it comes down to pecking order and travel. I think A&M is in good shape, but it depends on how everybody finishes out. It's hard for me to say what the high-level and low-level marks are. One of the Florida bowls sounds like the best bet with where A&M is right now. There are still two weeks left.

First of all, I thought Ole Miss completely outplayed A&M. If it wasn't for A&M's red zone defense, this game could have been even 27-0 rather than 13-0. The red zone defense kept them in the game.

Ole Miss put numbers in the box with six DBs to take away the run game. I thought A&M could run the football game and thought they'd do a good job of putting a hat on a hat. Ole Miss out-quicked them. They did a good job of running by them. They shot gaps, and the running game never got going because Ole Miss was shooting gaps before the creases could be created.

If A&M cannot run the football, it's not going to be a very good offense. They struggle to throw it when they have to. However, there were some chances for them in the passing game. There were some drops and some poorly run routes. You have to have some success in the passing game, and you have to be sort of balanced. This offense is not balanced.

One of the things A&M did well vs. Alabama was dictating the flow with the run. Against Ole Miss, the Rebels played off the ball some with the lead, and that created some run creases. The outside zone was working more because Ole Miss was focused on getting through the A and B gaps consistently.

I kept looking at the A&M-Ole Miss game and thinking about how you couldn't ask for more from A&M's defense. Yes, they gave up a lot of yards. You don't want to give up the big chunk play. You have to understand that Ole Miss is going to get yards, but you have to rally and make plays when you need to, which they did in the red zone. I thought they did a lot of good things to give themselves a chance.

I thought Jimbo Fisher was a little bit behind in understanding the protection schemes and what could work. I don't think they did a good job of playing sequences to give themselves a chance.

Against an Auburn, you'll have a chance to win a game like that because Auburn doesn't have an explosive offense. Against a team like Ole Miss, if you have a team that has a really good offense, you have to find a way to be balanced on offense to win the game.

A lot of what Ole Miss did in the running game was missed tackles and taking advantage of the numbers from the defense. They do an excellent job of taking the defensive line away. A&M's design was to not allow the big play. A&M needs to play better at the second level, and typically, what you would do is to be more aggressive at the second level. Still, they were good on a short field. They didn't have enough numbers and took poor angles. It wasn't a great defensive performance, but they limited the explosive plays. Today, people aren't concerned about giving up yards. They're concerned with getting off the field on third downs and in the red zone.

Here's what I did with a week like this one: Play through an opponent. There is a lot off of this last game where A&M can work on themselves. Don't waste a week of practice and a game against an inferior opponent where you can get better. Implement some of the LSU stuff without introducing it as LSU stuff. That way, you can get some extra work on what you're going to do next week. If you disguise it that way, the team knows they don't have to work hard, and oftentimes, it'll result in a sloppy game that you don't get much out of. Don't waste an opportunity this week. You can play some young guys, but you challenge your guys. Want time off? Dominate the first quarter and second quarter.

LSU is unlike anybody A&M has played. The offense is not good, so A&M will be in good shape there. A&M should be able to control LSU's offense. Defensively, LSU is playing well, and they're playing a lot of young guys. They're athletic and kind of like Ole Miss' defense, but they're not explosive on offense. Control the game defensively and get enough field position to let that offense have some success.
Never miss the latest news from TexAgs!
Join our free email list