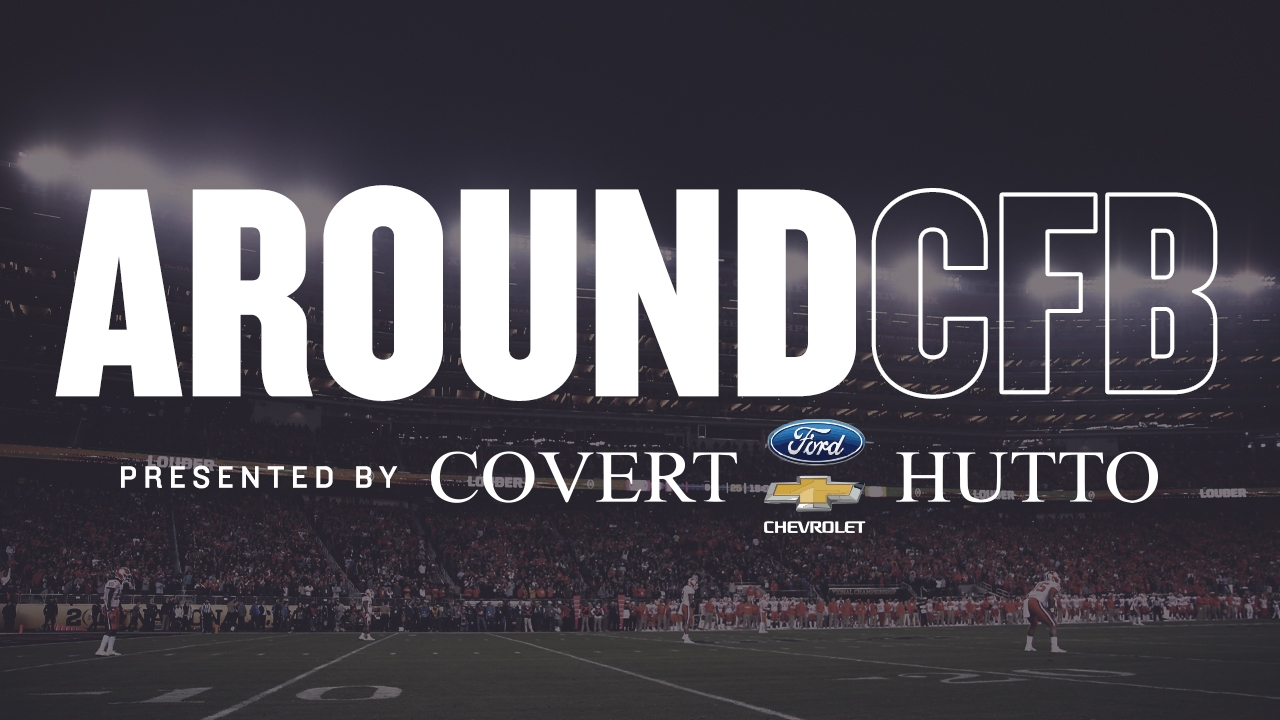 Photo by Mark Rebilas-USA TODAY Sports
Texas A&M Football
Around CFB: Conference championship races heating up as season winds down
---
Just two weeks remain in the college football season. Conference races are winding down and heating up. The only race that's been decided is Georgia winning the SEC East Division.
With that said, here's a look at the races in the top five conferences and the Big 12, too.
Southeastern Conference
East: As mentioned, Georgia (10-0, 8-0) has clinched. Georgia has only one SEC game remaining. Kentucky (7-3, 5-3) is three games back.
West: Alabama (9-1, 5-1) clinches the West with either a win over Arkansas or Auburn or if Ole Miss (8-2, 4-2) loses to either Vanderbilt or Mississippi State. Alabama has the tie-breaker over Ole Miss. Therefore, the Rebels' only hope is to win out and for Alabama to lose both its remaining games.
Pac-12
North: Oregon (9-1, 6-1) clinches with a victory over Utah this week. However, the race gets really interesting if Oregon loses to Utah and Oregon State (6-4, 4-3) defeats Arizona State. That would set up the Oregon vs. Oregon State finale to likely decide the North representation. Washington State (5-5, 4-3) still has an outside shot in a three-way tie if the Cougars win out against Arizona and Washington.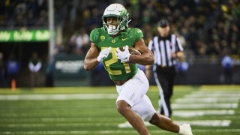 Troy Wayrynen-USA TODAY Sports
South: Utah (7-3, 6-1) has already beaten second-place Arizona State (7-3, 5-2). The Utes need just to win one of their remaining games against Oregon and Colorado. Arizona State needs to win out vs. Oregon State and Arizona and hope Oregon loses both games.
ACC
Atlantic: Wake Forest (9-1, 6-0) advances to the ACC championship game with a victory over Clemson or Boston College. Clemson (7-3, 5-2) could get in by winning out and Wake Forest losing its remaining games. North Carolina State (7-3, 4-2) could have a chance in a three-way tie by virtue of a win over Clemson.
Coastal: Pitt (8-2, 5-1) faces Virginia (6-4, 4-2) with the division title practically at stake. If Virginia wins, the Cavaliers would still need a regular-season closing win over Virginia Tech (or Pitt loss to Syracuse) to clinch.
Big Ten
East: The most competitive race in college football. Ohio State (9-1, 7-0) leads the race but has the most challenging schedule remaining. The Buckeyes face Michigan State (9-1, 6-1) and travel to Michigan (9-1, 6-1). Win both and the Buckeyes advance to the title game. Michigan advances with victories over Maryland and at Ohio State. Michigan State must defeat Ohio State and Penn State and hope Michigan loses. The Spartans have the tie-breaker on the Wolverines. If the race ends in a three-way tie? We'll figure that out next week.
West: Though four teams are in contention, Wisconsin (7-3, 5-2) is in control. The Badgers have beaten Iowa and Purdue, so they would advance with wins over Nebraska (3-7) and Minnesota. Iowa (8-2, 5-2) must defeat Illinois (4-6) and Nebraska and hope Wisconsin stumbles. Minnesota and Purdue are both 6-4, 4-3. They're on life support. They need to win out and wish for a plague of upsets of Wisconsin and Iowa.
AAC
Houston (9-1, 7-0) is in the conference title game. Cincinnati (10-0, 6-0) can clinch with a victory over SMU or East Carolina. The only hope for SMU (8-2, 4-2) is to win out against Cincinnati and Tulsa and hope Cincinnati loses to East Carolina.
Big 12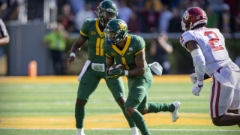 Jerome Miron-USA TODAY Sports
There's a lot of confusion in the Big 12, but that's to be expected. Oklahoma State, OU and Baylor could finish in a three-way tie. Oklahoma State (9-1, 6-1) appears to be most secure. The Cowboys already have a win over Baylor. They close at Texas Tech (6-4) and Oklahoma. One win and they're in. Probably. OU (9-1, 6-1) has lost to Baylor and must close against Iowa State (6-4) and Oklahoma State. Baylor (8-2, 5-2) is hoping to end in a tie with OU and advance to the title game by virtue of its win over the Sooners. That would require one OU loss and Baylor winning out against Kansas State (7-3) and Texas Tech. Or Baylor going 1-1 and OU losing both of its remaining games.
In the event of a three-way tie? Well, that's going to depend on who beats who down the stretch.
Heisman watch (If my ballot was due today)
1. Kenneth Walker, Michigan State, RB: He continues to lead the nation with 1,473 rushing yards. He's also rushed for 17 touchdowns. He had 143 rushing yards and two touchdowns in a 40-21 victory over Maryland last week.
2. Bryce Young, Alabama, QB: The competition was woeful, but Young did complete 21 of 23 passes for 270 yards and five touchdowns in a blowout victory over New Mexico State. He has passed for 3,025 yards and 33 touchdowns with just three interceptions.
3. C.J. Stroud, Ohio State, QB: Stroud passed for 361 yards and five touchdowns to lead the Buckeyes past Purdue, 59-31. He's thrown for more than 300 yards in five of the last six games. Overall, Stroud has passed for 3,036 yards and 30 touchdowns with five picks.
4. Will Rogers, Mississippi State, QB: Nobody is hotter than Rogers. He's thrown for more than 400 yards in each of the Bulldogs' last two games and piled up 10 touchdowns in that stretch. He's also notched at least 300 passing yards in nine of 10 games. Rogers has 3,724 passing yards and has thrown for 29 touchdowns. He has eight interceptions.
5. Kenny Pickett, Pitt, QB: Pickett passed for 346 yards and three touchdowns in a 30-23 victory over North Carolina. Overall, he has 3,517 passing yards with 32 touchdowns and four interceptions.
Predicted playoff participants
1. Georgia: Tennessee managed 17 points last week. That's the most Georgia has allowed an opponent.
2. Ohio State: The Buckeyes will likely have to finish with wins over Michigan State, Michigan and Wisconsin to win the Big Ten. Pull that off and the Buckeyes move ahead of Oregon despite the early-season loss to the Ducks.
Alabama is one of the best four teams in the country. But will the committee put a two-loss team over an unbeaten one that's been hyped up by the media? Doubt it.
3. Oregon: The Ducks face a couple of challenging opponents before the Pac-12 championship game. If they get through unscathed, they will be looking at a rematch with Ohio State.
4. Cincinnati: The Bearcats have already beaten Notre Dame, so the Irish won't jump them if Cincinnati finishes unbeaten. The Big 12 and ACC are painfully weak, so their champions probably won't either. Alabama is one of the best four teams in the country. But will the committee put a two-loss team over an unbeaten one that's been hyped up by the media? Doubt it.
Games to watch
No. 7 Michigan State at No. 4 Ohio State: A major collision between two Big Ten powers with championship aspirations. Yet, there are still questions about how good both teams are.
No. 25 Arkansas at No. 2 Alabama: The Tide isn't without flaws, and the Razorbacks are no longer a pushover. Alabama must win to keep its playoff hopes intact.
SMU at No. 5 Cincinnati: The Bearcats have been largely unimpressive in their last three games. SMU isn't great but is certainly capable of pulling off the upset.
No. 3 Oregon at No. 24 Utah: A likely preview of the Pac-12 championship game.
No. 12 Wake Forest at Clemson: Wake scores in bunches but struggles on defense. Clemson's offense oozes, but the defense is sound. An upset keeps Clemson's Atlantic Division hopes alive.
Never miss the latest news from TexAgs!
Join our free email list
PRESENTED BY