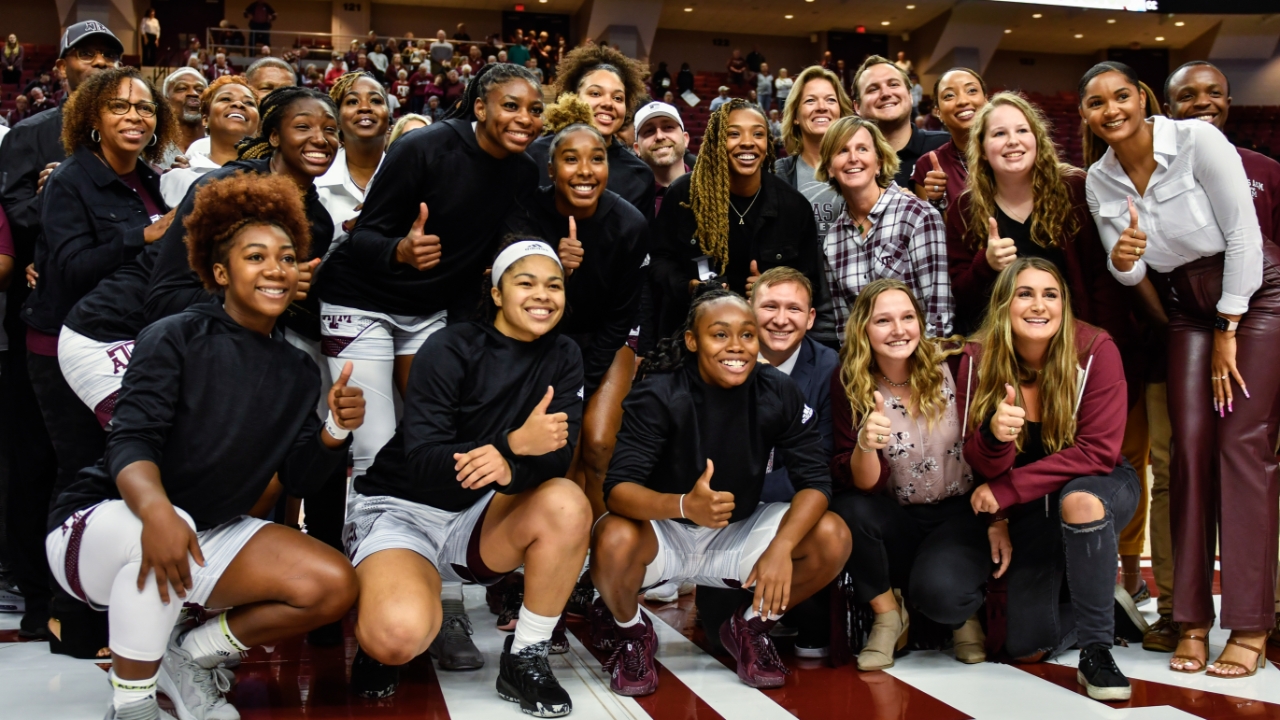 Texas A&M Women's Basketball
Texas A&M blows out Southern in commanding win at Reed Arena, 92-32
---
Texas A&M was back at Reed Arena to receive their SEC championship ring on Thursday night as they faced off against the Southern Jaguars. The Aggies improved to 2-0 on the season and their defense stood out in a 92-32 blowout, tying the sixth-largest margin of victory in program history.
A&M's defense was especially dominant in the first quarter. The Jaguars were held to only three points. That's the lowest amount allowed in a quarter since last year against Mississippi State.
"We knew we needed to step up our defensive pressure and we were able to force some turnovers early," said guard Destiny Pitts.
The Aggies continued the pressure in the second quarter, holding the Jaguars to only six points when they took a commanding 43-9 lead into halftime.
"We always have a goal board and single digits in a quarter are on there and we did it twice. It would've been in the third quarter as well if they didn't hit the last-second three," said head coach Gary Blair.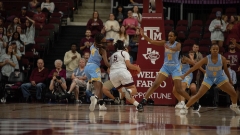 TexAgs
The Aggies scored 26 points off of 23 turnovers forced. They also out-rebounded the Jaguars, 45-22. Destiny Pitts and Aaliyah Patty lead the team in rebounds with seven apiece. Destiny Pitts made four of the Aggies eight threes, finishing the night with 12 points.
"I just felt like we were able to push the ball after forcing turnovers and we were able to find our spot and hit threes," said Pitts.
Five Aggies scored double figures against the Jaguars as Jordan Nixon led the way with 13 points, going 2-3 from behind the arc. A&M shot 57% from the field and 50% from three as the offense continued their hot streak from deep.
"The right people shot the threes, I have no problem with it, Pitts might be the best I've ever seen from three and Jordan Nixon hit a 28-footer. I'm just happy with the way the team is playing but we are fixing to go up a level on how we need to play," said Blair.
"We just tried to play solid defense tonight as we look forward to next week, I liked my team tonight," said Blair. I love how Sahara Jones played off the bench. Destiny Pitts doesn't take a bad shot. When Nixon, Wells and Pitts are on the court together, they produce a lot of firepower."
Texas A&M hosts Depaul next Monday at 7:00 p.m. at Reed Arena as they look to continue their winning streak during their four-game homestand.
Never miss the latest news from TexAgs!
Join our free email list