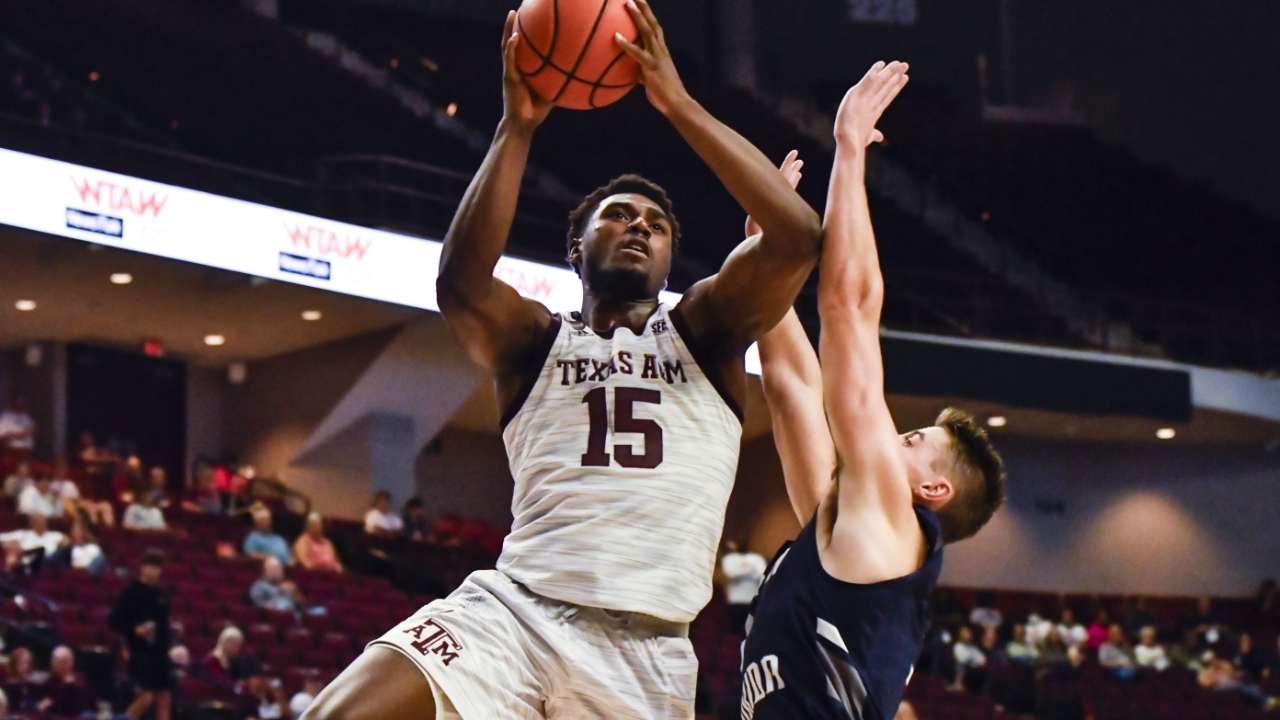 Devin Johnson
Coleman & Radford
Texas A&M Basketball
Despite Williams' absence, Aggies open 2021-22 with win over North Florida
---
In just three seconds, it was clear forward Henry Coleman III is bringing something very different to Texas A&M basketball this year.
However, the next 39 minutes and 57 seconds showed — for one game, at least — the Aggies 3-point shooting is very much the same.
Coleman, a 6-foot-8 sophomore transfer from Duke, scored a layup off the opening tip, drew a foul and converted the conventional three-point play.
That launched his 27-point Texas A&M debut which propelled the Aggies to a 64-46 season-opening victory over mistake-prone North Florida (0-2) on Wednesday night at Reed Arena.
"He played amazing, and he brought something to our team that we haven't had in a while."
"Henry played well," said coach Devin Johnson, who directed the team in place of suspended coach Buzz Williams. "The thing I loved about Henry Coleman was he was vocal throughout the game on the defensive end. He helped us get into the right spots. He played amazing, and he brought something to our team that we haven't had in a while."
Unfortunately, the Reed Arena crowd witnessed an all-too-familiar display of shooting futility from beyond the 3-point line.
The Aggies missed their first 11 attempts from 3-point range before Andre Gordon finally connected with 3:01 to play. Their 2-of-14 struggle from beyond the arc was the main reason the visiting Osprey were in contention deep into the second half.
The Aggies, who started four transfers, remained confident that inaccuracy is only temporary.
"I think we shot our shots … just wasn't finding its way into the goal," said Tyrece Radford, a transfer from Virginia Tech. "We're going to continue to find our shots and continue to shoot. Tonight was an off night. We can't dwell on this. We're going to continue to improve and continue to shoot our shots."
Radford, Gordon and Arkansas transfer Ethan Henderson all scored six points. Marcus Williams, a sophomore transfer from Wyoming, netted 11.
North Florida, which fell 89-74 to Texas Tech on Tuesday night, was led by 6-foot-7 forward Carter Hendrickson with 14 points and 6-foot-9 freshman forward Jonathan Aybar with eight.
The Aggies was exceptional on the defensive end. They forced 29 turnovers, which was parlayed into 29 A&M points.
They held North Florida to 34.1 recent shooting (15-of-44) and just 29.2 percent from 3-point range (7-of-24). North Florida managed only 14 points in the second half.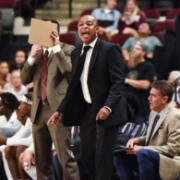 TexAgs
"I thought we played pretty well," Coleman said. "We had stretches where we may not have played well, but I think this group is different from a lot of groups. We can regroup. We can play very, very hard.
"You saw it toward the end. I think they had 14 points in the second half. That just shows what we do every day in practice. I think we have a good group, and we have a hungry group. A lot of these guys are playing with a chip on their shoulder. We have a very hungry group."
Johnson was obviously pleased with the defensive showing. However, he said he'll be seeking even more effort when the Aggies face Abilene Christian on Friday night.
Abilene Christian defeated Texas in the NCAA Tournament last season.
"I still think we have more to give defensively with our rotation ending the possession with a rebound," Johnson said. "They had eight offensive rebounds.
"We can improve by ending the possession with a rebound. We can improve by staying in the drive with high hands. We can improve by not only Henry talking, but all five guys on the floor talking. I think when we get it to that point, that's when everybody will see our true defense."
Johnson is notched his first career coaching victory, but he still credited Williams as well as other members of the coaching staff.
"Coach Buzz is an amazing leader. He prepared us for this moment," Johnson said. "My job was easy. Also, our staff is amazing. I cannot take the credit for it.
"Coach (Dale) Layer used to be a head coach. Coach Rock (Steve Roccaforte) was a head coach. Coach Vince (Walden) was a head coach. I'm in the middle of all those guys. All of those guys are in my ear helping me out.
"We stuck to the plan. We prepared for it. Coach Buzz had us prepared, and we did a great job."
Never miss the latest news from TexAgs!
Join our free email list