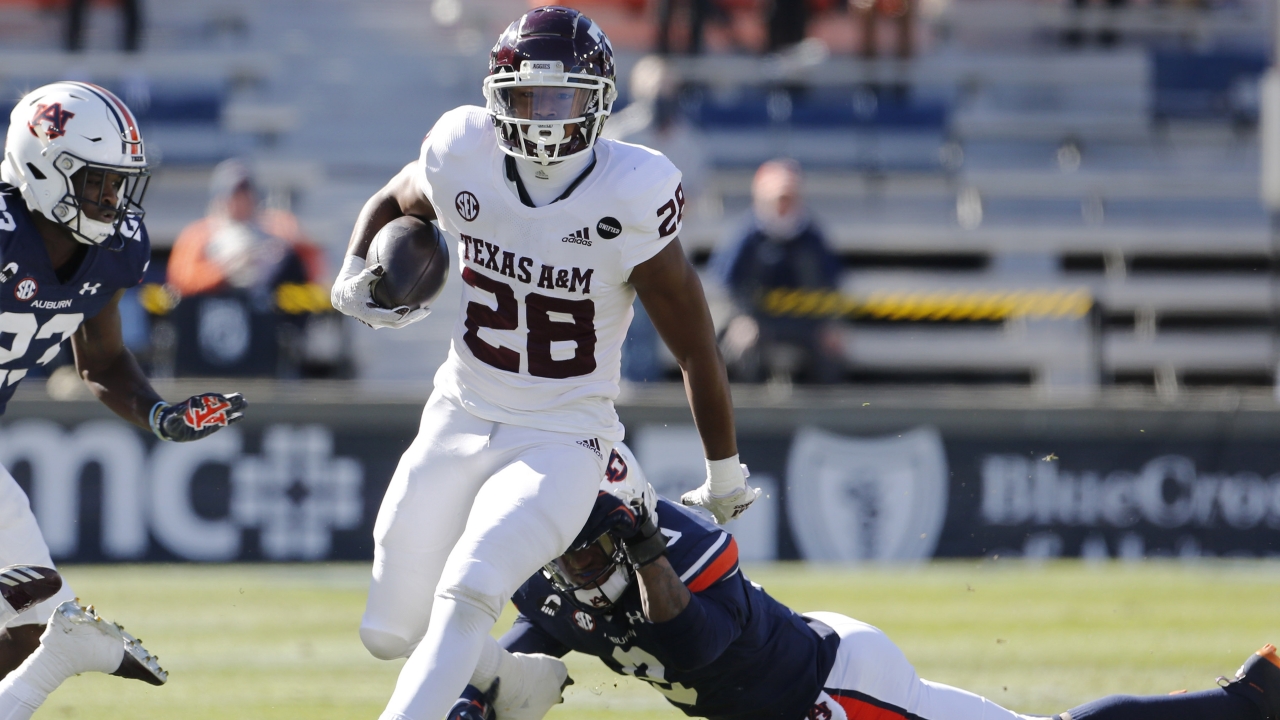 Photo by John Reed-USA TODAY Sports
Texas A&M Football
Top-15 Texas A&M-Auburn clash will likely be decided on the ground
---
Clocks are to be set back an hour on Sunday morning, but on Saturday afternoon at Kyle Field, the clock seemingly will be turned back about 30 years.
Before coach Mike Leach at Mississippi State, before Lane Kiffin at Ole Miss, before Hal Mumme at Kentucky and before Steve Spurrier at Florida, Southeastern Conference games were largely decided by the team that ran the football more effectively.
That figures to be the case when No. 13 Auburn (6-2, 3-1) challenges No. 14 Texas A&M (6-2, 3-2) in a 2:30 p.m. clash of surging teams still harboring hopes of winning the SEC West Division.
Auburn running back Tank Bigsby has rushed for 666 yards and seven touchdowns. Quarterback Bo Nix is also a rushing threat. They've led the Tigers to consecutive victories over Arkansas and Ole Miss. Auburn rushed for 342 yards and five touchdowns in those games.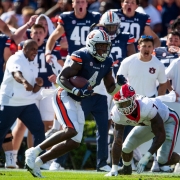 Jake Crandall / USA TODAY NETWORK
Nix has improved as a passer this season, but his greatest threat remains the ability to scramble and make plays off schedule.
"(Auburn is) probably playing as well as anybody in the league right now," Texas A&M coach Jimbo Fisher said. "They're playing great football. Quarterback Bo Nix is an outstanding player. Tank (Bigsby, running back) is playing outstanding. When he runs the football, they're a different team."
The same can be said for A&M.
Running back Isaiah Spiller has rushed for 761 yards and five touchdowns. Backup Devon Achane has rushed for 608 yards and five touchdowns. With them leading the way, the Aggies have averaged 222.3 rushing yards in three consecutive victories over Alabama, Missouri and South Carolina.
The question then would seem to be which defense is better equipped to stop the run?
A&M is ranked 38th in the nation in run defense but has allowed a total of 322 yards in its last three games.
Auburn is 36th nationally in run defense. However, the Tigers have allowed 157 rushing yards or more in four of their last five games.
Last season, the Aggies rolled up 313 rushing yards in a 31-20 victory at Auburn.
Of course, that was behind one of the best offensive lines in the nation. Now, it's behind a line that has two true freshmen in the starting lineup.
"We rushed for like over 300 yards or something like that (last year), so it was a great day," Spiller said. "Those guys were blocking. I think we're going to do the same thing."
If the Aggies do run that well, they will likely extend their winning streak to four games and stay on pace for a 10-2 finish. That would likely result in a New Year's Six bowl and maybe even a shot at the SEC Championship game.
Auburn has identical aspirations. And probably an identical approach to reaching them — run the football and stop the run.
Just like the way it used to be.
Never miss the latest news from TexAgs!
Join our free email list