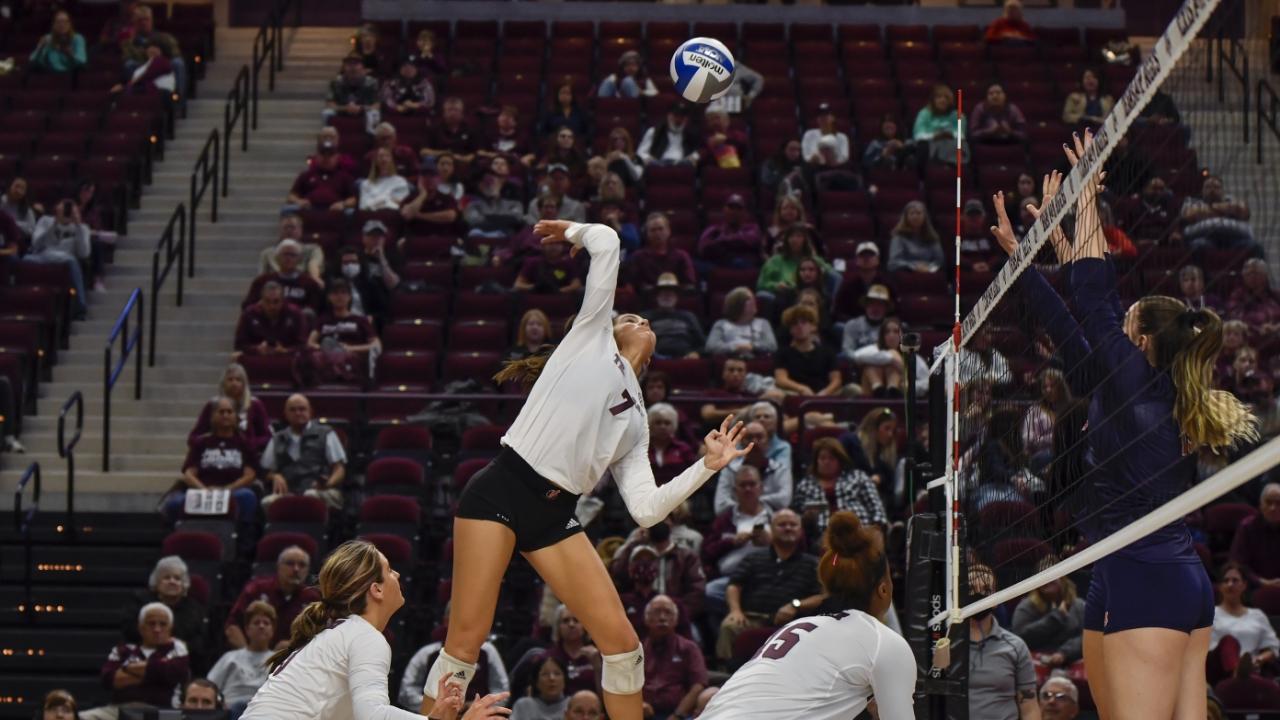 Photo by Brooke Homfeld, TexAgs
Texas A&M Volleyball
Aggies grind out home victory over Auburn in five sets
---
Texas A&M volleyball pushed the Auburn Tigers to five sets on Thursday night at Reed Arena, opening the series with an impressive comeback to secure a hard-fought victory, 27-29, 25-17, 20-25, 25-13, 15-12.
Morgan Christon blazed ahead offensively, leading the team with 19 kills and six blocks, while outside hitter Lauren Davis slammed 12 kills. Setter Camille Conner put up a match-high 52 assists and five kills and freshman defensive specialist Brooke Frazier scooped a career-high 23 digs.
"In the SEC, we know it's going to be a grind. We have to play consistent and be consistent. I am proud of the way that we evened out in the fourth and fifth set, we were playing consistently and scoring point by point," said Texas A&M head coach Bird Kuhn. "I was proud of how we finished."
Texas A&M started the first set with a 6-1 lead, maintaining the advantage for the majority of the frame. The Tigers made a comeback in the last points of the set, tying the score at 23-23 before the Aggies pushed forward.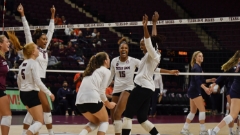 Brooke Homfeld, TexAgs
A double block from Treyaunna Rush and Madison Bowser brought the Aggies to set point, but the Tigers managed to hold the score. Each team fought for the lead in an intense back-and-forth, concluding with an Auburn kill to end the set, 27-29.
Auburn started the second set with a three-point run, hot off their first-set win. The Aggies were quick to shut the Tigers down, with two consecutive Mallory Talbert aces putting the score at 9-6 and paving the way for Texas A&M to dominate the set, bringing the frame to a 25-17 victory.
The third set began with a Tiger point, setting the frame up for a massive Auburn lead at 11-23 after a handful of Texas A&M errors. Despite a five-point scoring run to bring the Aggies back from an 11-point deficit at the end of the set, Auburn closed out the frame, 20-25.
Texas A&M found a rhythm in the fourth set as they pulled away from Auburn, capitalizing on their opponents' errors to quickly gain a significant lead. Fast-paced offense and strong defensive plays kept the Tigers from any hope of a comeback, and a Rush kill followed by an Auburn error closed out the set, 25-13.
The Aggies kicked off the final set with a kill, setting up a nailbiter in the final frame. A Talbert kill brought the Aggies to a 10-6 lead, keeping up the momentum from the previous set. Ciera Hecht slammed the match-winning kill, concluding the set with a 15-12 victory.
Texas A&M will conclude their series against Auburn on Oct. 5th at Reed Arena. The match is scheduled to begin at 6 p.m.
Never miss the latest news from TexAgs!
Join our free email list