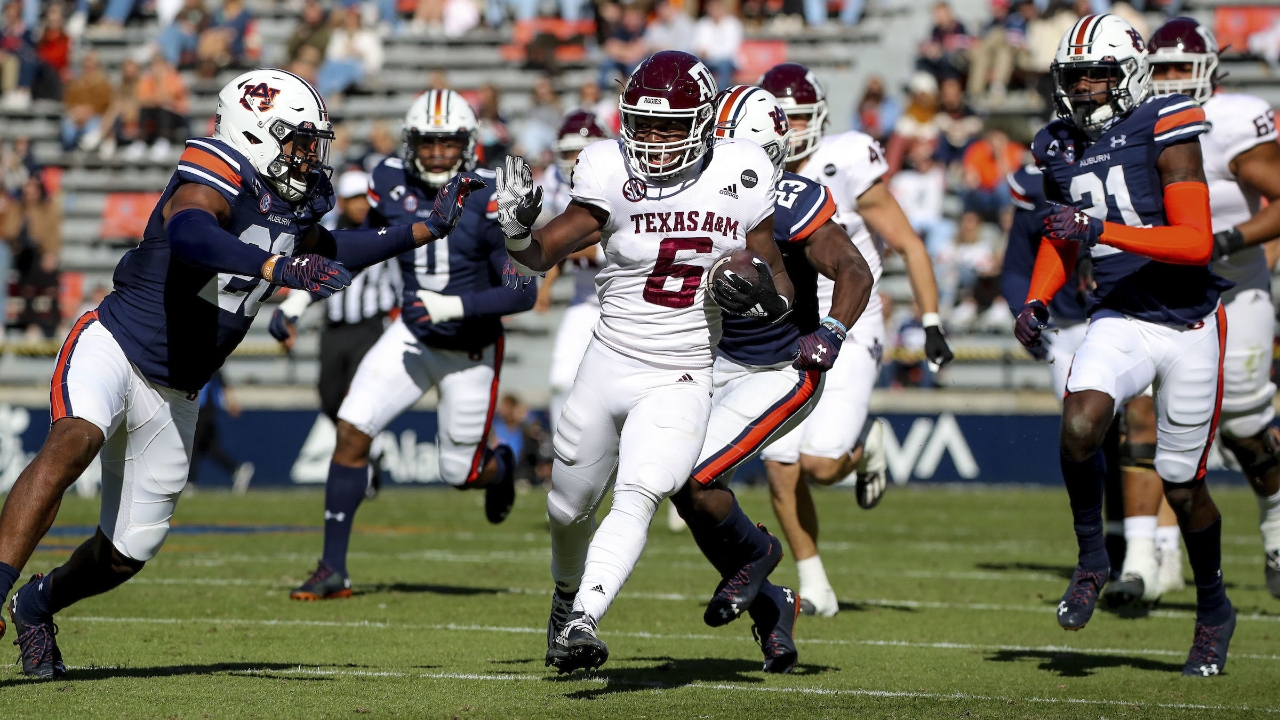 Photo by Craig Bisacre/Texas A&M Athletics
Texas A&M Football
Success for Achane, Spiller vs. Auburn likely leads to success for A&M
---
Curtis Dickey and George Woodard never did it.
Neither did Christine Michael and Cyrus Gray. Greg Hill and Rodney Thomas almost did but fell short.
Texas A&M has never had two 1,000-yard rushers in the same football season. Isaiah Spiller and Devon Achane could change that.
Spiller has rushed for 761 yards. Achane has 608. If A&M runs effectively, they both could reach 1,000.
"The good thing about both of those two; they both can do so much," Texas A&M coach Jimbo Fisher said. "You don't have to specialize a lot with those guys."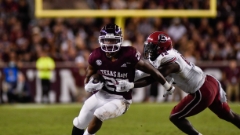 Jamie Maury, TexAgs
Both of those guys are special, and if they continue to run effectively, A&M could do something even more important that hasn't previously been done.
The Aggies (6-2, 3-2) could beat Auburn (6-2, 3-1) at Kyle Field.
As is the case in most contests, the running game is the key to A&M winning. That is magnified against Auburn.
Since joining the SEC, the Aggies are 4-1 against Auburn when rushing for at least 176 yards. In the loss, A&M rushed for 203 yards, but late turnovers and a missed field goal enabled Auburn to rally for a 28-24 victory in 2019.
The Aggies are more interested in a rally of their own.
After back-to-back losses to Arkansas and Mississippi State, they've posted consecutive victories over Alabama, Missouri and South Carolina.
Efficient running has been a major factor in those victories. If the Aggies continue to run efficiently — and hopefully, explosively — they could beat Auburn. And then Ole Miss, Prairie View and LSU.
The Aggies are (quite literally) in the running for a 10-2 finish, a New Year's Six bowl game and maybe more.
But can they run against Auburn? They certainly did last season.
Spiller rushed for 120 yards in a 30-21 victory at Auburn last season. Achane ran for 99. Overall, the Aggies carved up Auburn's defense 313 rushing yards and two touchdowns.
"It was great," Spiller recalled. "I think we broke a record that day. We rushed for over 300 yards or something like that. It was a great day. Those guys were blocking."
"Those guys" was the 2020 offensive line that was among the best in the nation. Only left guard Kenyon Green is still around.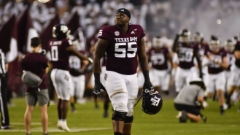 Jamie Maury, TexAgs
Therefore, the question is whether the Aggies can have similar rushing success behind Green, Jahmir Johnson, Layden Robinson and freshmen Reuben Fatheree and Bryce Foster?
"I think we're going to do the same thing," Spiller said. "I've always believed in those guys, even when people were talking down on them. I still believed in them. They're doing an outstanding job."
They definitely have of late.
In the three-game winning streak, A&M has rushed for six touchdowns and an average of 222.3 yards.
Only 94 of those yards were accumulated against Alabama. Still, that's the second-highest rushing total the Tide has allowed this year.
But, like investment firm disclaimers, past performance does not guarantee future returns.
All that matters is whether the Aggies can again successfully run on Auburn's defense.
Auburn's past performance indicates that the Aggies can.
The Tigers are ranked fifth in the Southeastern Conference in run defense. However, those numbers are skewed by the first two games. Auburn gave up 46 total rushing yards against overmatched Akron and Alabama State.
Auburn allowed 267 rushing yards in a narrow victory over Georgia State. Also, in the last three games against Georgia, Arkansas and Ole Miss, the Tigers have given up almost 200 rushing yards per game.
"The good thing about both of those two; they both can do so much. You don't have to specialize a lot with those guys."
Sure, there are other key elements in the matchup with Auburn.
The A&M defense must slow down Auburn running back Tank Bigsby. Quarterback Bo Nix cannot be allowed to make big plays off schedule.
The Aggies cannot afford a rash of turnovers or penalties. Quarterback Zach Calzada must again be sound. Receivers must get open.
Of course, a strong running game will keep the defense well-rested, take pressure off the quarterback and create space for receivers.
A successful day for Spiller and Achane likely results in a successful day for the Aggies.
That would keep the Aggies on track for a 10-2 finish, a New Year's Six bowl and possibly more.
And of less importance, it would likely keep Spiller and Achane both on pace to rush for 1,000 yards.
Never miss the latest news from TexAgs!
Join our free email list
PRESENTED BY