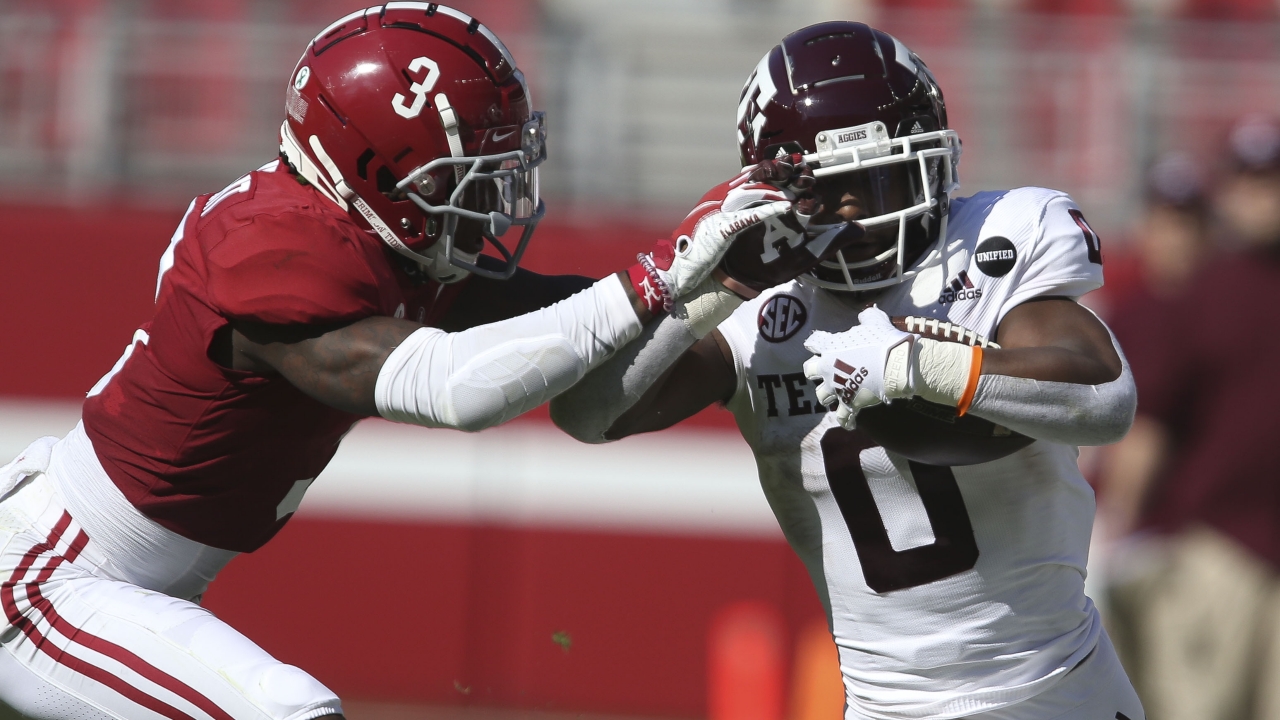 Photo by The Tuscaloosa News-USA TODAY Sports
Texas A&M Football
Five goals for upset-minded Aggies as top-ranked Tide comes to town
---
There's an old saying that when all is said and done, more is usually said than done.
That's because setting goals is easy. Accomplishing them is the hard part.
For eight straight years, Texas A&M has had a goal of duplicating the Aggies' 29-24 victory over Alabama in 2012.
Sometimes they've come close. Sometimes they've had no chance.
All indications this year say the Aggies' chances are slim. That is if they have any chance at all.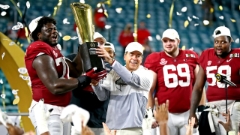 Mark J. Rebilas-USA TODAY Sports
Alabama (5-0) is ranked No. 1 as usual and is riding a 19-game winning streak dating back to 2019.
Meanwhile, Texas A&M (3-2) is limping into the fray on a two-game losing streak. The Aggies' offense has struggled to move the football. The defense, while good, has not been as dominant a unit as was projected.
The Aggies certainly face a herculean task against the Crimson Tide.
But to pull off a stunning upset, here are five goals that much be accomplished:
• Quarterback must contribute to the running game
Running is always a key, but perhaps more so in this game. A&M rushed for 165 yards in its 2012 victory in Tuscaloosa. Of course, 92 of those were on scrambles by quarterback Johnny Manziel.
Zach Calzada is no Manziel, but he has running ability. He showed that on a 25-yard touchdown run against Mississippi State last week. A&M doesn't want Calzada to be its leading rusher. He does need to complement the running of Isaiah Spiller and Devon Achane.
Earlier this season, Alabama held on for a 31-29 victory over Florida. Gator quarterback Emory Jones rushed for 77 yards and a touchdown.
• Pressure Alabama quarterback Bryce Young
The Aggies have had a good pass rush. They've recorded 15 sacks. However, the pass rush was projected to be even more lethal.
Coach Jimbo Fisher acknowledged the need to provide for pressure.
"We've got to find a way to get better pass rush," he said following last week's loss to Mississippi State. "We brought pressure at times, and we didn't get there."
Alabama has allowed 10 sacks. If the Aggies can consistently pressure Young, they may be able to …
• Minimize Alabama's big plays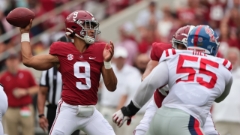 Butch Dill-USA TODAY Sports
The Crimson Tide doesn't appear as explosive as in recent seasons. Last year, the Tide had 40 offensive plays of 30 yards or more. This season, Alabama has eight.
The Aggies cannot repeat last year's matchup when they allowed touchdown passes which covered 63, 78 and 87 yards.
In the only Alabama game in jeopardy this year, the Tide had no plays over 30 yards and only three of 20 yards or more in the victory over Florida.
A&M must make the Tide work hard for touchdowns. That hasn't typically been the case. In the SEC series with Alabama, A&M has given up 17 touchdowns on plays that have covered 30 yards or more.
• Do not allow non-offensive touchdowns
That's been a major problem for the Aggies against Alabama. The Tide has scored seven non-offensive touchdowns in SEC games against A&M.
The disastrous 2015 game in which Kyle Allen had three interceptions returned for touchdowns stands out most.
However, Jonathan Allen's 30-yard fumble return late in the third quarter provided Alabama an insurmountable 26-14 lead in 2016.
Last year, Daniel Wright's 47-yard interception return put the Aggies in a 28-14 hole.
Also, Vinnie Sunseri's 73-yard interception return turned out to be huge in the 2013 loss. Of course, it never should have counted because there was blatant pass interference.
• Finish the first half strong
Alabama's has frequently scored shortly before halftime in its victories.
Last season, DeVonta Smith caught a short touchdown pass with 22 seconds remaining in the first half to give the Tide a 35-14 lead.
In 2018, a close game turned into a blowout in the last 1:09 of the half with Alabama's Hale Hentges catching a touchdown pass and kicker Joe Bulovas adding a field goal. Those gave Alabama a 31-13 lead.
Jalen Hurts scored with 3:16 remaining to give Alabama a 17-3 lead in 2017. T.J. Yeldon had a 4-yard touchdown run for a 28-14 lead with 45 seconds left in the half in 2013.
Even in A&M's 29-24 victory in 2012, Eddie Lacy scored with 19 seconds left in the half to bring Alabama within 20-14.
If the Aggies accomplish these five goals, they will have a chance to end their losing streak to Alabama. But doing that is easier said than done.
Never miss the latest news from TexAgs!
Join our free email list
PRESENTED BY