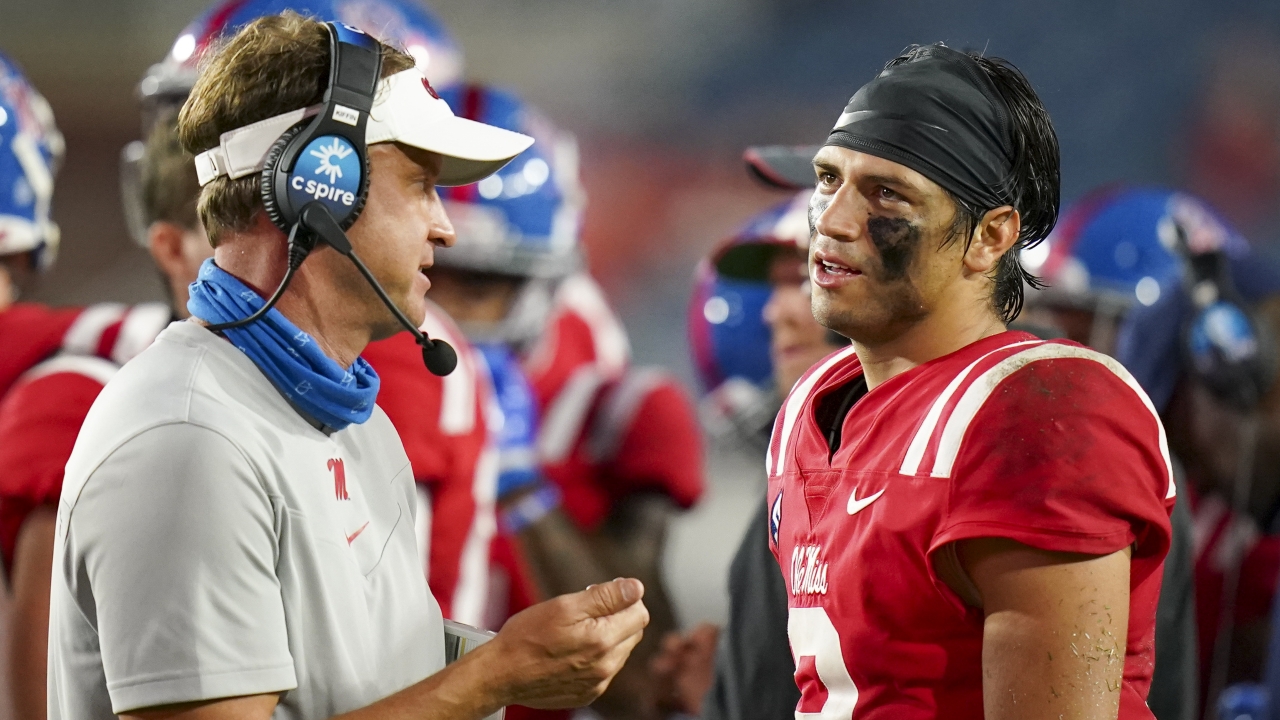 Photo by Marvin Gentry-USA TODAY Sports
Texas A&M Football
SEC Round-Up: Kiffin's Rebels could flip SEC, Heisman races with win in Tuscaloosa
---
Here comes the requisite reminder that none of Alabama coach Nick Saban's former assistant coaches have ever beaten him.
Many have tried. All have failed. Saban is 23-0 against head coaches who were once on his staff.
"He's undefeated versus almost everybody," said Ole Miss coach Lane Kiffin, who was Saban's offensive coordinator from 2014-16. "There's a reason he's the best in the history of college football. Even when people know how his place works, he's still undefeated, which is amazing."
But some think Saban's perfect streak is in jeopardy when the Crimson Tide face Ole Miss on Saturday at 2:30 p.m.
The Tide aren't as dominant as usual. Just two weeks ago Alabama held on to squeak out a 31-29 victory over Florida.
Meanwhile, Ole Miss appears better than the team that last year fell in a 63-48 shootout with the Tide. This year the Rebels are even playing decent defense.
"They're one of the best teams in the country, in my opinion," Saban said.
He added: "(Kiffin) has done a fantastic job there, and it's going to be a real challenge for us."
With such high praise, it appears Saban is spreading some of that "rat poison" that he so abhors.
Kiffin, however, is serving up a "rat poison" buffet.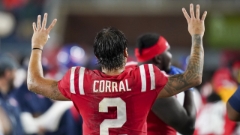 Marvin Gentry-USA TODAY Sports
"I said last year (Alabama) was a great team, maybe his best team ever, and I think people thought maybe I was just saying that leading up to the game," Kiffin said. "But then you look and they run the table and not really close games. I think somebody said, in the last two years, only Florida and Ole Miss have scored over 24 points against them. We'll have our hands full. That's why we're a huge underdog for a reason."
Just whose rat will be poisoned will make for intriguing viewing. The winner will have an enormous advantage in the SEC West Division race. The victorious quarterback — Alabama's Bryce Young or Ole Miss' Matt Corral — will take the lead in the Heisman Trophy race.
Don't be surprised if it's Corral. If Florida can score 29 against the Tide, Ole Miss should get into the 30's.
The Ole Miss defense is better than the turnstile that allowed an average of 38.3 points last season.
Don't bet against Saban, though. Look for his record against former assistants to improve to 24-0.
Around the SEC
Who's hot: Florida's running game has caught fire. The Gators are averaging 322.5 rushing yards per game to rank third in the nation. They had 400 in the season-opener against Florida Atlantic. Big deal, right? But they're averaging 264 rushing yards against SEC competition.
Who's not: Texas A&M's offense was held to 272 yards in last week's 20-10 loss to Arkansas. The Aggies have not managed more than 10 points in games against Power-5 opponents. That's bad news. Worst news? Seven of the remaining eight games are against Power-5 opponents.
Keep an eye on: The Auburn quarterback position is getting very interesting. Overhyped Bo Nix has started there for two and a half seasons. But he was benched a week ago with Auburn trailing Georgia STATE, 24-19. It was that close because the Tigers scored on a blocked punt. T.J. Finley came on and led Auburn to a game-winning 10-yard touchdown pass on fourth-and-nine. Exclude the season-opener against woeful Akron and Nix has completed just 53 percent of his passes for 449 yards and two touchdowns. Finley has thrown just as many touchdown passes in that span. So does coach Bryan Harsin start Finley on Saturday against LSU? If he does, that adds to the intrigue of the game. Finley played five games for LSU last season.
The pressure is on: Ole Miss quarterback Matt Corral is good. Really good. But he has to prove he can deliver in a big way amidst the hype of the Rebels' clash with Alabama. The Crimson Tide can score and there are still doubts about the Ole Miss defense. Corral likely will have to match Alabama score-for-score in a high-scoring shootout. If he does he becomes the leader in the Heisman Trophy race.
Best matchup: Arkansas has the nation's No. 8 rushing offense. The Razorbacks have rushed for at least 197 yards in every game. But they face Georgia, which leads the SEC and is seventh in the nation in rushing defense. No opponent has rushed for more than 127 yards against the Bulldogs. Three managed less than 100 rushing yards.
Never miss the latest news from TexAgs!
Join our free email list