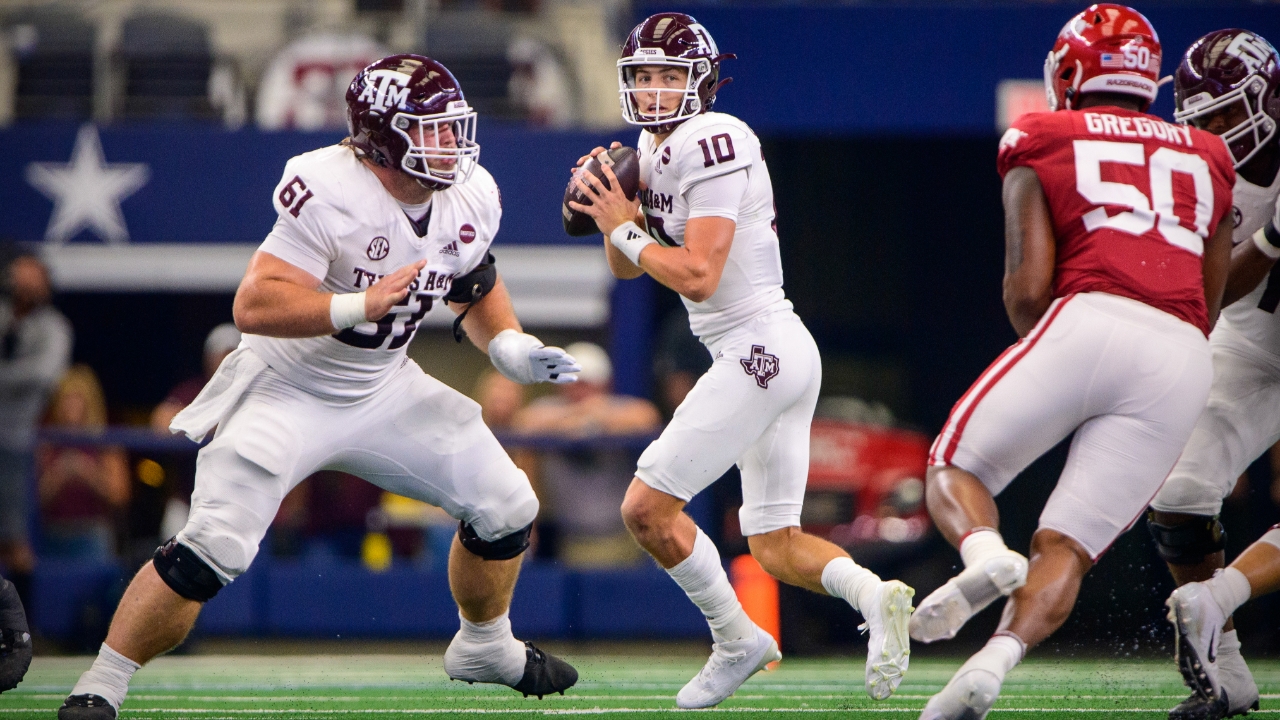 Photo by Jerome Miron-USA TODAY Sports
Texas A&M Football
Landry: A&M still has room to improve, but Aggies are far from elite
---
Key notes from Chris Landry interview
Saturday wasn't good. There are several ways and a lot of thoughts in looking at the tape and watching it live as to why. This Arkansas team is pretty good. We live in a world of perception, and sometimes things are not what they are. I thought Arkansas would be better than last year, and they're much better than I thought. They played really well. This team is really good, with a lot of influential guys in key spots out of the transfer portal and returning because of COVID.

The A&M part of it, we've seen through the first two or three weeks. Some of the problems from the game against Colorado or New Mexico haven't gotten better. Some of the improvements are incremental. Right now, it's one of the least effective run-blocking units. There are not a lot of run creases. This offense cannot run the football, and it negatively affects everything. If you can't run well, it puts pressure on your passing game. There are a lot of things going on that are consistent problems. There is something wrong on most plays. When you play against a physical team that can take advantage of it, you have what you have on Saturday.

If you're going to play a game where you're going to play 60 snaps defensively vs. 85, you're going to give up more yards and more points. It's common math. Maybe this A&M defense isn't as talented as we all thought.

If A&M played Arkansas three or four more times, the outcome would be the same. I still think this Texas A&M team is good and could get better, but I don't think they will be in the National Championship this year. I thought they could be a 9-3 team, and they still could be. There are more roadblocks that we didn't anticipate now.

There are times Zach Calzada is holding the ball too long, and there are times receivers aren't getting open. This team does not run the ball well. They do not have good pass protection. You could work the backs out of the backfield and utilize the tight ends to get the ball out quicker. This is a young quarterback who hasn't played much football yet, and there is a ton of pressure on him. When guys aren't getting open, it causes hesitation. Coaches have to try and simplify it more, protect better on the line and then get open quicker. The quarterback has to get more comfortable. Holding the ball too long is often the result of things not having to do with the quarterback. There is a multitude of issues.

The reality is that this could still be a very good team, but there are issues in some key areas that we didn't foresee.

Right now, the Aggies are near the bottom of the SEC in yards before contact. It's about 1.9 yards. There are not a lot of run creases, and the holes close up quickly. You have to work the quick passing game and get guys out of the box. They haven't been able to do that well. Great backs can make a bad offensive line look better, and great lines can make the backs look better. The backs are talented. Last year, A&M was in the 2.8-2.9 yards before contact range. A full yard is huge. You've got to make something happen as a back, but on the line, they have to make some creases. The problem is more slanted towards the offensive line.

I'm going to go back to this again: You're going to see some improvement. This team is not a good fit against Alabama, but against some other teams, you'll see some improvements.

If you go in with a game plan with how you're going to attack an opponent, you have to be able to adjust. There is a feeling-out process with the defense. A&M has been able to make adjustments. Mike Elko gives a lot of looks presnap. This defense has played as well as anybody in the league, and they've had to carry this team with offensive issues. There are still some issues where they can improve, but they have to play better complementary football.

A&M played a good offense with a good offensive line that comes off the ball well. I don't think there is enough credit given to Arkansas. There is an expectation level, and A&M's program is in good shape. This is a good team, but they are not an elite team right now. The Aggies did well against the run this week, but there was an extra gap to fit with a quarterback that can run. This is an A&M team that is disappointing in some eyes. They still have a chance to be pretty good, but they are not elite.

This game against Mississippi State is one where if you don't play well, there's more of a concern. They won't run the ball much, so you can drop eight and keep it in front of you. You cannot give up any cheap points because this offense is not playing well enough. I think you'll see a better performance. Mississippi State is not as good or as well-coached. You have to go out and execute it. You have to zone up and limit plays. I'm curious to see what Texas A&M's offense does against State's defense, which is frankly the strength of State's team right now.

Offensively, you have to score in the mid-20s to win this game. You at least need 24 points. Mississippi State will get their 400 yards, but it's about playing good situational defense in third downs and the red zone. It will need to be a better offensive performance from the Aggies, no doubt.
Never miss the latest news from TexAgs!
Join our free email list