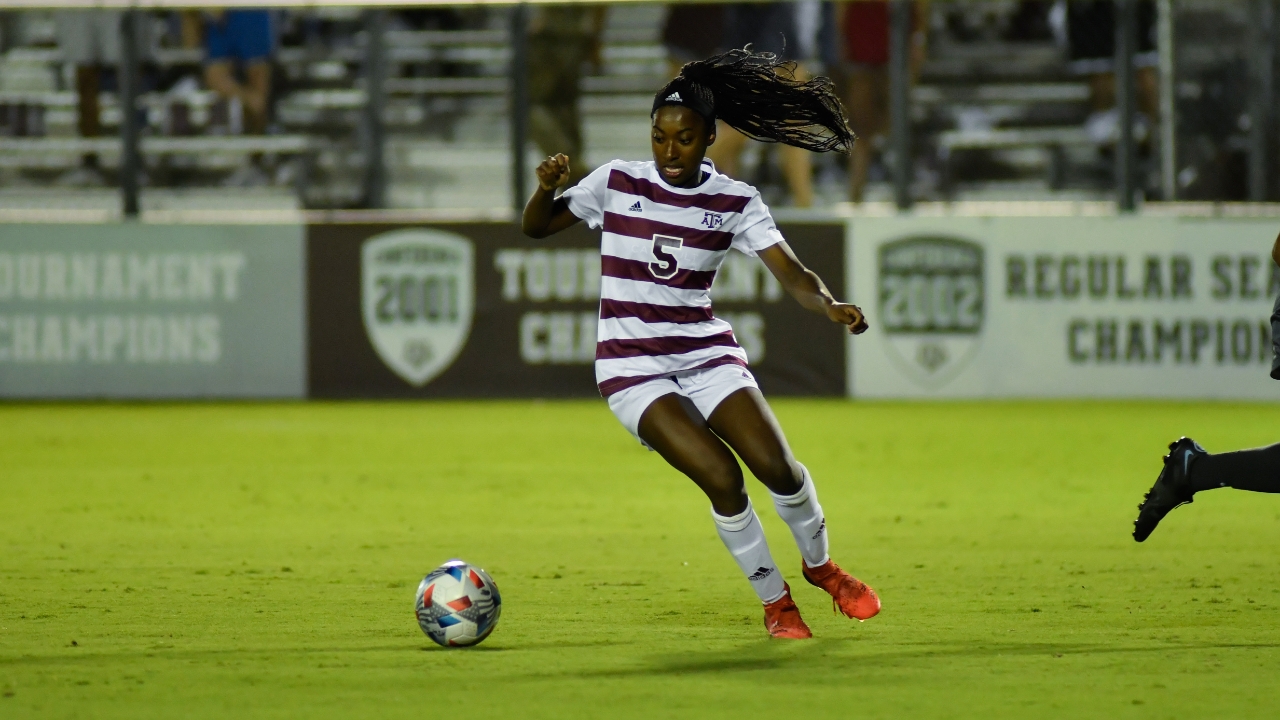 G Guerrieri
Kenna Caldwell
Macie Kolb
Texas A&M Soccer
Aggies suffer second straight home loss, falling to No. 16 Arkansas, 1-0, in OT
---
No. 16 Arkansas slipped by A&M, 1-0, in overtime after a gridlocked soccer match in College Station on Thursday night.
A long defensive battle came to a sudden end as the extra time was winding down when Arkansas midfielder Anna Podojil slipped a slant past Aggie goalie Kenna Caldwell for the game-winner.
A&M head coach G Guerrieri was pleased with his team's effort and said the loss was a hard lesson for the Aggies.
"The team effort, there was a collective effort out there that you got to be proud of," said Guerrieri. "It was a sudden victory and we didn't get the chance to finish off the full overtime, the full 20 minutes of overtime, and you know something might've happened. In NCAA soccer it is sudden victory and we got to learn from it and move forward."
A&M defender Macie Kolb acknowledged the learning experience as the Aggies continue to hone their focus.
"Staying locked in, it just didn't go our way on that back post tonight," said Kolb. "Staying locked in, marking our players, making sure that we're in it every minute because this game was a little bit longer than normal so it's just making sure we're mentally prepared for that."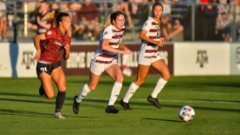 Jamie Maury, TexAgs
The contest was a return to Ellis Field for A&M just four days after suffering their first home loss since 2019 against No. 9 Pepperdine. Guerrieri's squad was looking to conjure some offensive momentum at the top of SEC home slate.
The Maroon & White were quickly tested minutes after the first whistle with back-to-back chance headers from the Razorbacks but successfully locked down both attempts.
A tight press from Arkansas put early possession in their favor, but the Aggie defenders were able to counter with a firm defensive stance inside the box.
The two teams traded shots often, as Caldwell raked in two saves halfway through the first period.
The ice remained unbroken after 45 minutes with no team creating any big opportunities to score.
The defensive gridlock continued into the second half. In the 58th minute, A&M forward Makhiya McDonald fired one from 20 yards out after speeding her way through multiple Razorbacks but was iced by Arkansas' goalie. Caldwell answered with a save of her own on the next possession after recovering a header off a corner kick.
Arkansas slowly began to find a stable attack on A&M's defensive third but the Aggies were able to put out any sign of an offensive spark.
With 15 minutes left in regulation, the match remained cold.
McDonald led one last Aggie charge upfield with midfielder Kate Colvin finding the end of a string of passes but failed to successfully drive one home, leaving the score blank with 10 minutes left in the contest.
"The team effort … there was a collective effort out there that you got to be proud of."
The Razorbacks finally found daylight as overtime began to wind down when Podojil found the net, ending the contest.
Guerrieri praised Caldwell's work in goal in the protracted defensive battle and noted his team's calm in the face of the Razorbacks' pressure.
"Yeah, I thought Kenna (Caldwell) was awesome in goal. It was an All-America level performance by her," Guerrieri said. "Katie (Smith) and Karlina (Sample) were fantastic in just keeping everyone under control. What Arkansas is looking for is chaos. They want chaos. They want there to be as frantic of a game as possible."
Tonight's win by Arkansas extends their series win streak against the Aggies to four straight victories. The Aggies now fall to 5-4-1 on the season. The Aggies will be traveling to Alabama to take on No.11 Auburn this Sunday in continuation of SEC play.
Never miss the latest news from TexAgs!
Join our free email list