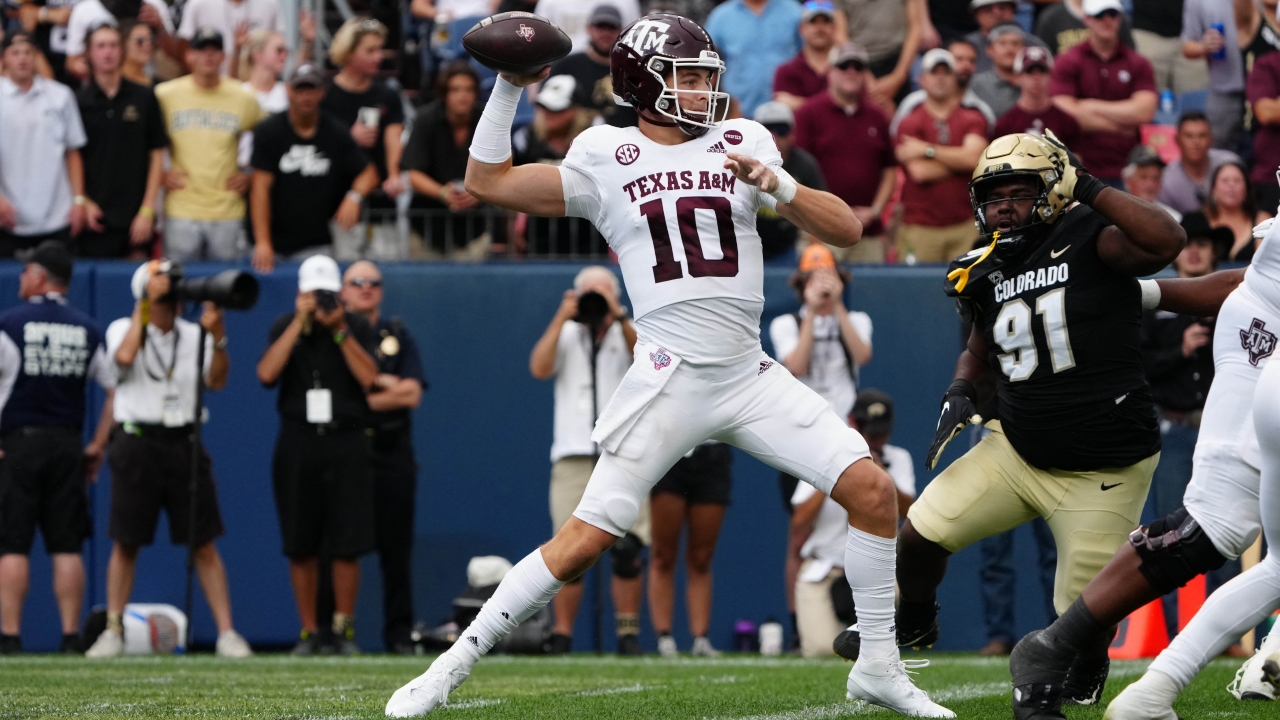 Photo by Ron Chenoy-USA TODAY Sports
Texas A&M Football
Landry: Calzada must develop in passing game for Aggie offense to succeed
---
Key notes from Chris Landry interview
When a quarterback goes down, and particularly a young quarterback, I'm not sure that fans understand that the starting quarterback has to get anywhere from 75-85 percent of the reps when preparing for the game. The backup prepares mentally but not physically. So when the starter goes down, the opposition isn't prepared to face the backup, but you also have a quarterback that is not as prepared physically in the game plan.

It's tough for young guys to have success in the passing game. Mobile quarterbacks like Haynes King can have success with their legs. Zach Calzada struggled to read the coverage properly. They made adjustments to do some things for him to scheme guys to get them open and make it easier for Calzada. He's very talented and showed mobility and the ability to make plays.

He drove them down to the goal line and didn't get in. The defense gave him another chance, and when they absolutely had to have it, Calzada came through. That impressed me more than anything. Young quarterbacks can go into a shell when they struggle. This kid didn't do that. It went better than I thought it would when Haynes King went down.

We're not talking about a settled quarterback situation with King or Calzada. We're going to have to see how much better Calzada can get. This is a game that is very important this week to get things in line because it'll get tough for them when they get into conference play.

As I mentioned, there were too many guys to block in the box. Colorado had 8.5 or nine guys in the box. They were going to take away the run. That's what teams are going to do against A&M. They'll have to make plays in the passing game, or Calzada will have to make plays with his legs. Just because they didn't make plays in the running game this week doesn't mean that they won't.

We don't know how Texas A&M stacks up in the SEC West. We know they're good, but so are other teams. It has a lot to do with the quarterback play and the progression. Teams are going to overplay the run until Calzada shows he can make plays in the passing game. That will be the game plan against them.

A&M struggled early when Colorado ran some zone-read stuff. They didn't set the edge well. They did a better job as the game wore on of dominating the line of scrimmage. They set the edge as it went on. They settled in. They made good adjustments. They controlled the line of scrimmage. The linebackers overran plays early in the inside running game. They did a better job with their run fits.

The big thing in defense football: It's about assignments. There is a myriad of ways to do it, but there are seven gaps to defend. Everyone has to understand their assignment. One of the things I saw early was overaggression with what Colorado was going in the RPO game.

The other thing that Texas A&M's defense does as much as anybody in the SEC is showing their pre-snap adjustments. They weren't sound early on.

I didn't know this until talking to a couple of the coaches, but the defense never got frustrated. Behind the scenes, they just needed one score. In the end, they got it done. Throughout the whole game, the defense did a tremendous job.


A&M's receivers didn't separate very well. Remember that the delivery and the timing are off. With Zach, you're dealing with more of a drop back. Every route concept corresponds with the depth of the drop. The timing and the delivery were off. If the ball isn't delivered on time, the receiver is covered. A lot of what they'll do with Haynes King is some different concepts where they're moving the pocket. Maybe, with Calzada, they'll have some designed rollouts. There was also some indecision with the football.

Just don't turn it over. They get out of there with an L if they turn it over and give Colorado a short field.

Isaiah Spiller is an outstanding back. He's one of the best in the league. He has great leadership. He runs under his pads and upfield. They're going to have to live around the running game, and they'd have to do that regardless of who the quarterback is. Spiller is going to be a big part of it. A lot of what A&M is going to have to do is work the spread look and work the tight ends to get guys out of the box.

I do think the offensive line struggled with Colorado's size and quickness. Those are some issues that you have to look at when you talk about quarterback or receiver issues. Sometimes it's because the offensive line isn't protecting well enough, but this week, I think it was a perfect storm of all three, creating an uphill battle for this offense.

The issues with New Mexico are not about what the margin of victory is. What matters is how you play, how you execute, and how you play from an assignment standpoint. You need to look at the transferable aspect of this game. If you play sloppy and poor, it may not manifest itself. The key is getting better, particularly offensively. New Mexico is a different team.
Never miss the latest news from TexAgs!
Join our free email list