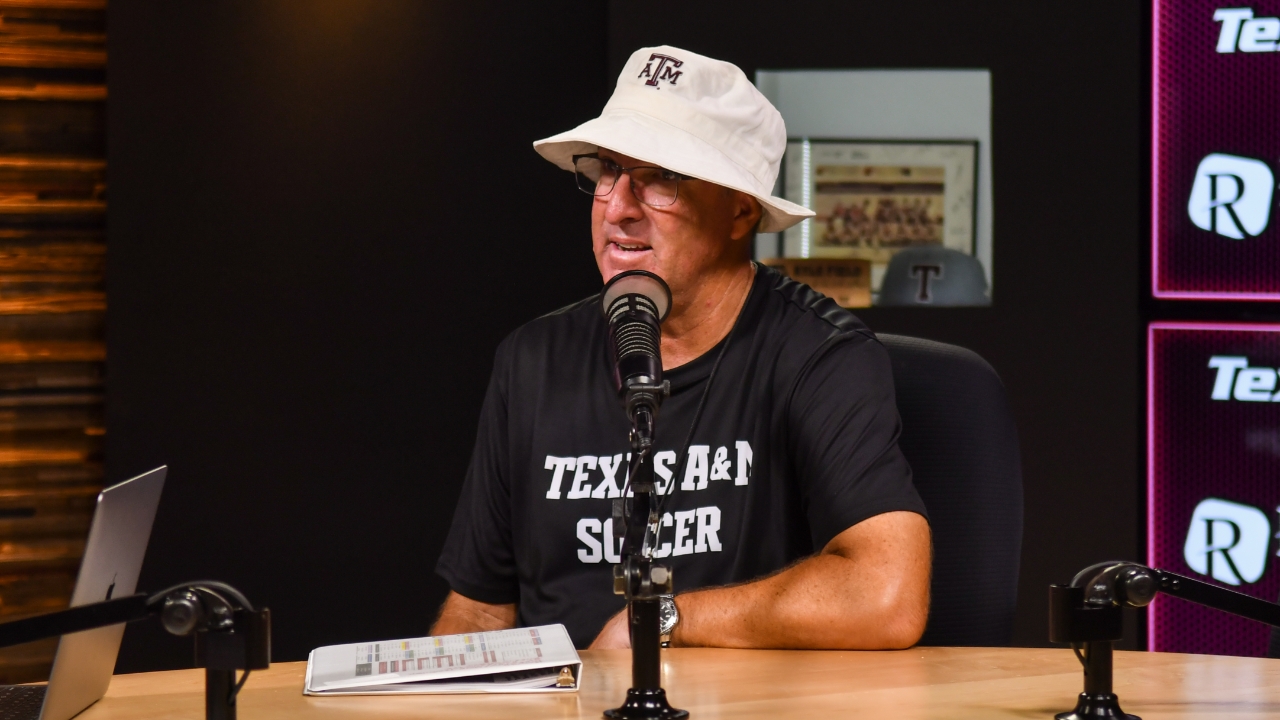 Photo by Jamie Maury, TexAgs
Texas A&M Soccer
Guerrieri, Aggies face Southern on Wednesday before trip to Stillwater
---
Key notes from G Guerrieri interview
If you have any kind of identification that shows you work for the school district or are a teacher, show it at the ticket office, and they'll give you a special rate for tonight's game. The sports on west campus are very affordable. You can still experience the Texas A&M, 12th Man atmosphere at those venues, and there is nowhere that you can be closer to the field than at Ellis.

It's Cavalry Youth night at Ellis Field as well, and the club has gotten much bigger. They've done a wonderful job in building trust around the community that this is really good for their boys. Hopefully, we can put on a good show for them tonight, and our players can give them a good idea of what the game is supposed to look like.

We are a work in progress. Your first game is your first game, and if you don't learn from those experiences, then you're in trouble. We've gotten better from one game to the next.

With the win on Friday night against Sam Houston, we scored in the fourth minute and kept piling on with five different goal scorers. Against UTEP, it was hotter than Hades. We were tied 1-1 at halftime, but we have some smart ladies on this team. They responded in the right way with three beautiful goals.

Today is our third game in six days. We put the emphasis on the attack. We want to put our opponents under constant pressure. It's 90 minutes of hell. This will be our first game against Southern, so that will be a new challenge for us. It's our last game at home before we go to Stillwater for a rematch of our Sweet 16 game.

Barbara Olivieri was attacking on the left side during the Sam Houston game when a defender took her out, and her knee was hit pretty hard on the landing. We thought it was an ACL issue and that she'd be lost for the season. The MRI came back with the ACL intact with it just being an MCL tear. She won't play tonight, but she will be back later this season. It'll be great to get an All-SEC player back, whenever that is.

This is the last non-nationally ranked program that we play for a while. We need to get our result and keep moving forward without anything happening. We want to play matches that will get us seeded highly in the NCAA tournament, and to do that, you have to beat highly ranked teams.

The game against Oklahoma State is a Big 12 rematch, so we know them well. It is always a big rivalry game. We like and respect their coaches. The players know each other well. Every time we've played them, it has been a tie. 3-3 was the score in the NCAA Tournament before we beat them in penalty kicks. It should be a good game.

Sunday, Sept. 19 vs. Pepperdine will be the annual Turn It Gold match. If you were to fill 97,000 people into Kyle Filed on Saturday, about that many children die each year from juvenile cancer. We want to do everything we can do to fight that, and that's what the Turn it Gold match is about. We will auction off our uniforms and sell gold scarves at that game. People can also donate to cancer research at that game as well.
Never miss the latest news from TexAgs!
Join our free email list