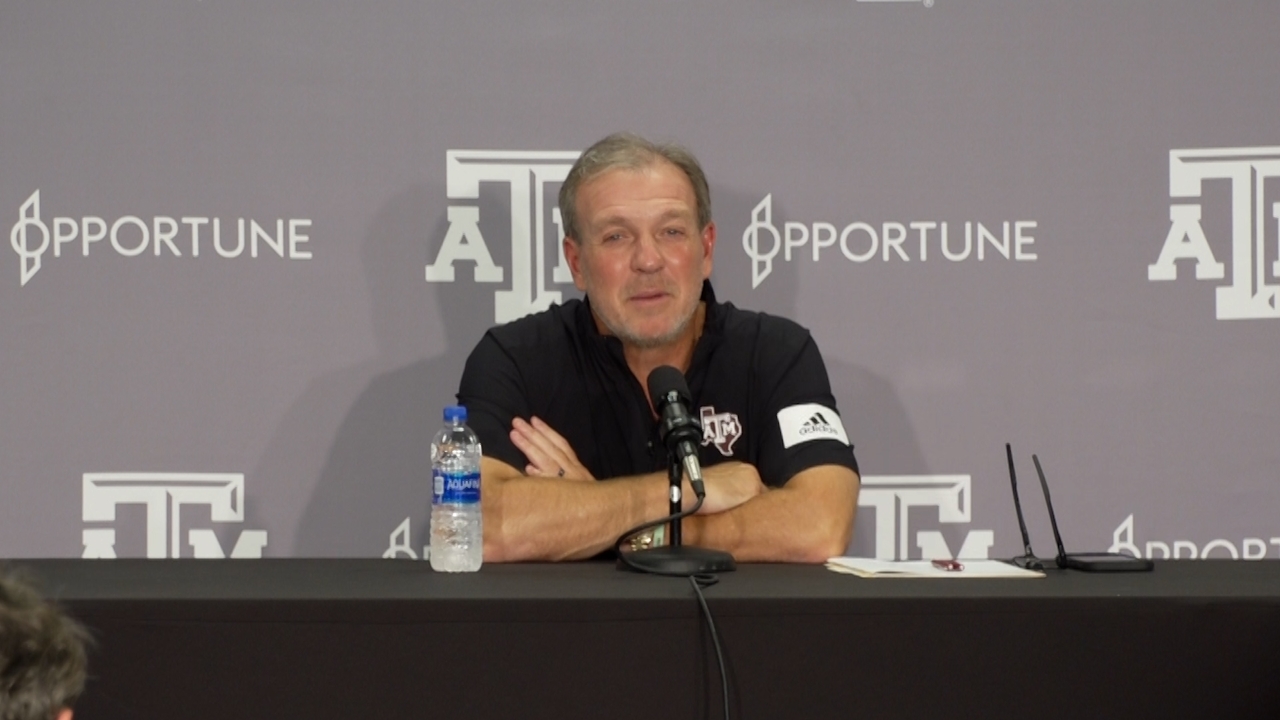 Jimbo Fisher
Demani Richardson
Devon Achane
Jalen Wydermyer
Texas A&M Football
Press Conference: Fisher, Aggies turn attention towards Colorado
---
The Aggies will hit the road this weekend for a neutral site matchup with the Colorado Buffaloes at Empower Field in Denver on Saturday. Ahead of the road trip, Jimbo Fisher and select Texas A&M players spoke to the media to preview the contest with the Buffs.
---
The following are live, paraphrased notes from Jimbo Fisher's Monday afternoon media availability.
It was great for our team to get a win. We did some nice things. Typical first game. Good things and some things we need to clean up. Assignments, communications, disciplines, how we're running some packages. On defense, we need to seal up some areas in the rush game. Guys wanting to go make the tackle rather than forcing it elsewhere, letting holes come out. We got to do a better job of that. We made two nice turnover plays. Overall, solid deal. We played a lot of guys. Offensively, we moved the ball up and down the field. We had a few turnovers, and when you're the quarterback, it's your fault. We'll clean that up. That's not a major thing, but it is a major thing because I tell our guys to do the ordinary things better than anyone else. A young offensively line did a great job. We put some hats on hats. True freshman center made all of the calls. A few mistakes there. We overcame the first holding of the game and got a touchdown. We have to eliminate those things. We ran the ball well. Isaiah Spiller played an outstanding game, and he's becoming a complete back. Devon Achane was his same self. Great football player. Ainias Smith came in the backfield again and played really well back there. Earnest Crownover did some nice things. Tight end position was solid. Jalen Wydermyer did some nice things, but things need to be cleaned up. Receivers did some nice things. Receivers and secondary blocking is huge. Getting Caleb Chapman back was huge. Chase Lane was very consistent. He played a good football game with a lot of little things. Kicking off, we did a great job without Caden Davis being in there. The freshman did a great job. Otherwise, we controlled kicks well. We didn't put in the game. Seth Small made his kicks. Punt return game was all over the place. Of course, we had the one relaxation. Ainias went out there not focused, and it got over his head. He has to left that go. That's a lack of concentration. That can never happen. Typical game. Really good things with some really good plays.

Colorado's coaches have been around a long time. Pro schemes. Mutliple blitzes and fronts. Big and physical up front. They mix multiple coverages. Athletic receivers. Young quarterback did a nice job. Backs are outstanding. Kicking game is very solid. Jerry Rice's son is on the punt return. We're going to have our hands full on the road. We have a win. They have a win.

We got challenged in the game, and I liked the way we responded. We'll try to get better.

Haynes King was outstanding. The moment was not too big. At any moment, he could walk off and tell you what went wrong and why. Excellent in communication. We got to test him under duress. Turnovers didn't put him in his shell.

Micheal Clemons will be back this week. McKinnley Jackson will not.

Myles Jones will be back in practice this week a little bit. We'll see how it goes. Caden Davis will be back this week.

Linebackers are fitting, but we need to be more physical. We need to pull the pin a little quicker. We can't stick our nose in honey. We need to plug the gaps. On defense, you want to make the tackle, but you need to do your job. If the football comes your way, only then do you chase the tackle. You have to follow the framework. It comes from wanting to make plays, but you have to be disciplined. In football, it's so choreographed because it's 11 guys. Defense is completely choreographed. The ball bounces. The devil is in the details and little things we need to clean up.

Bryce Foster was outstanding in the game. A couple of mistakes. The looks he saw in his first game were difficult. He made all the calls. It's hard, and I thought he did an outstanding job. The sky is the limit for the guy.

Donell Harris should be hopefully getting back in practice this week. Braedon Mowry will be out a little while longer.

Shemar Turner was in the game and made some nice plays early. This guy will be an outstanding player. He loves ball. Jardin Gilbert was in the game at safety. I thought he did a nice job. We're pleased. Tyreek Chappell was excellent. He was banged up a week ago, and now he's back. Good ball skills. Deuce Harmon moved around at corner. He can really move around. He has a bright future. Zion Harris got in the game. He has great pass rush ability or cover ability.

Little things will make us more explosive. Guys want the ball. We have to fix and clean some things up with our veteran guys. Sometimes veterans start ad-libbing. We dropped a touchdown. Quarterback can run and throw it. Tight ends can block and catch it. In short yardage, we missed some blocks. We'd be on long drives and not score. It was frustrating. Attention to detail has to be better, but there is a lot of potential.

I've taken teams to altitude a number of times and never had an issue. We'll have oxygen if guys need some air. Sometimes players will have a condition that affects them, but most of the time, it's not a factor.

Leon O'Neal had two critical plays. That one before the half stopped the momentum. Leon is always coming from a good place, but you just can't tell everyone everything all the time. Understanding who you are, what you are and how important you are in the team, Leon has come a long way. Be a pro. Understand the big picture for the team. He has absorbed that, and the more he has, the better he has played. I'm happy and proud of him, and I hope he keeps playing well.

You're going to face a good Colorado team that's coached very well. You're going on the road into a hostile environment. We need to have a great week of practice to prepare how to play.

I'm happy for Caleb Chapman. He had two freak injuries. That can discourage you. Why me? Those are 10-month recoveries. Do you know the mental stress and strain? The thoughts that go through your head as an athlete? I'm so happy for him to overcome two ACLs. It shows his fortitude and ability to overcome things. He gives us a big, fast, athletic guy. He's one excellent football player who makes us a better football team.

You have to have talent and juice, but you have to control your energy. Passion and emotions can only take you so far. Leon O'Neal has done a good job of keeping it but toning it down. He has found that happy medium.

Shemar Turner has great examples. DeMarvin Leal and those guys inside. He's going against Kenyon Green and Jahmir Johnson. He had all that production and still has so much room to improve. He likes to play and knows how to play. He's going to get better and better. Those guys around him and the guys he goes against every day have helped him develop.

Offensively and defensively, you have to make good plays on third and fourth down. It's big. You have to understand the importance of third downs. We had two touchdown passes on third down in the red zone. That's really prized. Those are critical plays in the game, and hopefully, we can continue doing it throughout the year.

We'll continue rotating the running backs. They both have to touch the ball. We have a lot of things to play for, and those guys both have to touch the football for us to be a good team.
Never miss the latest news from TexAgs!
Join our free email list