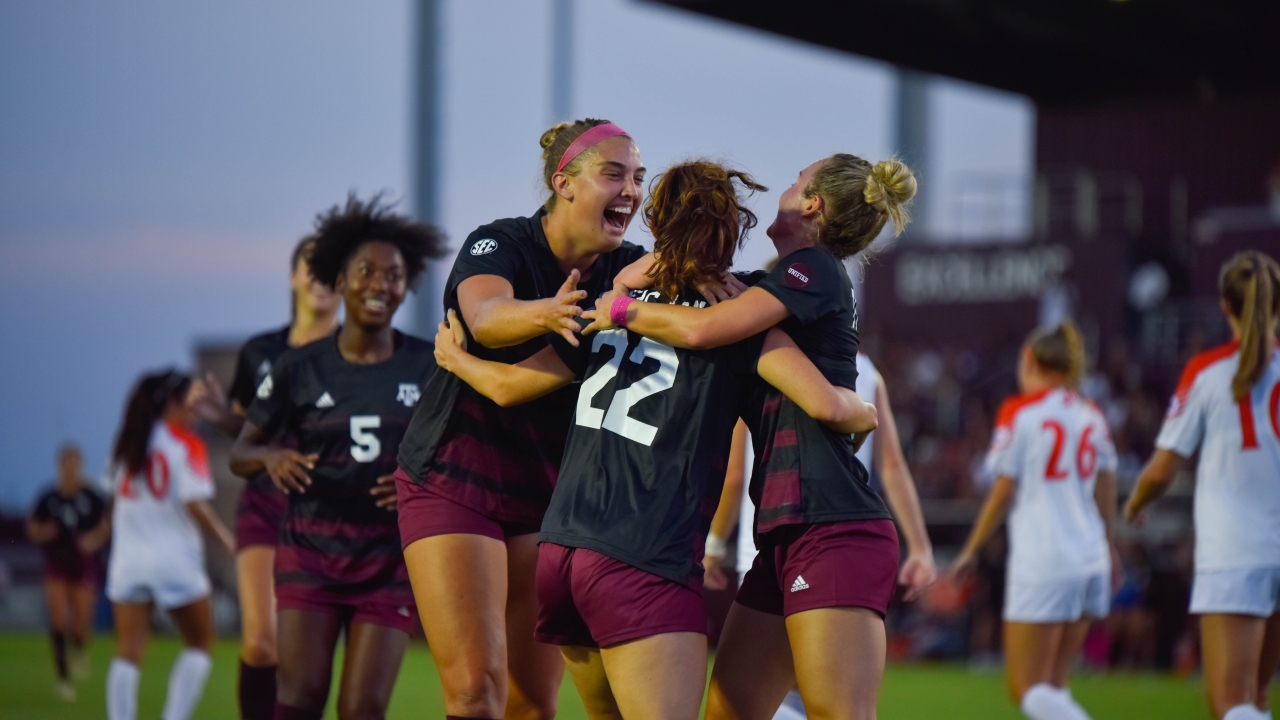 G Guerrieri
Kendall Bates
Natalie Abel
Texas A&M Soccer
High-powered offense helps Aggies cruise past Sam Houston, 5-0
---
Texas A&M soccer earned their second straight victory on Friday night, defeating Sam Houston State 5-0 to continue what is now a 12-match home win streak.
Coming off a huge 3-1 win over No. 9 Clemson last week, A&M looked to continue building momentum after three tough opening matches against top-10 opponents.
Marking the Aggies' first match of three against in-state foes this season, the Maroon & White settled into their newfound offensive rhythm early with a goal in the third minute from senior Kendall Bates off a slant from freshman Mia Pante.
"Keep it simple. Pass the ball around. We do a lot better when we keep it like that."
The Aggies attributed finding that flow to keeping things simple and centering their game around what they do best.
"We focused on doing the simple things; big idea for us was doing what we are good at," said Bates. "Keep it simple. Pass the ball around. We do a lot better when we keep it like that."
The Aggies took advantage of their early momentum as the shots continued to fly until sophomore midfielder Kate Colvin scored in the 11th minute to give the Aggies' a comfortable cushion, 2-0.
The Bearkats' offense struggled to advance the ball beyond midfield as A&M maintained a tight defensive strategy.
A&M kept a persistent presence inside the box with 18 first-half shots, including five from SEC Offensive Player of the Week Barbara Olivieri.
With under 12 minutes remaining until halftime, freshman Natalie Abel assisted midfielder Daria Britton on the Maroon & White's third goal of the match.
Abel then scored her first collegiate goal three minutes later, thanks to an assist from junior forward Ali Russell.
"My mind was just, 'Wow.' It was a moment I can't even describe," said Abel. "I honestly wasn't even thinking in the moment. Everyone just came up to me and hugged me. I saw all the fans, and I relaxed a little, and I thought, 'Wow, I can't believe I just did that.'"
Friday was Abel's first game back from a minor injury, and in her first performance at Ellis Field, she was ready to make the most of it.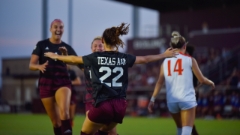 TexAgs
"Coming into the game, I just wanted to give it my all," said Abel. "I was just thinking, 'You got to go out there and run, play smart, and have a lot of energy.'"
Leading 4-0 at halftime, the Aggies resumed their hot offensive play in the second 45 minutes with multiple pushes towards the box.
Freshman Carissa Boeckmann tallied her first goal on the season off an assist from Abel in the 62nd minute.
Though not being able to match the first half's scoring output, A&M ended the game with a season-high 32 shots. In addition to great offensive energy, the Aggies dominated on both sides of the field as they managed to keep a clean sheet and play through their rotation.
"It felt great, when we came out and were able to immediately establish some possession was outstanding," said Coach G. "I'm glad we were able to play two of our goalkeepers because (Shantell Hutton) has been awesome in the preseason as has Kenna, and I know Kenna [Caldwell] was happy that Shan was able to get in there and play because she knows how hard she has been working. That was a cool thing, the fact that we got a lot of players their first games."
With the win, A&M improves to 4-0 all-time against Sam Houston and 2-2 on the season.
The Aggies are set to take on UTEP this Sunday at 3 p.m. as they look to remain undefeated at home.
Never miss the latest news from TexAgs!
Join our free email list