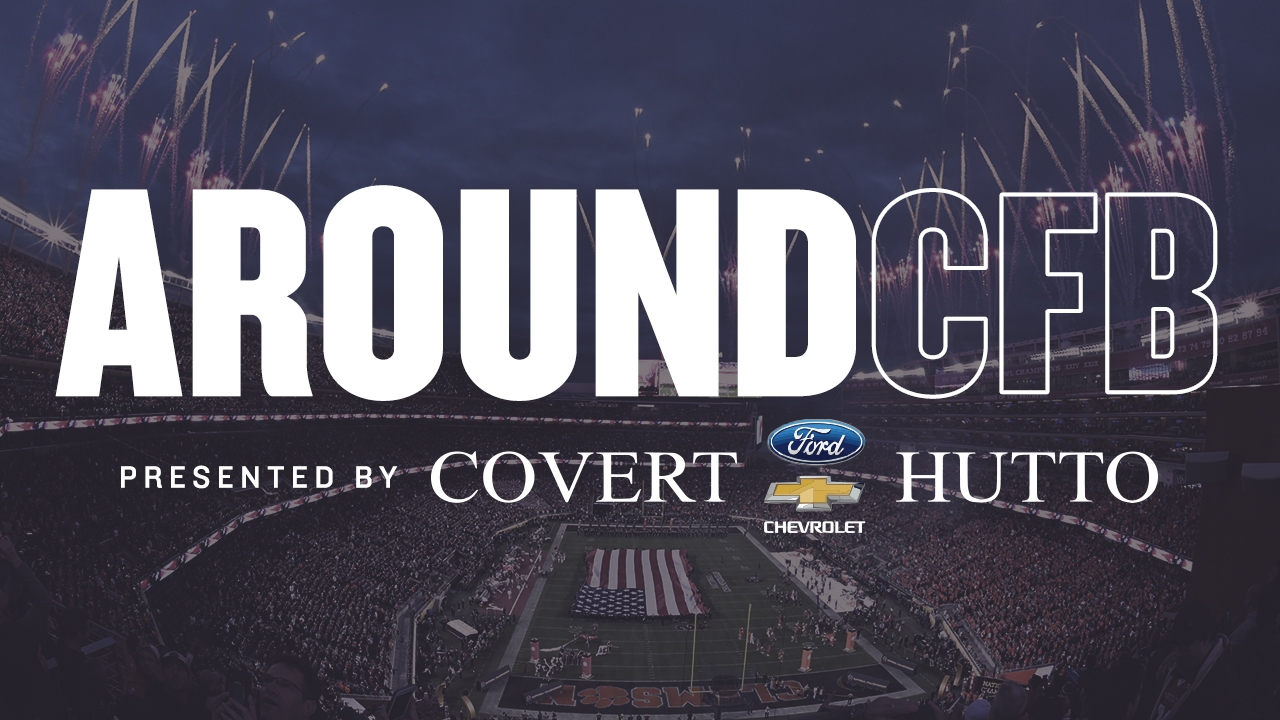 Photo by Kirby Lee-USA TODAY Sports
Texas A&M Football
Around CFB: Bulldogs gear up for top-5 clash with Clemson in opener
---
Some college football coaches hesitate to acknowledge the fact that players, fans and media all know.
Georgia's Kirby Smart isn't among them. He fully acknowledged that the No. 5 Bulldogs' opening game against No. 3 Clemson is bigger than most non-conference games. A clash of top five opponents just means more than … say, Akron at Auburn.
"The bottom line is our kids come to the University of Georgia to play in big games," Smart said earlier this week. "We had an opportunity to play a really good opponent. For me, it's what Georgia is about. Our fans crave these kinds of games. We, as coaches, crave these kinds of games. You find out a lot more about yourself in these kinds of games."
"For you guys (media), everything is over if you don't win. You won it all if you do win. For us, it's an opportunity to grow. It's going to make us better in our SEC schedule regardless of the outcome of the game. We're going to be a better team having played these guys. They can say the same for playing us. These opportunities are what you come to major colleges to play in."
Smart must hope facing Clemson will make Georgia better. The Bulldogs are going to need to be as good as possible.
Just as some games are bigger than others, some big games mean more to one team than the other.
Both teams obviously are talented, experienced and harboring national championship aspirations. Playing a strong schedule should be encouraged — even rewarded. But the fact remains a two-loss team isn't likely to get into the College Football Playoff.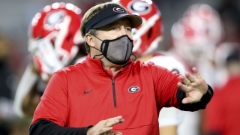 The Tuscaloosa News-USA TODAY Sports
Georgia is more likely to suffer another loss than Clemson. The Bulldogs later play at Auburn, against Florida and will likely face Alabama or Texas A&M in the SEC championship game.
Clemson's road in the Atlantic Coast Conference is considerably less challenging.
Not only are the Tigers the unquestioned Alphas of the ACC, but only three opponents managed winning campaigns in 2020. North Carolina State was 8-4. Boston College and Pitt were 6-5.
They also play Connecticut, which already has a 45-0 loss to Fresno State, and South Carolina, which was 2-8 a year ago and will open the season with a graduate assistant (you read that right) as the starting quarterback.
If/when the Tigers finish first in the ACC Atlantic Division, they will probably face North Carolina as the Coastal Division winner in the conference championship game.
By the way, Clemson has won seven of the last eight meetings against North Carolina, including the last four.
That all suggests Clemson isn't likely to lose again. There's a much better chance Georgia could fall later in the season. That's why the big game is even bigger for the Bulldogs.
Heisman watch
1. Spencer Rattler, Oklahoma, QB: Oklahoma quarterbacks always post gaudy statistics. The Sooners also figure to win the Big 12 and will be a contender for the playoff. Quarterbacks of national championship contenders — especially those with big numbers — are Heisman favorites.
2. D.J. Uiagalelei, Clemson, QB: When Trevor Lawrence was sidelined last season, Uiagalelei stepped in and passed for 342 yards and two touchdowns against Boston College and 439 yards and two touchdowns against Notre Dame. He also rushed for four touchdowns on the season. Imagine what the large sample size could be.
3. Sam Howell, North Carolina, QB: Howell passed for 3,586 yards and 30 touchdowns last season. Expect him to surpass 4,000 this year. A big year for the Tar Heels will equate to a big year for Howell.
4. Isaiah Spiller, Texas A&M, RB: Why not? Spiller rushed for 1,039 yards against an All-SEC schedule last season. That's despite not starting early in the season and struggling with nagging injuries late. A healthy Spiller could make a legitimate run at 2,000 yards. He's also a receiving threat.
5. Breece Hall, Iowa State, RB: The best player on the nation's seventh-ranked team, Hall rushed for 1,572 yards and 21 touchdowns. He figures to at least equal that production against forgiving Big 12 defenses.
Predicted playoff participants
1. Clemson: If the Tigers get by Georgia it's (almost) clear sailing.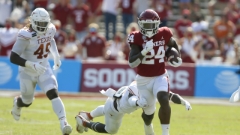 The Oklahoman-USA TODAY NETWORK
2. Alabama: History shows it takes a special team to beat the Tide. There could be a special team lurking in College Station, but the Aggies have to prove it.
3. Oklahoma: Iowa State might threaten the Sooners, but who else? Texas? Please.
4. Texas A&M: Even if they suffer a loss, the Aggies don't figure to be denied this year. Especially, if Ohio State falls at least once, which is very likely.
This week's best games
No. 5 Georgia vs. No. 3 Clemson: Could be a classic like the 1984 matchup that Georgia won, 26-23, on a 50-yard field goal.
No. 19 Penn State at No. 12 Wisconsin: A preview of the Big Ten championship? Probably not. But definitely two contenders.
No. 1 Alabama vs. No. 14 Miami: A new quarterback. A bunch of new starters. Alabama has more holes than usual. However, lately the Hurricanes have been more hype than substance.
No. 23 Louisiana at No. 21 Texas: An upset is a distinct possibility. But who would upset who?
No. 17 Indiana at No. 18 Iowa: Hoosiers out to show last year's success wasn't a fluke. Beating Iowa would be a good start.
MESSAGE FROM OUR SPONSOR
Call or text Chad at Covert Ford in Hutto at 512-633-4819 For new Fords, Chevys, and over 900 pre-owned vehicles. Thanks and Gig 'em.
Never miss the latest news from TexAgs!
Join our free email list
PRESENTED BY