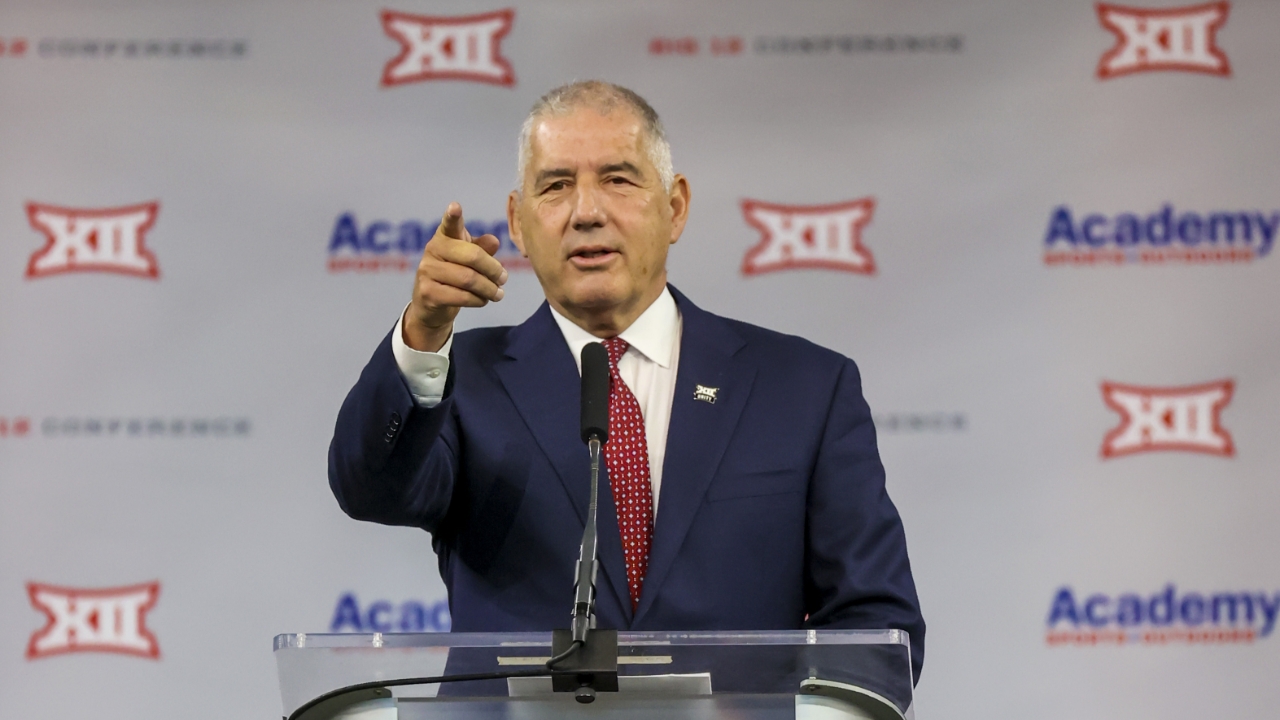 Photo by Kevin Jairaj-USA TODAY Sports
Texas A&M Football
AP's Ralph Russo goes in-depth on Bowlsby's decision to go after ESPN
---
Key notes from Ralph Russo interview
I want to credit Pete Thamel at Yahoo. He had the cease-and-desist letter first. I started scrambling and trying to get Bob Bowlsby, who is probably the most forthcoming person in college athletics, on the phone. He called me back and had plenty to say. He caught me off guard. He didn't have anything to say up until yesterday because they had just been gathering information. Then, he started going off on ESPN to the point where I had to grab a pen. They think ESPN is trying to undermine the Big 12 by having other conferences pick it apart, most notably the American Athletic Conference, to the point that the league crumbles and allows Texas and Oklahoma to move to the SEC.

This could be posturing and leveraging things before the Big 12 gets into a room with Texas and Oklahoma to try and settle before it goes to court. Bowlsby said he's confident but wouldn't say why. Businessmen and administrators talk to each other. There are people in the Big 12 who had been athletic directors in the American Athletic Conference, so phones started buzzing, people talked. Finally, it all got back to the Big 12.

Does this slow the train down? It doesn't sound like it. There is no guarantee the SEC presidents will vote today, but it's fair to expect a vote today. I do wonder if the circus of yesterday causes the presidents to want to let this settle. From reading the tea leaves, I'm still expecting a vote. There are meetings for the Board of Regents at Oklahoma and Texas scheduled for this week. If the SEC presidents vote to extend an invitation today, the schools could accept one tomorrow. It's important to note that the timeline they're working off of is still 2025 to make this happen.

I think when the 2022 football season kicks off, Texas and Oklahoma will be in the SEC. I'm a little more bullish on that than most. As much leverage as the Big 12 has here because of their bylaws, it doesn't behoove the Big 12 to wait around. They need to go about rebuilding their conference to take it to potential TV partners for their next deal. They would do best not to let it linger because Texas and Oklahoma have more leverage overall.

Texas has a history here. I would always say that when Texas is involved, there is always an element of them maybe deciding to do something different. However, I don't expect that. I don't see how this gets derailed. I think the worst-case scenario if you're Texas and Oklahoma or the SEC is that this doesn't happen until 2025.

You have a lot of messages from the other Power 5 conferences of being fine where they are, and I think there's some truth to that. With the remaining eight Big 12 schools, I'm not sure adding those schools move the needle for those conferences.

Oklahoma and Texas were about to be free agents, and the SEC went after the most prominent free agents. The Pac-12's deal is almost up, and USC is a pretty big name. I think what is happening now is resetting all of those dynamics. Does the Pac-12 think they're in a precarious situation and needing to be proactive by adding some Texas schools or perhaps trying to find a merger with the Big Ten? I don't know what's happening next, but when you get people in positions like this, you might have some bold and irrational moves. I think the logical next step is the eight Big 12 teams need to try and find two replacements, but when you throw a grenade into the room, you're going to get reactions like this.

Maybe we had set some unrealistic expectations of how quickly the 12-team playoff would happen. We thought it would be in place by 2023. There have already been some serious factors that might slow that down. Do they have the six conference champions in? It means a lot to potential buyers. Maybe they want to embolden FOX and have it on more than just one network. They might have to take it to market and wait until 2025. When something shifts, they'll have to wait to see how it impacts everything else.

I think it's great for Texas A&M because Greg Sankey is forcing college football to coalesce around the SEC. Texas A&M is a big fish. Do Aggies really want Oklahoma and Texas in the SEC? On the field, there might be some things you don't like, but institutionally, this is where you want to be.

I could see something where there is a 40-school semi-pro model that is the SEC and attachments to it in the future. That's more big-picture, long-term. The ACC schools have their grant of rights through 2035 or 2036. Think about the free agents who will be free to move around in the next few years. For the short-term, my guess is that the SEC has what it needs and wants. For the long term, the SEC has established itself as a magnet, and everybody is gravitating around them.
Never miss the latest news from TexAgs!
Join our free email list