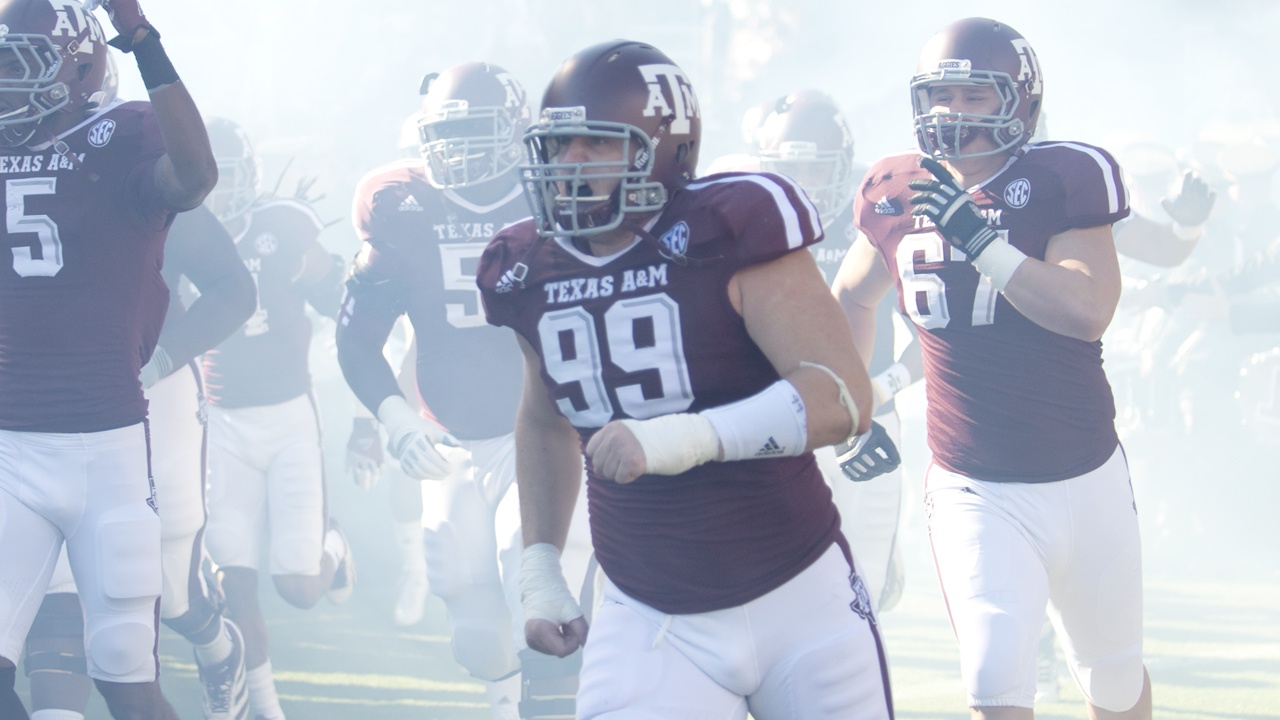 Photo by Andrew Kilzer
Texas A&M Football
99 Thoughts with #99: Spencer Nealy pontificates on SEC expansion rumors
---
Key notes from Spencer Nealy interview
No, we're not scared of Texas. Why would we ever be scared of them? Screw them. If they want to join the party, bring it on. We'll whoop their asses until they're Arkansas. I'm tired of them screwing up everything they do. They've got that stupid network that nobody watches. Now they think they can come in here, get on the SEC Network and win games? They can't even win games in the Big 12.

I'd agree with the people who are against it if we had beaten them the last time we played them. After we beat them a few years in a row, any sort of recruiting impact they could potentially pose will be blown away because people want to win. College Station isn't a tiny market anymore, but it is still a college town. I'd much rather live here than Austin if I were a college kid. We'll take them to the schoolyard and whoop their asses.

In San Antonio, there are a lot of Longhorns, and they're kind of quiet about it. They say a bunch of Aggies don't want the rivalry back, and for good reason, because we were done dirty by them. Think about that game, though, and when it comes back. The lines for tickets will be out the door, and we'll win by 50 because Jimbo Fisher has a great rushing offense and a great defense. What does Texas have? We have a new engine and are ready to run laps around them. This is good.

I'll be the first to admit that I'm always skeptical. I think it's because I spent too much money to go to law school, where they train you to think pessimistically. It's incredible what Jimbo Fisher has done. He said at his first coach's night what he was going to do, and he's accomplished it with a ground-and-pound offense and great defense. I want to see us dominate our opponents by out-physical-ing them.

This all started when coach Sherman was here, and we don't get to this opportunity if everything doesn't happen. If we don't lose that Texas game, we don't have a new coaching regime that hits the SEC in full stride. Now we're going to play them again with this coaching staff. I'm so excited for fall. I want to play Texas now.

Sherman had a real eye for talent and quality of player. He got the best out of you. Like I've always said, circumstances were unexplainable. We had excellent practices, and the team was great, but things happened that you can't explain. The foundation he laid was perfect for coach Sumlin to come in.

It's all about attitude and the culture you have in there. Jimbo has brought in the perfect blend of 90s, Slocum-era guys and modern-era guys. It gives me chills just thinking about it. I'm so jacked up thinking about it.

Jimbo always said four years. I don't see why we can't win this year. Why not? Alabama has some question marks. The SEC is kind of down. We didn't lose much. We have all of our key players. The best part about having a great running game is that the new quarterback can piggyback off of them. Whoever is the starter, Zach Calzada or Haynes King, can follow them. We can easily win games with our defense and our running game. The schedule is there. This year, I believe it.
Never miss the latest news from TexAgs!
Join our free email list