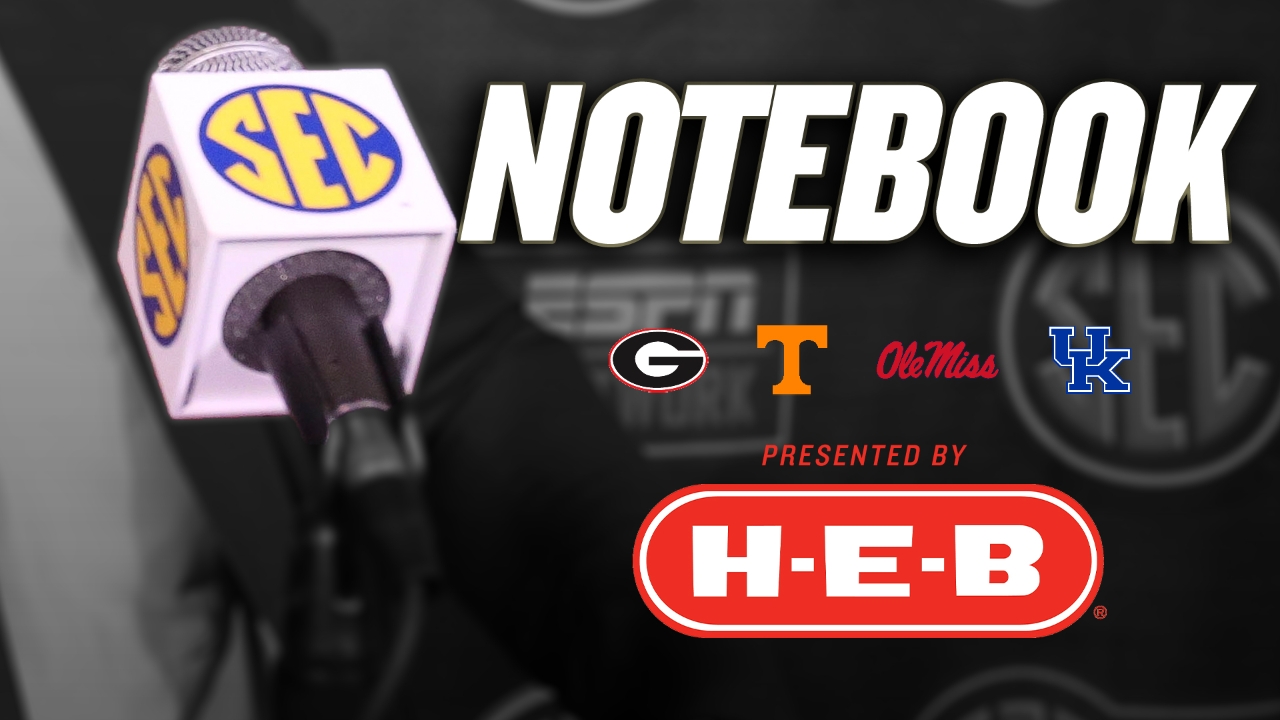 Texas A&M Football
SECMD21 Notebook: Tuesday highlights from Dawgs, Vols, Cats & Rebs
---
The nation might get a preview of the college football national championship in week one.
The hype will be enormous for the Sept. 4 clash between projected top five teams Georgia and Clemson. The Bulldogs and Tigers combined for 18 victories and both finished in the top ten last season.
However, Georgia quarterback JT Daniels on Monday at Southeastern Conference Media Days suggested the hype should be toned down.
"Obviously, it's a huge game. It's Clemson-Georgia; it's two really good teams. But I think the biggest thing for us as a team, as much as we get hyped for it, because it's Georgia-Clemson, it's a week 1 game," Daniels said. "You can win week 1, you can beat Clemson by 100 and have a terrible season, you could lose to Clemson by 100 and have a great rest of the season.
"I think it's important to keep in perspective that all it is is the week one game. As fun as it is competing against a really great team, let week one be week one."
Daniels, though, does have extra interest in the matchup against Clemson quarterback DJ Uiagalelei. They were rival high school quarterbacks in Southern California.
"DJ and I played against each other twice in high school. We were each other's rivals," Daniels said. "I was in my last year when he was a sophomore. His first high school start, I'm almost positive, was against me. DJ and I are good friends. I like DJ a lot, a really good player and a really good person."
It figures to be a really good game.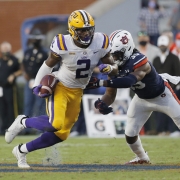 John Reed-USA TODAY Sports
New to the litter
Georgia coach Kirby Smart took advantage of the transfer portal to fill needs.
He brought end tight end Arik Gilbert from LSU and defensive backs Derion Kendrick from Clemson and Tykee Smith from West Virginia.
Kendrick and Smith were particularly needed because former Georgia defensive backs Eric Stokes, Tyson Campbell, Richard LeCounte and Mark Webb were selected in the NFL draft.
"We're under our scholarship quota of defensive backs," Smart said. "We had two guys come out early, two guys come out of the portal. We're at a deficit just from scholarship numbers, not to mention experience. Those two guys bring an immense amount of experience.
"With Arik, anytime you can get a skill player that can do things with the ball, you're always looking to be dynamic."
University of Transfer
No program was affected more by the transfer portal than Tennessee. More than 20 Tennessee players entered the portal, including tackles Jahmir Johnson (Texas A&M) and Wanya Morris (Oklahoma) QB Jarrett Guarantano (Washington State), and LB Henry To'o To'o (Alabama).
That made a tough job even harder for first-year coach Josh Heupel, who was hired to replace Jeremy Pruitt.
"Obviously, our roster changed. By the time I got there in late January, there were a large number of kids in the transfer portal," Heupel said. "At the same time, we've been able to add really quality individuals inside our program. We love the player, but we love the person too and what they're bringing as far as the culture piece inside of our program.
"Some of those kids, we've had relationships with, whether it was a coach being at a previous school and knowing them every day, or through myself or other staff members who had recruited them coming out of high school."
"To me, Joe's got a unique skill set, a strong arm, accurate passer. I think he's a very bright young man that's picked up on what we've done so far really well."
Perhaps the best-known player Tennessee added from the transfer portal is quarterback Joe Milton, who last season accumulated 1,186 yards of total offense at Michigan.
"To me, Joe's got a unique skill set, a strong arm, accurate passer," Heupel said. "I think he's a very bright young man that's picked up on what we've done so far really well. He's talented. He can spread the football field from sideline to sideline and vertically and has a unique skill set with his size and mobility to use his feet as a weapon as well."
New kid on the blocks
In recent seasons Kentucky's offensive line has been among the SEC's best. In the last two seasons, the Wildcats have ranked among the conference's top three in rushing offense and sacks allowed.
They figure to be really good again this year — with an assist from LSU.
The Wildcats got a break with All-SEC tackle Darian Kinnard opting to return for a super-senior season. They got another break when tackle Dare Rosenthal transferred from LSU.
"Adding Dare greatly helps our football team," Kentucky coach Mark Stoops said. "He has SEC experience. He played at one of the premier programs in our league, very talented, and I'm excited to have him. We've had good offensive linemen. We're going to continue to build on that, and he's been a great addition."
Picking Corral is OK
Ole Miss coach Lane Kiffin was reminded when he first attended SEC Media Days 12 years ago as Tennessee's coach there was a search to find who had left Florida's Tim Tebow off the preseason All-SEC team.
Reporters asked every coach which quarterback they voted for until the culprit was revealed.
"I didn't even remember that 12 years ago, but I believe there was something about someone didn't have Tebow at first team All-SEC," Kiffin said. "As usual, I was accused of that (laughter). So I brought my ballot to show everyone, to show Urban (Meyer, then Florida coach)."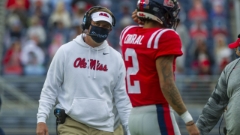 Justin Ford-USA TODAY Sports
Former South Carolina coach Steve Spurrier, who had an employee fill out his ballot, admitted he was the culprit.
Kiffin said this year he would vote for his quarterback, Matt Corral.
"I would say our own quarterback in Matt," he said. "Statistically, he played as well as anybody in the country."
Last season Corral led the nation in total offense with an average of 384.3 yards per game.
Easy going Ealy
Kiffin said junior running back Jerrion Ealy has sufficiently recovered from shoulder surgery performed earlier this summer.
"He's fine. He's working out with the team," Kiffin said. "We're excited to have him with the team. Now that we know more about him maybe we'll move him around and do different things."
Last year the speedy Ealy rushed for 745 yards and had 155 receiving yards. He also averaged 28.9 yards on kickoff returns.
Never miss the latest news from TexAgs!
Join our free email list
PRESENTED BY