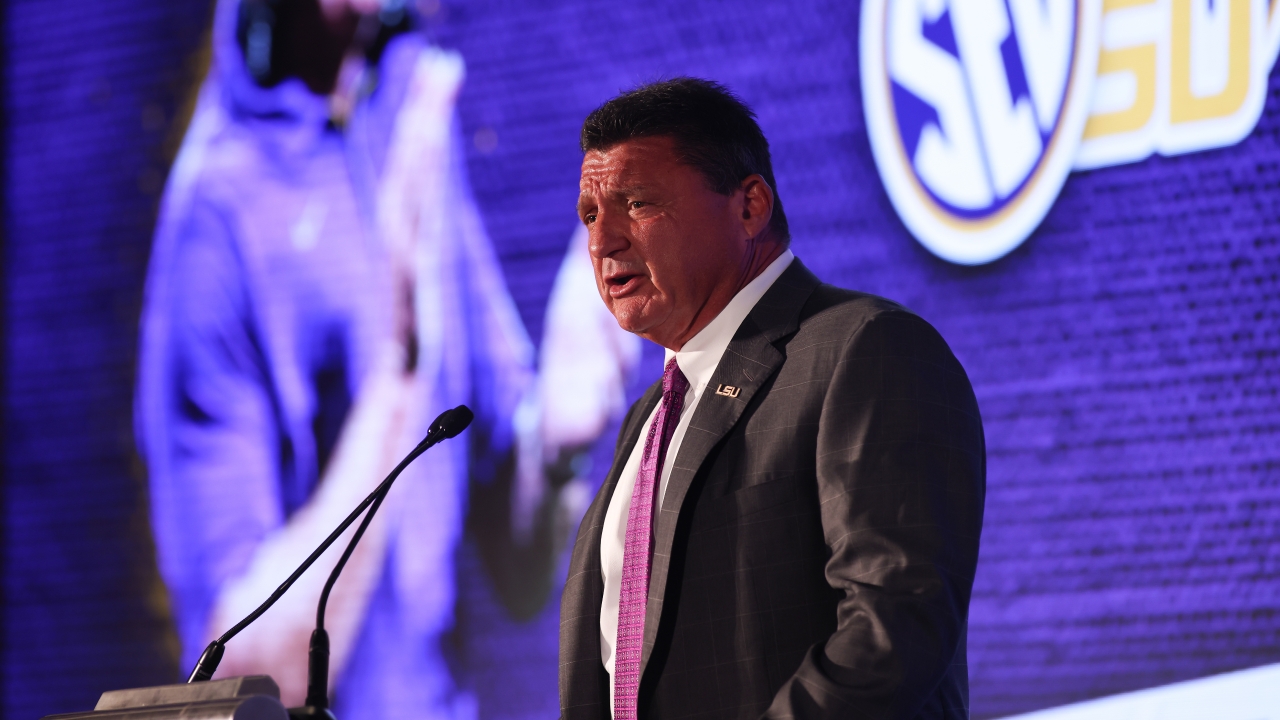 Texas A&M Football
A&M's rise just one of a number of obstacles looming for Orgeron, LSU
---
You know you've got problems when things have gotten so bad the COVID-19 pandemic is seen as a blessing.
That's how it's gone for LSU football coach Ed Orgeron, who on Monday at SEC Media Days said "COVID helped us."
For context, Orgeron was referring to the high number of LSU players returning for a "Super Senior" season. It was an awkward statement, but should not make him the next victim of cancel culture.
He could be in danger of getting canceled for other reasons, though.
Texas A&M might be Orgeron's next problem. If the Aggies keep surging, Orgeron could end up like Miami's Larry Coker or Auburn's Gene Chizik — national championship coaches that soon were fired.
The Aggies are 2-1 against LSU in three seasons under coach Jimbo Fisher. Fisher's coaching staff has been remarkably stable. The turnover on Orgeron's staff is alarming. Under Fisher, A&M is now recruiting on an equal level with LSU. If the Aggies are even, Orgeron could be leavin'.
LSU typically has been the chief threat to Alabama in the SEC West Division. If A&M takes over that role, Orgeron's throne likely becomes an electric chair.
LSU Athletics
With Alabama, A&M and Florida on the annual schedule, LSU would become a program that likely projects to nine wins. That's assuming the Tigers won't stumble in a non-conference game or a matchup with Auburn or Mississippi State — opponents they lost to last year.
Eight or nine victories are unacceptable in Baton Rouge.
Remember, national championship-winning coach Les Miles was fired early in the 2016 season after a 9-3 finish in 2015. And that was before Miles' pursuit of blonde co-eds was public knowledge.
The mere suggestion Orgeron could be on a hot seat would've been ridiculous just 18 months ago.
The Tigers had just blasted Clemson 42-25 to win the 2019 national championship. Some considered that team the best ever. Orgeron was the most popular Cajun in Louisiana.
But Orgeron's troubles began immediately following that game. First, former LSU great Odell Beckham, Jr. celebrated by passing out C-notes to players, which is an NCAA rules violation even now.
Then, most of his starting lineup entered the NFL draft. More players decided to opt out of playing last season.
His offensive and defensive coordinators left for better jobs. The replacements he hired, especially defensive coordinator Bo Pelini, failed spectacularly.
Next, Orgeron has been linked to allegations involving sexual misconduct within the LSU athletic program.
The problems just keep accumulating. Last month starting left tackle Dare Rosenthal transferred to Kentucky. This after 2020 top recruit Arik Gilbert transferred to Georgia earlier this year.
"You come off the 2019 season, you're feeling good, you had a great season, and all of a sudden, stuff hits," Orgeron said. "But, you know, that's life. You've got to be prepared. I think that some of the stuff we were prepared for, some of the stuff we weren't."
"There's a lot of noise out there. You've got to block out the noise, a lot of predictions on this and this. That stuff doesn't matter."
Orgeron should be prepared for louder voices of discontent if the Tigers falter this season. Should they lose again to A&M — as many would predict — there will be little debate the Aggies will have surpassed LSU in the current SEC West hierarchy.
Orgeron appears confident. He points out because of the "Super Seniors" 16 starters return. Of course, he leaves out the pesky detail that those players contributed to LSU's 5-5 finish last season.
His confidence is boosted by the arrival of Jake Peetz and Daronte Jones, the coordinators he hired to replace the coordinators he hired a year ago.
He finds more confidence in LSU's 2020 season-closing victories over Florida and Ole Miss.
The players do, too.
"It motivates us a lot," All-American cornerback Derek Stingley said. "Ending on a good note. Coming thorough the spring. Seeing how we looked, it's much better than we showed in the past. We're going to keep on building on what we've got going. I think we're going to be pretty good."
They'd better be good for Orgeron's sake. He knows it.
"I'm going to fix it. If I see something broke, I'm fixing it," Orgeron said. "There's a lot of noise out there. You've got to block out the noise, a lot of predictions on this and this. That stuff doesn't matter."
Winning does matter. LSU demands to win big.
A rising A&M figures to pose a major problem for LSU. Ousting Orgeron may be seen as the solution.
Never miss the latest news from TexAgs!
Join our free email list
PRESENTED BY