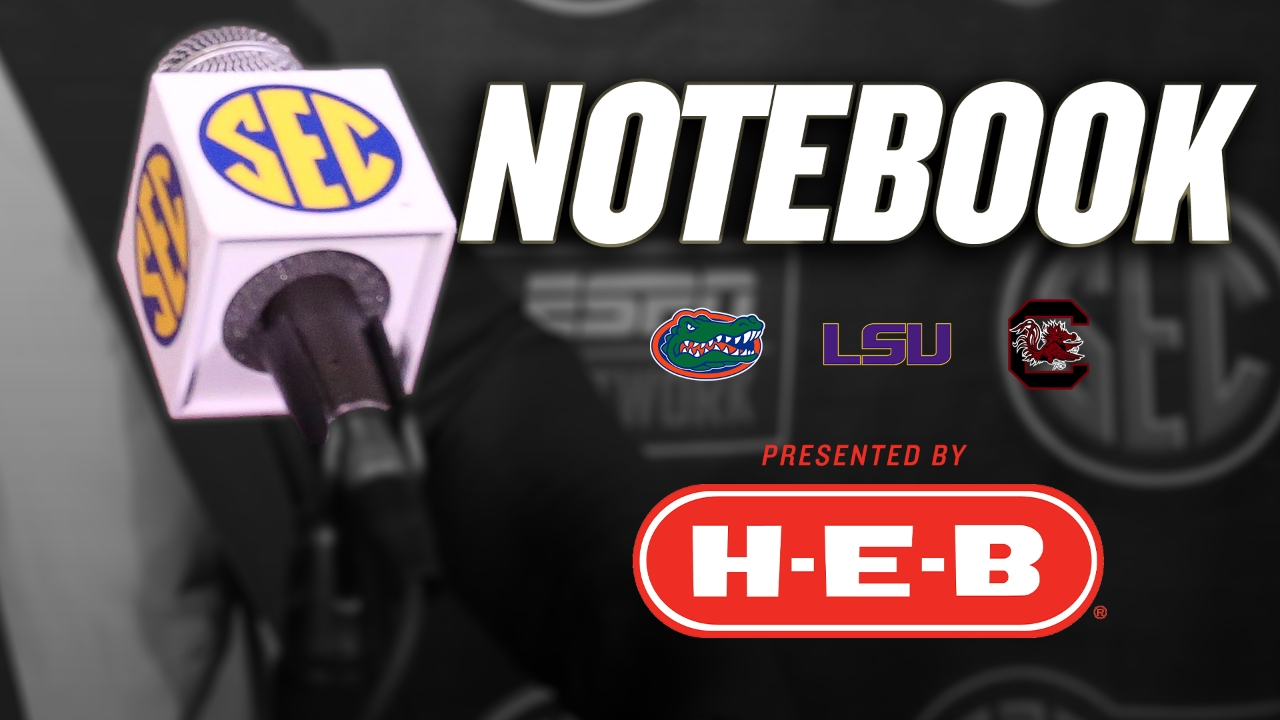 Texas A&M Football
SECMD21 Notebook: Storylines from Gators, Tigers & Gamecocks
---
DBU was DOA.
LSU, which has had 11 defensive backs selected in the last six NFL drafts, fielded the worst pass defense in the nation in 2020.
The Tigers were ranked 127th in pass defense. That's last. Dead last.
As a result, Coach Ed Orgeron fired Defensive Coordinator Bo Pelini. He brought in Daronte Jones from the NFL's Minnesota Vikings to restore the defensive backfield play to LSU standards.
Orgeron said the first step to reaching that goal is reducing the number of big plays allowed. The Tigers gave up 55 passes that covered 20 yards or more.
"We have to eliminate explosive plays," Orgeron said. "Too many explosive plays, too many missed assignments. Too many busts. Too many receivers running down the field free, and we played a lot of man and a lot of combination of man, stuff like that. Some of it was simple. Some of it was too complicated."
Orgeron said to improve coverage the Tigers' schemes simply need to be simple.
"We're going to simplify stuff," he said. "We want our players to have their cleats in the grass. We're going to play a lot more zone. They're not going to be switching off of this level, switching off of that level. We want our guys to play, keep the ball in front of us, and make plays."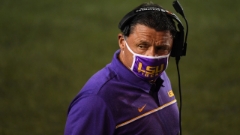 Christopher Hanewinckel-USA TODA
'Coach O' on 'Quarterback O'
Normally, an early-season game matching LSU against McNeese State wouldn't draw much interest.
However, the Sept. 11 clash at Death Valley isn't really normal. That game matches LSU coach Ed Orgeron against his son, McNeese quarterback Cody Orgeron.
Last season Cody passed for 2,628 yards and 24 touchdowns. He'll test an LSU defense that was vulnerable to the pass.
Sons typically play for their fathers not against them. So, it's going to be strange for the coach.
"My son is going to give me all I can get," Coach O said. "And guess what? I'm going to give him all I can give him, and that's just the way it's going to be."
"He's going to expect my best, and I'm going to expect his best. We're going to compete, but we'll shake hands and hug after the game. That's just the way it's going to be."
Geometric Gators
Florida coach Dan Mullen has a basic strategy to replace departed star quarterback Kyle Trask.
"Never take a square peg and try to put it in a round hole," Mullen said. "It's identifying what our guys do really well and build around the strengths of not just the quarterback, but the offense as a whole."
"We will go to do that this year and build around the strengths of our quarterbacks."
That might mean Mullen going back to his usual offensive approach with dual-threat junior Emory Jones at the helm this season.
Jones passed for 221 yards and 2 touchdowns while rushing for 217 yards and 2 touchdowns in a backup role.
His game is more similar to that of former Mullen quarterbacks Alex Smith, Tim Tebow, Dak Prescott and Nick Fitzgerald than Trask.
Expecting Jones to excel like those other quarterbacks might be unfair. Still, Mullen is confident in Jones.
"As he comes into the season, he's not coming in with a stat line of nothing," Mullen said. "He's coming in with a stat line that he's played in key times in significant games. I think that's huge, and it's prepared him for this time."
Helping hands
Florida's greatest task appears to be rebuilding its receiving corps.
The Gators are now without tight end Kyle Pitts and receiver Kadarius Toney, who were NFL first-round draft picks, as well as Trevon Grimes, who has also moved on to the professional ranks.
That trio combined for 151 catches, 2,343 receiving yards and 31 touchdowns in 2020.
However, Mullen pointed out the Gators faced a similar situation just last season when they had to replace Van Jefferson, Freddie Swain and Tyrie Cleveland, who were all NFL draft picks.
"The next guys are going to have the opportunity to get the ball in their hands and make things happen."
"We lost a lot of production at the receiver and tight end position, but we still have a lot coming back," Mullen said. "We rotate those guys a lot. We try to do a great job at creating depth at those positions. Media Days last year, I know you would have said: 'You just lost four receivers in the NFL Draft. How do you come back with production in the passing game?'"
"We're able to come back because of our system playing a lot of different guys, they've had experience. The next guys are going to have the opportunity to get the ball in their hands and make things happen."
Florida's top returning receiver is Jacob Copeland. He had 23 catches for 435 yards and 3 touchdowns.
Following father's footsteps
Coaching is a Beamer family business.
Legendary Virginia Tech coach Frank Beamer retired in 2015 with a career 280 victories.
New South Carolina coach Shane Beamer is hopeful he can be as successful as his father.
"I got into coaching in 2000 as a graduate assistant with Georgia Tech with George O'Leary, and part of that was wanting to get out on my own and make my own name and not just go work for my dad as a graduate assistant and not be Shane Beamer, but to be Frank's son," Shane said. "It was important for me to go out and develop my own reputation and contacts. I did that, and I was thankful to be part of fantastic programs during that time and places I coached."
"I went back and worked for (Frank). Very, very proud of him. I learned a lot from him. I still rely on him a lot now for advice and things like that as well. I know he's excited about me being in this position and excited to be around Columbia quite a bit also."
Shane faces a daunting task. South Carolina went 2-8 last season and 4-8 in 2019.
Never miss the latest news from TexAgs!
Join our free email list
PRESENTED BY