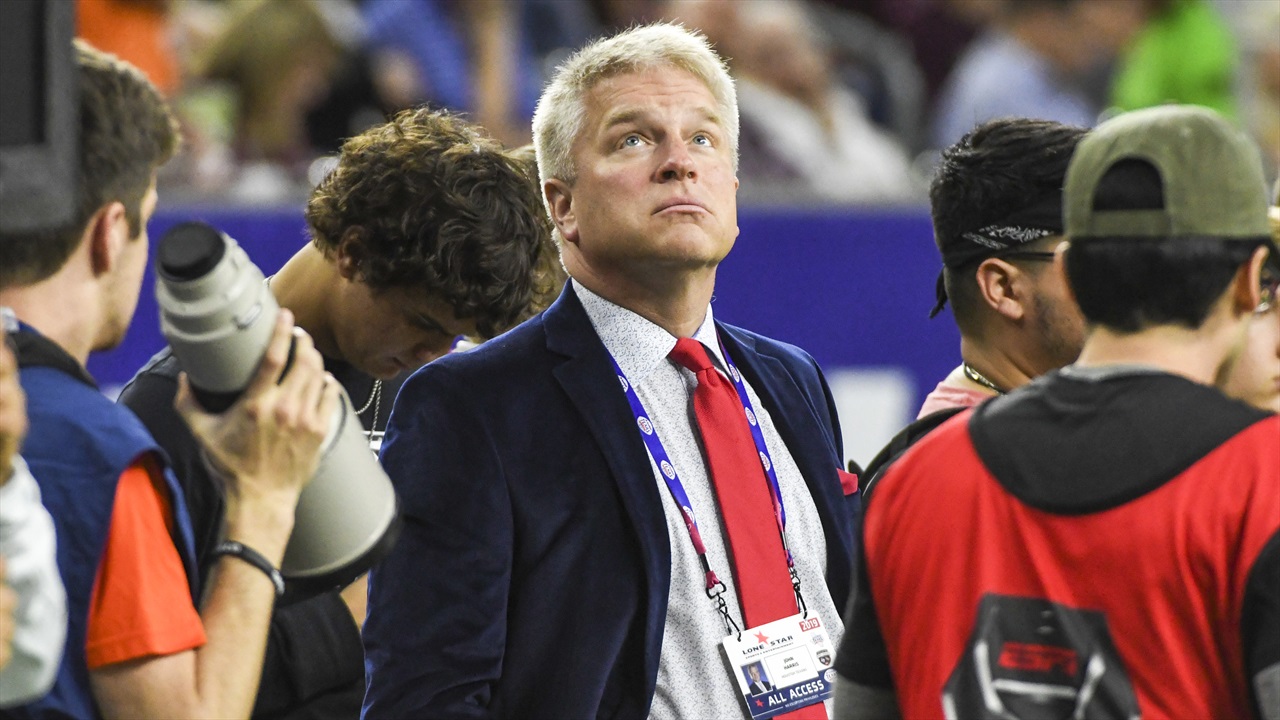 Photo by Lia Musgrave, TexAgs
Texas A&M Football
John Harris offers way too early predictions on A&M's draft eligible players
---
Key notes from John Harris interview
Kenyon Green should be a first-rounder as long as he minds his P's and Q's. He's playing tackle this year, so maybe that'll turn some heads. Some might want him to start right away at guard. He is a top 25 player to me. Whether he's a tackle or a guard remains to be seen, but he's a first-rounder when he comes out.

Isaiah Spiller will be drafted next year. He's a top 40 player. He might not go in the first round, but Nick Chubb didn't either. I think for running backs, you have to start that clock early. You have to get to the league as fast as possible.

To me, Ainias Smith is like Kadarius Toney with better running back skills. Toney has more make-you-miss moves, but Smith is a better ball carrier. He could be a top 20 pick next year. If Toney has a good year for the Giants, more teams could look for a guy like that, and Texas A&M has one.

Jalen Wydermyer is another guy who will be drafted. There are other aspects to all of these projections, and that is how deep the position is across the country. Tight end is absolutely loaded for the 2022 draft, and Wydermyer is one of the reasons why. He's top five tight end, no doubt. If he's a top-three tight end, he could be in the first two rounds. I'd like to see the blocking aspect improve, but you can say that about a lot of tight ends. If he masters that, he's a top-three tight end, at worst.

Caleb Chapman is an interesting guy, and it's a matter of coming off that injury. He's got some juice, and if he shows that he still has it, he could be an interesting late-round selection. I like him from a length, athletism and speed standpoint.

DeMarvin Leal is a top-eight pick next year. That's all that needs to be said. Next.

Jayden Peevy is intriguing. I think he gets drafted, but I think it could be mid-to-late day three. As much as I like him as a college player, he lacks an elite trait. He's a good football player, and he's productive. Guys like that go in rounds five, six and seven. Unless he has an amazing year this year, he'll be a day-three guy. These GMs want to know what he has that is elite, and not to say that Peevy won't be elite this year, but if he doesn't have an elite trait, his play has to be extremely overwhelming. This happens to a lot of guys, and Brandon Dunn for the Texans is a great example. He doesn't have an elite trait, but he's a great player. He's been in the league for six or seven years, and he just got his third contract. That's a guy Peevy could emulate, and Peevy is more gifted. That's just a path to follow.

Tyree Johnson and Micheal Clemons should both be drafted. I love Tyree, and if he plays the run well this year, he could go higher than people think. He has a litany of moves to get to the quarterback. Clemons' length is enough to attract me on day three. If he strings together a good, healthy year, then you can start to think about him. I'd say Johnson, right now, is a round three or four guy.

Aaron Hansford could play in the senior bowl, and that could be big for him. He was supposed to go last year, and then he decided to go back to Texas A&M. An agent friend called me and said the NFL has a problem. College coaches were recruiting their players again, and A&M re-recruited Hansford. They're going to have to continue re-recruiting their players with this transfer portal thing. Hansford needs to have a good year, a year similar to Buddy Johnson's. Hansford needs to take that sort of jump and follow it up with a good senior bowl to get him into the drafted category.

Myles Jones is very intriguing with the NFL Draft community. That's not always a positive, but for Myles, I think it is. It will come down to how he runs as it does with most DBs. He has shown marketed improvement over the last couple of years and combined with the fact that he's 6-4 and long if he runs close to a 4.4, teams will be all over it.

Elijah Blades is an enigma wrapped in a riddle. He is far from what his ceiling can be. This is a tricky one. I tried to study what teams did regarding opt-out players, and I did not get a good book on it. I found that players who opted out without a real reason why had a tough, tough time. He will have to overcome that, but he'll have, hopefully, 15 or 16 games where he can show his skills. At this point, I think he'd be undrafted, and it might help him to go back to school after a good year. Blades needs to show what he can do in 2021, bring eyes in and then solidify and stamp it in 2022 to go higher in the 2023 Draft.

Demani Richardson and Leon O'Neal should both come back. O'Neal has made improvements. If they both came out, Demani would be drafted, but Leon would have more of an uphill climb. If they came back, played well together, they'd both get drafted. Many people want to know if a guy loves ball, and I know for sure that Leon O'Neal loves ball. I also know that he's going to blow some coverages. I think they both need 2021 and 2022 to be viable safety prospects. My advice would be to go back to school. If you're going to leave early, you need to be a top-three-round pick. Demani isn't there yet.

Brian George has elite traits. Elite traits win. Look at any draft. Why did the saints move up to draft Marcus Davenport? He had the traits that teams love. To me, George has that. He's not good enough to get by on traits alone at this point, but there is that to build on.

When you think about Baylor Cupp being the guy before Wydermyer, that tells you how good Cupp is. Injuries have sat him down. We've seen guys that explode in that third year. That's a guy that teams could look at. Cupp has a lot of talent.
Never miss the latest news from TexAgs!
Join our free email list