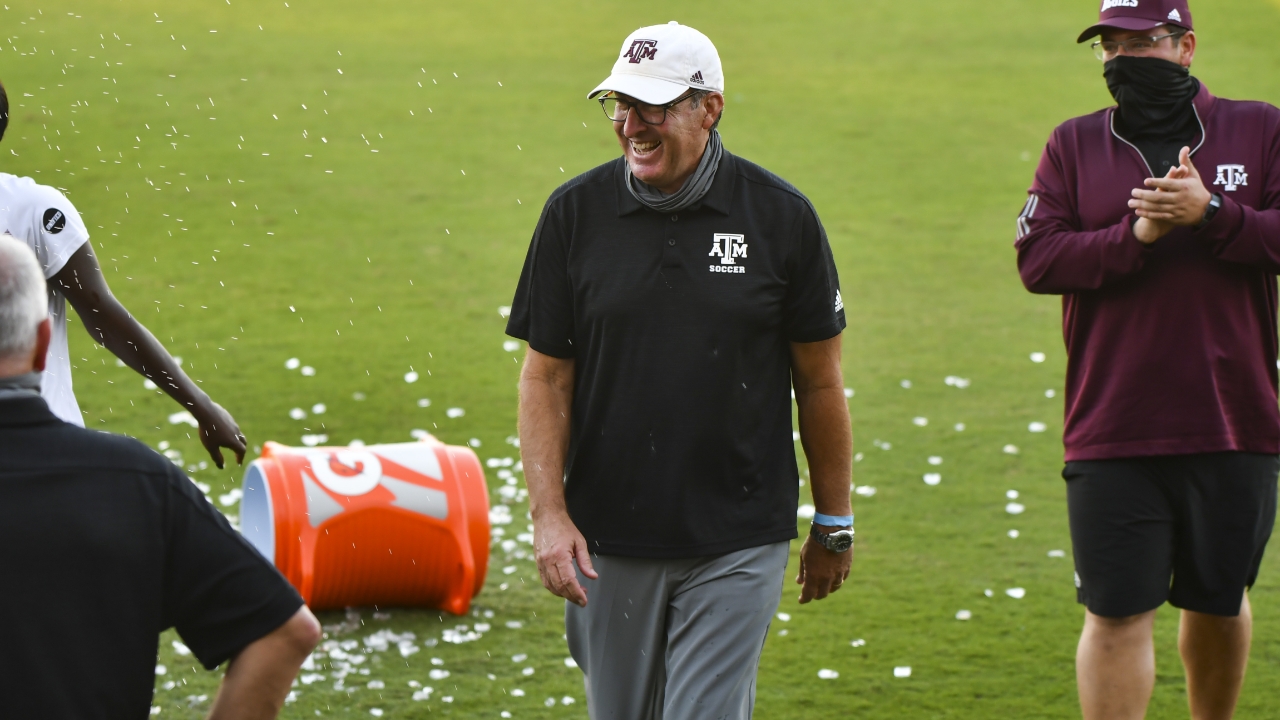 Photo by Jamie Maury, TexAgs
Texas A&M Soccer
G Guerrieri recaps A&M's 'game of the tournament' win over Oklahoma State
---
Key notes from G Guerrieri interview
It was a pretty darn fun day beating Oklahoma State in the Sweet 16. I like blowout wins. Those are a lot more fun for me, but I think this was one of the best games ever. A couple of different sources said that they thought it was one of the NCAA soccer games for the ages. It was nice to come out of this one on top. I can't say how proud I am of our players and our staff. It's an effort to be in this bubble and to be on the road for so long.

We're going to play North Carolina in the next round, and I think a lot of people are probably thinking that we're playing with house money right now.

We were in control of most of the game, but Oklahoma State is a counter-punching team. We took the first seven shots of the game, we were cruising, but we made one mistake in the back, they got a shot, and it goes in. It didn't even phase our players. We scored three minutes later to tie it up. Just before halftime, we subbed out both of our forwards to bring in Jai Smith and Ali Russell, and they combined for a goal to put us up at the half.

Oklahoma State jumped on us fast in the second half, and then they took the lead a little later. Still, there was no panic from our players. We had 38 shots, but it was frustrating that we weren't scoring off of those. Taylor Pounds tied it up, and we were all over them. They just survived, and we went to overtime.

Soon into the first overtime period, Laney Carroll spun away from a player, but this girl tackled her, getting her second yellow card and an ejection. They had ten people and were parking the bus in front of their goal. They were able to ward us off.

We had our plan of what we were going to do in penalty kicks. Jordan Burbank is our specialist on penalty kicks. We talk about who is going to go where with their shots, and she was well prepared. Only one player switched up what they were going to do. Jordan put enough pressure on them, and she's very good at mind games. They missed two shots, and their goalkeeper made a nice save on Lauren Geczik. Laney Carroll put the final shot down the middle to send us to the Elite Eight.

To call Burbank a "closer" is a good phrase for it. I didn't recruit her to be a penalty kick specialist, but she is the best at it. She's so quick and does a great job at creating an attacking angle on those shots. She was confident and ready to step up. It was hero time, and at that point, for goalkeepers, it's Russian roulette. You can't be the goat, but you can be the hero.

People aren't talking about Daria Britton. She scored our third penalty kick, and that was her only touch. She didn't play a single minute of the game, but she stepped up with a PK.

There were a few players that had special games. Taylor Pounds and Taylor Ziemer did. Jai Smith and Ali Russell gave us a boost off of the bench. In the postgame interview, Taylor Ziemer was really the only player who had pressure on her because it could've been her last college game. She said it best saying we were irritated with so many looks and needing to find that final dagger.

North Carolina is extraordinarily talented. I think there was a Sports Illustrated article that was talking about the greatest coaches. Either Pat Henry was No. 1, or North Carolina's Anson Dorrance was number one. It's an incredible program. We're going to be starting a young attack vs. a young backline. Two of the last three times we've played them, A&M has won, but none of the players on either team participated in those games. It's a big, big ask of our players to beat this team.
Never miss the latest news from TexAgs!
Join our free email list