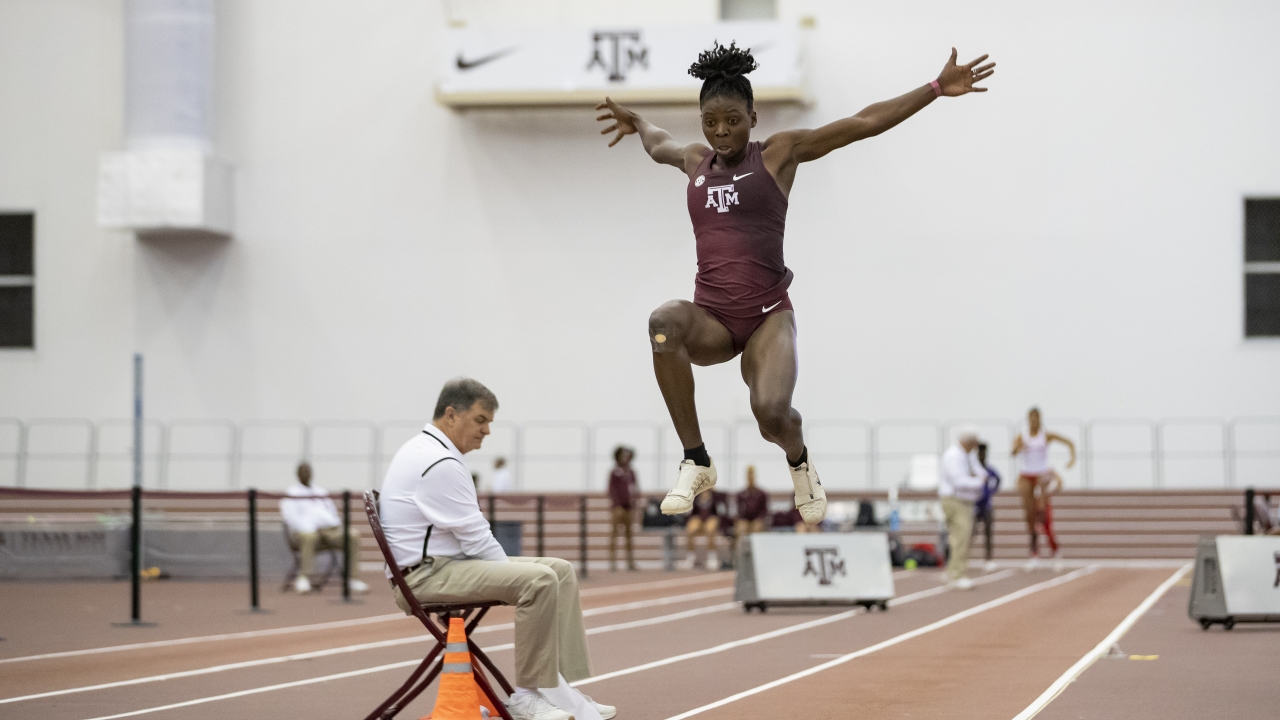 Pat Henry Q&A
Deborah Acquah Q&A
Texas A&M Track & Field
T&F Report: Ghana native Deborah Acquah jumping her way to history
---
Key notes from Pat Henry interview
I was listening to the forecast this weekend, and it doesn't sound like the weatherman knows we're having a track meet this weekend. We have not picked good weekends, it seems. This last weekend was awful, and we had to call the meet because of rain. It rained really hard on us, and we couldn't get the meet going.

Canceling that meet doesn't help us. This weekend, it's the meet before the SEC Championships. We're being selective this weekend on who we run. With an individual like Deborah Acquah, she might do one of the triple or long jump events, but likely not both. Above 400m and even with the 400m runners, it's difficult to run really well this weekend and to run really well next weekend, so we'll be selective with that this weekend.

The few that got into the rings competed at their bests. We had several people get the best out of themselves. It was productive for some, so that's a positive.

We will run a men's 4x100m, and we need to get the stick around and work on exchanges. We have one lady who is a little suspect on 4x100s, so we won't run there. We won't run our 4x400m relays. We have some people who are stepping down from a 5K to a mile. It's a selective weekend. There will be some collegians and some professional athletes here as well. There will be a lot of talent here, and it's a weekend that many people need. It's always an important weekend.

We've run good short relays, and our men's group has run it pretty fast. We still have a month left in the season. Our milers have run well. Athing Mu is the best ever in the half-mile. Our javelin throwers are getting better. Sam Hankins came in and threw 230, but he's a freshman who will compete against some big-time throwers. We need to do the best we can when we host the SEC meet in two weeks. That will be a great one to watch.

Our short hurdlers are looking better on both sides right now. We must do well in some events to do well as a team, and the hurdles are one. In the 100m, Devon Achane is competitive nationally, and he will be competitive at the SEC meet. Our high jumpers are some of the best, and we have the best female high jumper in the country. We have conference-level high jumpers on the men's side but not a nationally competitive high jumper right now.

Achane will run in the 100m this weekend. He's a big, muscled guy, but he's not a big man. He has a great track mind, and he loves it. He's a really talented guy. He has run 10.30 and 20.31, and those are great marks as a freshman.

Acquah is one of the best long and triple jumpers in the country. She is elite and holds the record for both of those in indoor and outdoor competitions. She's a breath of fresh air which always has a smile on her face. I think she has been extremely happy to have come to Texas A&M.

I want to wish the high schoolers good luck who are going over to the UIL State in Austin this weekend.
---

Key notes from Deborah Acquah interview
I grew up with my dad, and after school, I decided to join the military. I knew I had to train and found my own coach. It gave me the opportunity to come to the United States, which allowed me to skip the military. Back home, athletics is just a fun thing. We practice just a week before the competition, and that's it.

My first year in the United States wasn't really great. My mom died right after I got here, and I wasn't training or doing anything when I got to Western Texas. I picked it up again and fractured my lower back. I didn't start getting better until I got here and started getting treatment and healthy again.

This is one of the best training facilities in the world, and I've been working with coach Sean Brady. We have this connection, and he knows my weaknesses and strengths. That's why I keep improving year after year.

To be an Olympian means to be great. I want to be one of the greatest. I talk with coach Brady every day about what I need to do to qualify. I've been doing what I need to do.

I have the speed to run the 100m, but I'm not great out of the blocks. I have to be driving. I'm struggling to take off out of the blocks. I need to work on it more before I can do the 100m or 200m.
Never miss the latest news from TexAgs!
Join our free email list