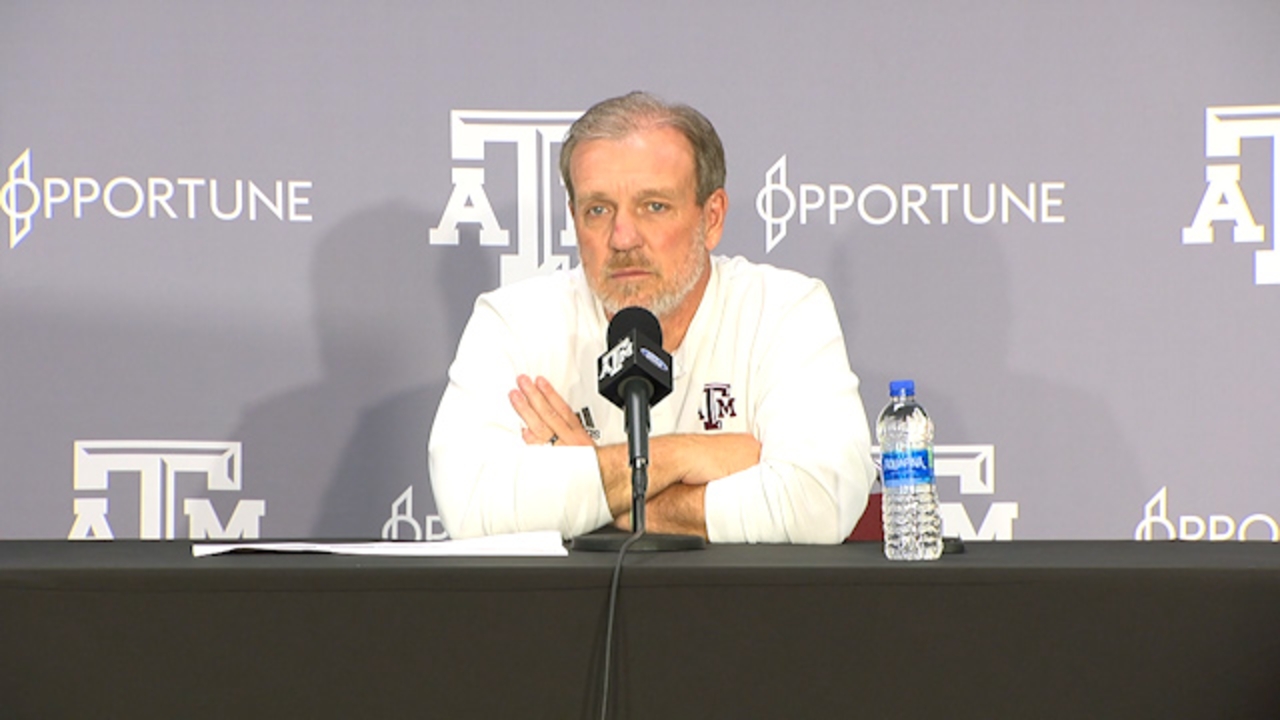 Texas A&M Football
Press Conference: Stage set for Texas A&M's Maroon & White game
---
For the first time in nearly two years, Texas A&M football will host a spring game at Kyle Field in front of the 12th Man. Ahead of Saturday's Maroon & White game, head coach Jimbo Fisher spoke to the media to provide an update on his team.
Video courtesy of Texas A&M Athletics.
---
The following are live, paraphrased notes from head coach Jimbo Fisher's media availability on Thursday.
We will have a full game. We'll go 2s and 1s and rotate. We will probably alternate one of the linemen back and forth. The rest of it will be a full scrimmage.

When you talk about in-season and off-season injuries, we will have 14 of 15 injuries in the two-deep. Five or six each way. The tight ends are hit hardest. Wydermyer, Blake Smith. Baylor Cupp is being held back to get him healthy. Max Wright has always been nicked a bit, but he'll be good for Saturday. We're going in with 11 offensive linemen, but only nine will play on Saturday.

We're hoping to see the quarterbacks run the show and manage it like they have all spring. I don't want to see the tempo overwhelm them, and I'd be shocked if it did. They've done a good job with some of the situations we've put them in during practice.

We hope we'll have a better pass rush, which has been a big emphasis this spring. Not just sacks, but pressuring and hitting the passer. Hopefully, we'll continue that into the fall.

Antonio Johnson is having a very good spring. He can contribute at both places. He's a physical guy and is understanding things better. He has had a very good spring.

When you're older, it's a tough test to be the face of the leadership role, and Ainias Smith is growing there. He is getting better at running his routes at receiver. We have limited his running back reps. He will do both. When you are THE leader, it becomes a different burden to carry.

Linebackers are shaping up better and better. Hansford is coming back, so has Russell. Tarian Lee is coming back. Andre White has been playing well. T. Lee and those guys have done a good job of adjusting and playing well. Edgerrin Cooper can run too. Coop flashes at you and jumps across the screen really fast. He can run, cover and close ground.

That first step at linebacker is huge. Read and explosion step. Antonio Doyle is doing well at that too. When you pull that pin at linebacker, you got to go. We're getting better and better at it.

I guess you get so caught up in coaching that you don't know if anything feels normal. Hopefully, it is. It'll be great to see people in the stands on Saturday. As a coach, you forget about all of that because you see all the issues you have to find solutions to during those 15 practices. From that standpoint, I haven't noticed any difference. I suppose seeing the stands on Saturday will be the first time I feel it.

I don't know what role Kenneth Phillips will play. He is still recovering from his injuries. There is a chance that he could've been career-ending. He has not been cleared yet.

Right now, we're hearing that we get eight shells and eight padded practices. The only time we tackle is during the scrimmages. You get nine helmet practices, and that's an advancement from the padded practices. With development, cutting those numbers will be challenging. It could lead to more injuries or not. They're the medical experts. We'll have to adjust our practices accordingly and maximize our time to not injure our guys.

I think normally in the spring. You never get everything in the spring. You don't have enough practices, and you don't have your whole team here. You never see it all in the spring. You try to create scenarios and evaluate the people. You're going to see guys come back from injuries and see guys come in. You never have the full answer in the spring, but you can tweak and turn to give you a chance to start well in fall camp. You're always making changes, and things will never be concrete. There is adversity that goes into it, but what you're trying to do is give yourself as many opportunities to find something as possible.

We might be further along in our culture, but we're replacing the offensive line and a quarterback. The experience is on defense, running back and tight ends. Those guys have to do their jobs, and that's always a challenge. We have to play better pass defense, and we have to rush the quarterback better. Our kickers, punters and snappers are doing a good job. We still have work to do.

The ability for a guy to come and work out is a new thing. There have been talks in the last week or two, but we'll talk more after spring ball. We'll start that soon, and it'll be a new piece that will help.

I thought last year's whole schedule was perfect. I really did. I'm for that, but that's not what's going to happen. It is what it is. It was good for the players. Contact for four days a week, no practices for three with meetings on two days. It was good. We won't have that this year. The numbers of our padded practices are down, and we will have to meet on the days we practice. That will cut down on meetings. Everyone has the same rules, so we'll adjust.

Demani Richardson has a lot of ability, experience and leadership. Hopefully, he can be a leader on our football team. That will be expected and demanded from him.
Never miss the latest news from TexAgs!
Join our free email list