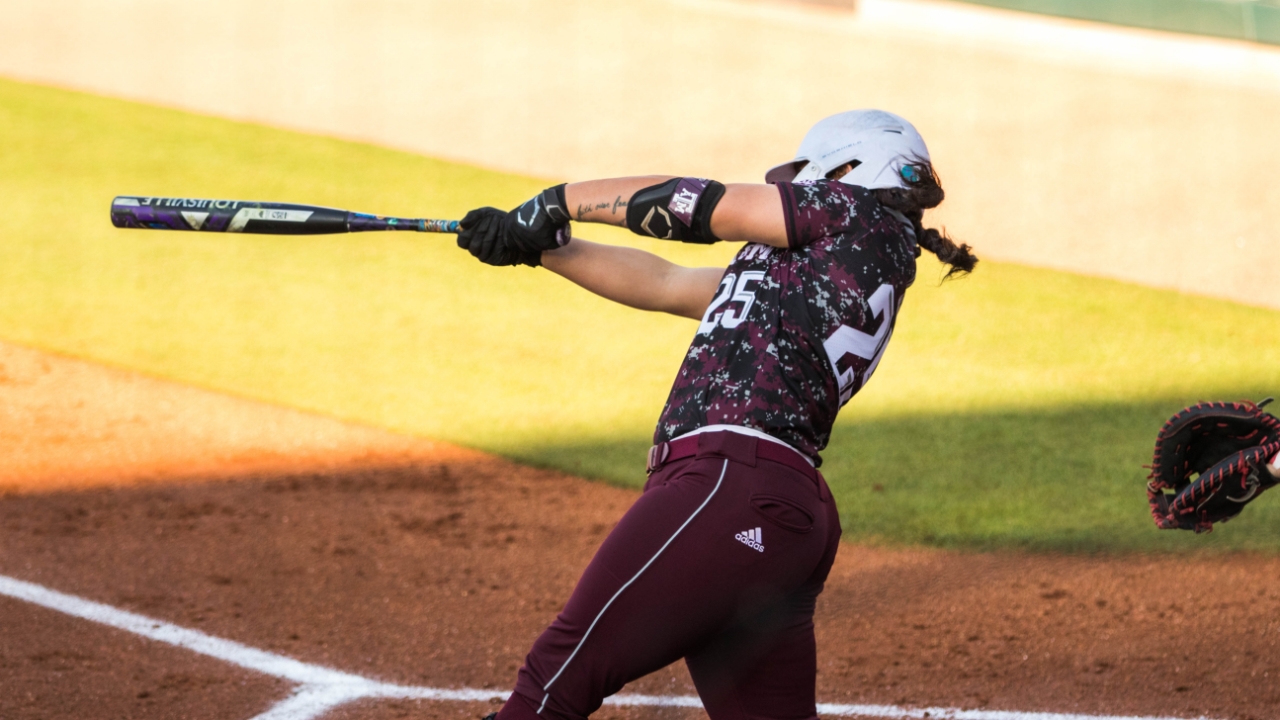 Texas A&M Softball
Haley Lee launches a pair as Texas A&M run-rules Houston, 9-1
---
Texas A&M softball welcomed Houston to Davis Diamond with a run-rule.
The Aggies defeated Houston, 9-1, in six innings on Tuesday night. Strong pitching by A&M and home runs from Haley Lee were the stars of the show.
Texas A&M coach Jo Evans was very pleased with the victory.
"Really good win for us," Evans said. "Houston always makes me a little nervous. We always have great battles with them. … Overall, it is a really good performance from our whole team."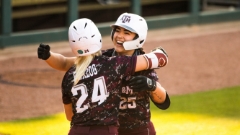 Angelina Alcantar, TexAgs
The Aggies wasted no time gaining momentum, plating a pair in the first. Junior outfielder Morgan Smith brought home Makinzy Herzog with an RBI single to open the scoring. The Aggies weren't done in the frame as senior infielder Ashlynn Walls later singled to score Smith.
The Maroon & White kept up the energy in the second, thanks to Lee, who launched her 18th home run of the season.
Evans said establishing dominance in midweek contests is important.
"These midweeks are the ones that can really come back and bite you," Evans said. "We have done a really nice job in these last two weeks to take over games and run with the win that we got on Sunday."
By the conclusion of the second inning, it was already 4-0 in favor of the home team.
Houston scored just once in the contest on an RBI single by Sarah Queen in the top of the third.
Starting pitcher Kayla Poynter was relieved halfway through the ballgame freshman right-hander Grace Uribe took over in the fourth. By the end of the night, Poynter notched five strikeouts, and Uribe allowed just one hit.
Shaylee Ackerman hit a three-run home run during the bottom of the fourth, extending A&M's lead to 7-1. Ackerman and Lee have now homered in the same game four times in 2021.
Lee said she loves the chemistry she has with Ackerman.
"We have done a really nice job in these last two weeks to take over games and run with the win that we got on Sunday."
"It is amazing having that duo," Lee said. "Just having both of us produce and see the outcomes. We work so hard, and I love Shaylee [Ackerman]. I couldn't ask for a better teammate to stay in this lineup with and help us keep going forward."
Lee hit another home run in the sixth. Heading into the ballgame, Lee ranked seventh nationally in home runs and now has 19 on the year.
"My third at-bat, she threw me inside that first strike I got, and I told myself in that last at-bat if she throws out the first pitch, that's going to be the one," Lee said. "I was just lucky enough to get it again."
A&M opens a three-game series with Mississippi State in Starkville on Friday. First pitch for the series opener is set for 6 p.m.
Never miss the latest news from TexAgs!
Join our free email list