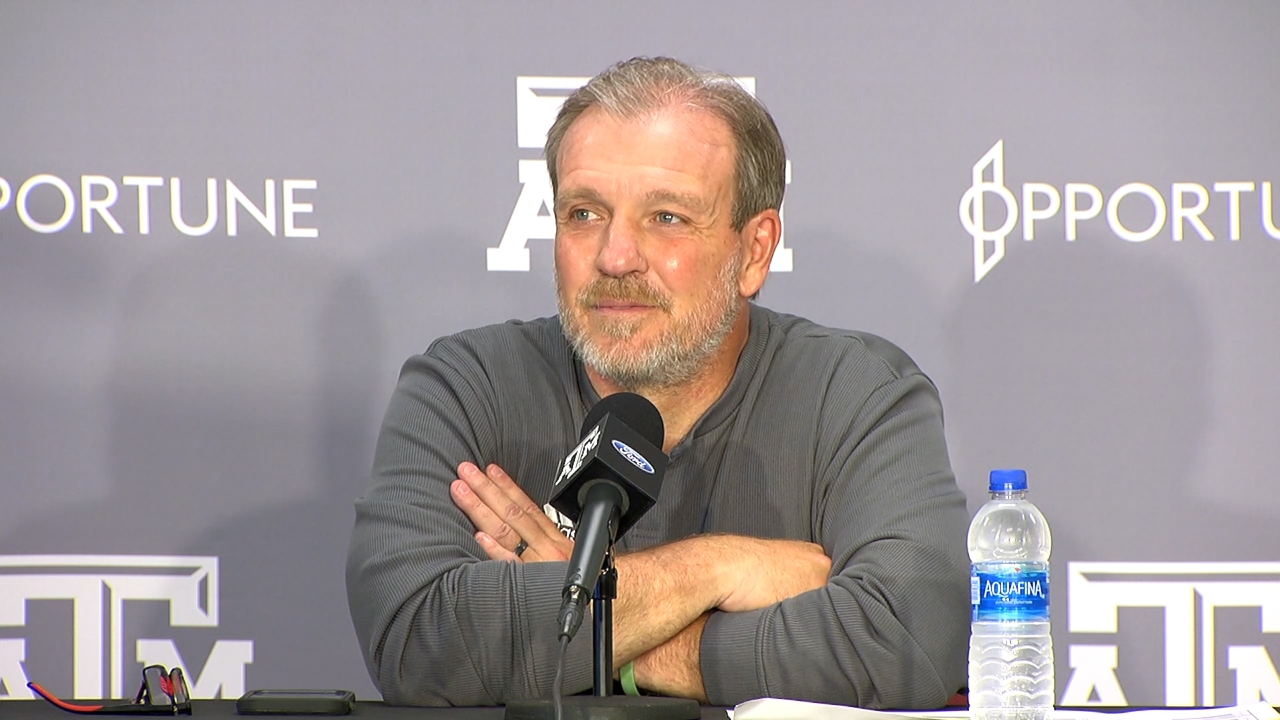 Texas A&M Football
Press Conference: Aggies gear up for second spring scrimmage on Saturday
---
Texas A&M football will return to Kyle Field for their second spring scrimmage on Saturday afternoon. Ahead of tomorrow's full-team scrimmage, head coach Jimbo Fisher provided a spring camp update to the media.
Video courtesy of Texas A&M Athletics.
---
The following are live, paraphrased notes from head coach Jimbo Fisher's media availability on Friday.
Our quarterbacks need to work on everything. They're very intelligent and have great ability running or throwing. I think all three could lead this team. They need to continue learning. When you're young, that's hard. When everybody else makes a mess, you have to clean it up. You're like Mama. Our team needs to realize that they're not ready to clean up after everybody. They're first-time moms. They're doing a good job of it, and they have a great feel right now for this stage in their careers. I think they're all good players, and I'm pleased with their progress so far.

You'll know who the starting quarterback is when you know.

Lifting the recruiting dead period is big. We have not seen these kids and have never been around. I think it'll get back to normalcy and allow us to live a normal life in the recruiting world.

We're always learning how to market a program, and social media has played a big part in that. When you have to rely on social media, it magnifies how much you can really do to market your program.

We have some nicks and nacks. Typical spring things.

I've never been hesitant to start freshmen. I've never seen an age limit in the rule book. Let the players play.

I don't think not being here in the spring hinders you, but it gives those that are here a leg up because they understand the terminology and the language. It allows them to test themselves. When you have two sports like Bryce Foster does, you should stay there and do that. No doubt. He threw the shot put 71 feet. That's the top throw in the country. Coming in and getting a jump helps you. I love guys who play multiple sports. That's the biggest thing we're doing wrong: not letting kids play multiple sports. It develops you mentally and physically.

Kenyon Green is doing his thing and working people as well. I think he's learning at the same time. He is playing very well.

I thought we drifted this third week, but we put more things in. We need to get back to it. We're banged and bruised and tired. Football doesn't really start until you're 10 or 12 practices in. We have to get that mentality back. This team has a ways to go with developing that mentality.

Our secondary is solid. I thought we'd be more consistent right now, but they've been good.

Antonio Cromartie brings great knowledge. You're talking about a guy that was a first-team All-Pro. Rashaud Greene is the same way. He's the all-time leading receiver at Florida State. He understands big plays, big games and big moments. There are no two better examples to put in front of our guys to help them. I thought they're great additions and natural fits.

I don't think the pandemic has stopped anything. We have normal practices for spring. We want to stay as healthy while working as hard as we can. Part of that is learning how to do it. Learning how to practice is a big deal. If you can't do those things, it hurts you and the other guys.

You will have other pieces in the fall, but you have a general idea of what you have in the spring. Our numbers will be up on the offensive line in the fall. The communication levels are up on the lines of scrimmage. Those things are important and only come with time. We have to do that over the course of the spring. It's a work in progress.

The one-time transfer thing just removed the waiver process. It's going to be very similar, in my opinion.

Our practices try to simulate things. You have to function without a coach right next to you telling you what to do. We're taking away their cheat sheet. You're out there in scrimmages in the real world. It helps you figure things out on your own.

Your leaders are still emerging. We're developing our own personality and demeanor. Those are processes we're going through as a team, but it is not for me to sort out. At the end of the day, that's managed by them.

I'm appreciative of spring football, and I hope our players are too. Last year, I was worried if we were going to play in the fall. That lessened the blow of missing spring football, but I hope these guys appreciate having spring football, and it allows you to develop. It's like going to class. You come here for the degree and the Aggie ring, but you also come here to win championships. This is class for football. I hope they take pride in spring football and are taking advantage of it.
Never miss the latest news from TexAgs!
Join our free email list