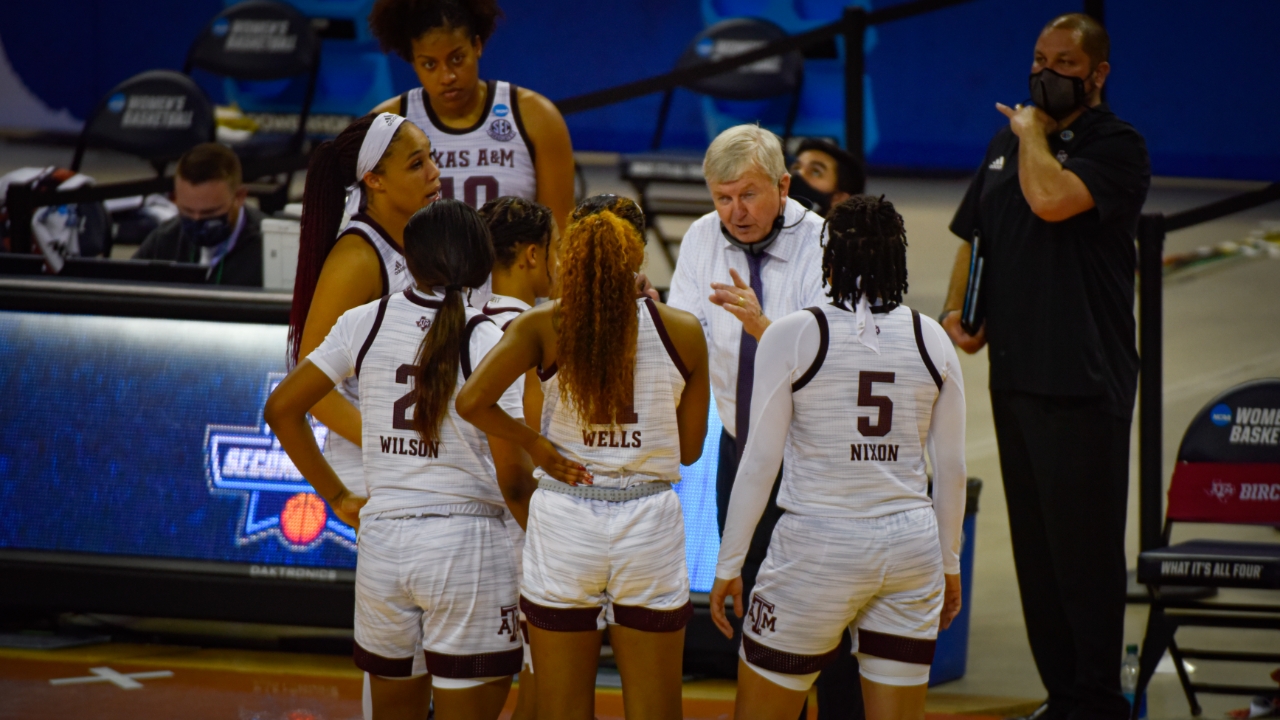 Photo by Lia Musgrave, TexAgs
Texas A&M Women's Basketball
Former Big 12 foes Texas A&M, Iowa State prepare to battle in Round of 32
---
Also included above is a radio segment with Texas A&M head coach Gary Blair from Wednesday's edition of TexAgs Radio. To hear Blair's pregame press conference from Tuesday morning, click HERE.
---
After Monday night's nail-biter against Troy, Texas A&M head coach Gary Blair wasted little time discussing the Trojans as he quickly turned his attention to Iowa State. After a couple of questions about what happened Monday night, Blair directed the focus on the future.
"We didn't play our best, but I don't think y'all were thinking that when we were up 14 at the half," said Blair. "We were doing a lot of good things against a different type of team that we hadn't played all year, and that was a hard team to defend and block out. You harp on Troy, but it's Iowa State now."
"We need to quit trying to run the perfect play, make the most of our opportunities, and we need to stop giving up so many points in transition."
The 2-seed Aggies and 7-seed Cyclones will battle in the Round of 32 on Wednesday night at the Alamodome in San Antonio. Tip-off is scheduled for 6:00 p.m. CT on ESPN2.
Blair joked that he'd rather play Troy again than play the winner of Michigan State/Iowa State after scouting both teams. The conversation shifted to Iowa State's prolific scorer Ashley Joens, an AP honorable mention All-American.
When asked how to stop Joens, Blair said that "contain" is the key.
"She won't be controlled," said Blair. "She's just an old-school basketball player that understands what it takes to put her team in a position to, and sometimes, it's not her points but everything she does. She's a complete ballplayer."
Joens is known around the Big 12 for her ability to run Iowa State's offense and use her body to create opportunities in the paint.
As the team looks ahead, Blair made it clear that his team was still working on their approach to the NCAA Tournament.
"We need a sense of urgency to complete the deal," Blair said. "We need to quit trying to run the perfect play, make the most of our opportunities, and we need to stop giving up so many points in transition."
A 16-day layoff might have played a role in A&M's lackluster first-round win. However, Iowa State's starters playing heavy minutes should be a positive for the Aggies as they play their second game in three days.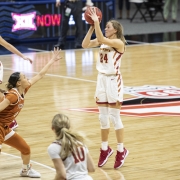 Amy Kontras-USA TODAY Sports
"We have not played a team like Iowa State," Blair said. "They've had an opportunity to play Baylor and Texas and a little bit of Oklahoma State that are similar to us.
"You are looking at a well-coached team. [Bill Fennelly] recruits to a system, and they do very well within his system, and he has done it year in and year out."
Wednesday night against Finnelly's Cyclones pits former Big 12 rivals against each other. A&M has won the last four contests with Iowa State, the last of which came in January 2012 before the Aggie departed for the SEC.
Iowa State advanced after a close win over Michigan State on Monday night, 79-75. Joens led the scoring with 33 points.
The Cyclones are 17-10 this season, finishing fourth in the Big 12. This matchup will be the first meeting between the two programs in the NCAA Tournament, and Iowa State leads the all-time series, 14-8.
Never miss the latest news from TexAgs!
Join our free email list