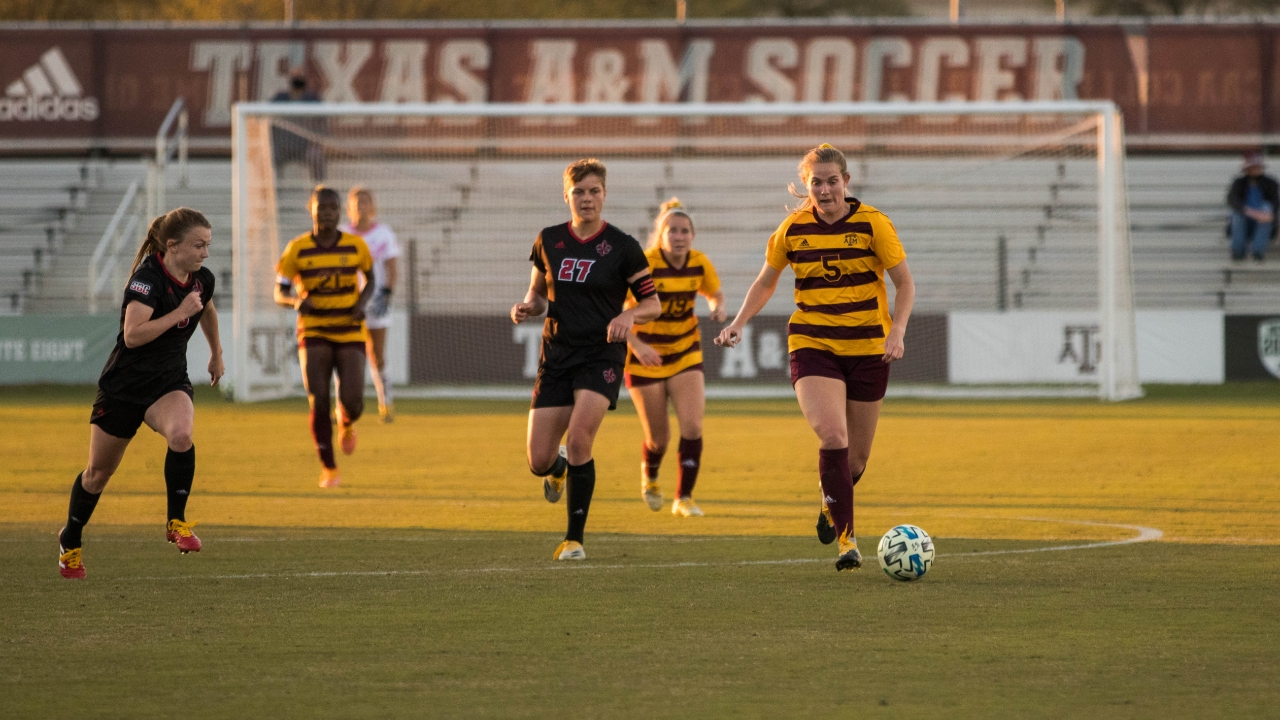 Photo by Angelina Alcantar, TexAgs
Texas A&M Soccer
Aggie soccer gets back on track with 2-0 win over Louisiana-Lafayette
---
Over $7,000 earned and a win with 10 shots on goal makes for a pretty good match.
For the first time ever, No. 12 Texas A&M soccer faced off against Louisiana-Lafayette. Wearing golden jerseys in the spirit of the annual 'Turn it Gold' match, the Aggies defeated the Ragin' Cajuns, 2-0.
Texas A&M coach G. Guerrieri said he thought his team had something to prove following the Aggies' Monday night loss to Rice.
"I thought that the team responded well," Guerrieri said. "I thought that we clicked pretty well tonight. There's still that last pass that we've got to be able to make to really stick the dagger in the heart on people."
"It was awesome to just break the floodgates and be the one to do it. It's cool to score."
In an eventful first and second half transition, the Aggies were able to put two goals on the scoreboard relatively close to one another.
A&M's' lone senior, midfielder Taylor Ziemer, shot a ball to the right corner with 1:59 left in the first half. Louisiana-Lafayette sophomore goalkeeper Lauryn Starwood was unable to make the save.
Ziemer said that it felt good to be the one to put the Aggies on the scoreboard.
"It's always awesome to score, and I think we deserved it," Ziemer said. "It was awesome to just break the floodgates and be the one to do it. It's cool to score… it just means a lot when anybody scores."
The Aggies' next goal came from freshman forward Laney Correll during the 55th minute of the contest after Ragin' Cajun senior midfielder Izzy Wheeler fouled Carroll inside the 18-yard box.
Wheeler was given a yellow card, and Carroll scored on the penalty kick.
Sophomore midfielder Kendall Bates, who had three shots, said the Aggies forced Louisiana-Lafayette to make the fouls they did.
"I think their fouls were honestly smart to some extent," Bates said. "But I think it just shows that we were able to get in behind them and force them to make those fouls. I think it's just a good balance, but we do our best to be smart when we're aggressive."
The maroon and white's defense was incredibly dominant, only allowing Louisiana-Lafayette two shots, zero of which were on goal.
Sophomore goalkeeper Kenna Caldwell did not have to make any saves during the game, with none of the shots being on goal and her defense clearing every other ball.
In addition, A&M maintained possession 65% of the time in front of the 767 fans who came for the spring home opener.
The Aggies were able to post a total of 21 shots, 10 of which were on goal.
A&M's next game will be against Texas State on Saturday, March 27. Kickoff is set for 7:00 p.m.
The Turn it Gold Fundraiser is still ongoing, with all proceeds going toward improving the lives of children living with cancer and their families.
Never miss the latest news from TexAgs!
Join our free email list