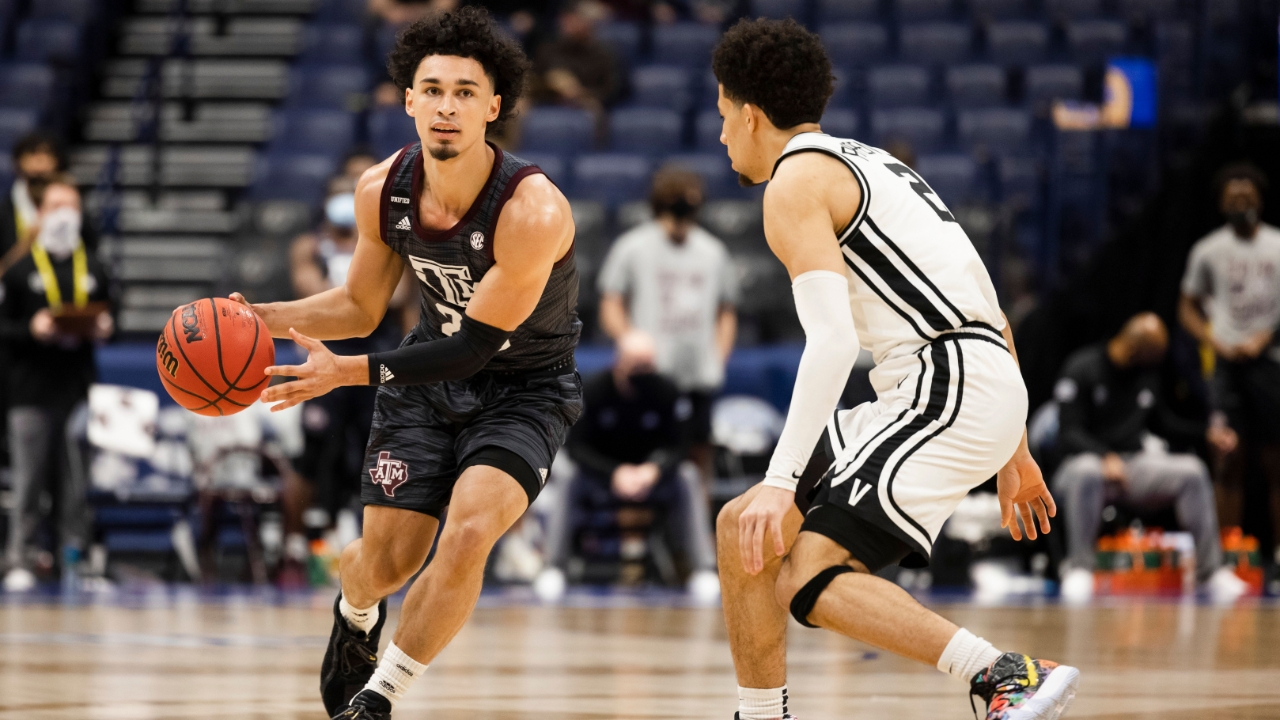 Buzz Williams
Emanuel Miller
Hassan Diarra
Texas A&M Basketball
Vanderbilt ends Texas A&M's season in SEC Tournament opener, 79-68
---
Much like their entire basketball season, the Aggies struggled often but showed signs of progress. Ultimately, however, they were too erratic to overcome their shortcomings.
That was certainly the case on Wednesday night as Texas A&M's season came to an end with a 79-68 loss to Vanderbilt in the opening round of the Southeastern Conference basketball tournament.
The Aggies (8-10) fell behind by as many as 13 points in the first half but rallied to tie midway through the second half. Alas, A&M could not keep up with the Commodores (9-15), who converted a dozen three-pointers.
"I can promise you guys one thing. We're going to bounce back and we're going to be a way better team next year."
Sophomore forward Emanuel Miller scored 22 points, senior guard Jay Jay Chandler had 11 and senior guard Quenton Jackson and Hassan Diarra each had 10 to lead the Aggies. But A&M only converted 28 percent (7 of 25) from three-point range. Two of those came in the closing minutes when the outcome was already decided.
Scotty Pippen Jr. only hit one of Vandy's threes en route to 22 points. However, guard D.J. Harvey hit a trio of treys on the way to 17 points.
"We know they're going to shoot a lot of threes. So long shots equal long rebounds. We had to finish the possession with a rebound," Texas A&M coach Buzz Williams said. "There was 38 percent of the time we didn't do that. To give up as many offensive rebounds as we did...that kind of led to more 3-point field goal opportunities for them. I think that was the difference in the game in many respects."
In another respect, the difference was the slow start that put the Aggies in an early hole.
A&M had previously come back from a 33-day layoff because of COVID-19 and inclement weather to get strong starts in competitive losses to Mississippi State and Arkansas.
This time they hit just 4 of their first 16 shots to fall behind 23-10.
"We can't start the game like that," Diarra said. "We have to play better when we start. We have to have energy from the get-go."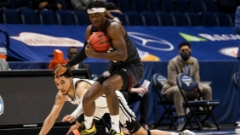 SEC/TeamCoyle
The Aggies did get going in the second half. Diarra hit a pair of three-pointers and Chandler had another as a 13-0 run forged a 45-45 tie with 11:33 to play.
However, Vanderbilt responded by outscoring the Aggies 15-4 over the next five minutes.
A&M made another charge to pull within 62-58 on a tip-in by Miller with 4:09 remaining.
Clevon Brown hit a triple to start a 7-0 Vanderbilt run that was too much for A&M to overcome.
That left the Aggies hurting and looking ahead to next season when help from a Top 25 recruiting class is due to arrive.
"This moment right now sucks," a dejected Miller said. "It kills. It hurts. But that pain, the emotions I'm feeling right now, is just me getting ready and being excited for next year.
"I can promise you guys one thing. We're going to bounce back and we're going to be a way better team next year."
Never miss the latest news from TexAgs!
Join our free email list