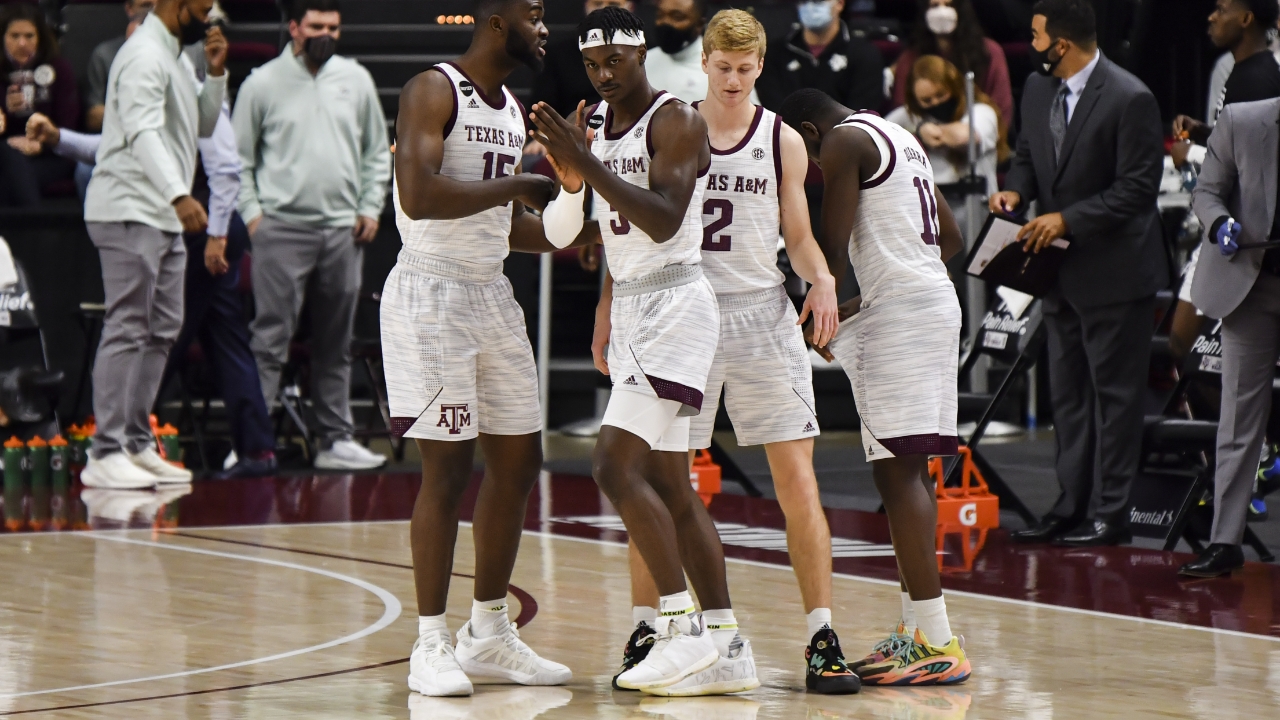 Photo by Jamie Maury, TexAgs
Texas A&M Basketball
Miller, Aggies aim to cook up some late-season magic in Nashville
---
Although struggling much of the basketball season, Texas A&M heads to Nashville for the Southeastern Conference Tournament with a shot at success.
Or to be more particular, a mid-range shot.
The Aggies (8-9) have gotten a recent scoring boost from star sophomore forward Emanuel Miller, who has added a mid-range jumper to his shooting repertoire.
"Transitioning to my sophomore year, I'm experiencing new defenses, teams are starting to guard me," Miller said. "I have to find different ways to score. The mid-range shot has really been helping me because it allows the defenses to press upon me even more, which allows me to either shoot the ball, drive the ball or create for my teammates."
That added versatility and the options it creates seem to enhance the Aggies' chances to get by Vanderbilt (8-15) on Wednesday night and perhaps beyond.
A&M tips off against the Commodores at 6 p.m. at Bridgestone Arena. The game will be televised on the SEC Network.
"The mid-range shot has really been helping me because it allows the defenses to press upon me even more, which allows me to either shoot the ball, drive the ball or create for my teammates."
A&M is the SEC's lowest-scoring team, but the Aggies got an offensive surge in an 87-80 loss at Arkansas last Saturday.
That surge was led by Miller, who scored 23 points and dished four assists. Miller, who averages 15.9 points per game, has done the most of his scoring inside and at the foul line. But he's made seven mid-range jumpers since the Aggies returned from their 33-day interruption because of COVID and inclement weather.
"It is a part of his game that he has worked on," A&M coach Buzz Williams said. "We were able to do a lot of individual workouts during the quarantines. Not every player, but he was one of the players who was able to."
"It's just the next evolution in what he needs to add to his game. Now, all of a sudden if you can make a 15- to 17-footer consistently, guys have to guard you. Now, what you were known best as — as far as being a straight-line driver — now because you can shoot they have to press up, and that gives you even more space."
Williams said Miller's four assists against Arkansas were largely a byproduct of his increased shooting range.
"Now that he can shoot guys have to press up," Williams said. "Now, if you're very effective off the bounce downhill you're going to force rotation. Now, when you force rotation can you get fouled? Can you make a play for someone else? Those four assists were huge for us at Arkansas."
Williams indicated the Aggies will need all the versatility they can get to defeat Vanderbilt. Though the Commodores have struggled, they've shown significant improvement of late.
Vanderbilt has posted recent victories over Ole Miss and Cincinnati. Star guard Scotty Pippen Jr., who averages 20.6 points, scored 36 in a 78-64 victory at Cincinnati last Thursday.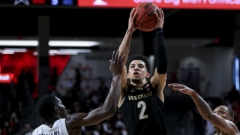 Aaron Doster-USA TODAY Sports
"I think they have been playing the best they have played all season," Williams said. "Last week at Cincinnati, I understand Pippen scored 36 but their team was playing arguably as well as they've played all year long. I think over the last two weeks, Vanderbilt has had their best two weeks of the season."
Frankly, much of the same could be said for A&M. Despite falling to Mississippi State and Arkansas, the Aggies have been playing some of their best basketball of the season since returning from their long pause.
Miller's play is a big reason. He posted double-doubles in both games with a total of 47 points and 23 rebounds.
Perhaps not coincidentally, Quenton Jackson has scored 36 points and Savion Flagg has had 28 in those two games.
Miller has more options and decisions.
"It's a delicate line," Williams said of Miller. "Do I need to shoot this shot? Or is this the time for me to turn it downhill and drive it? Or turn it downhill and create an uncontested shot for someone else?"
"I think all of those things are interconnected. But being able to make a 15 to 17-footer with the consistency he has the last two games, some of those doors are beginning to open a little wider."
It may open the door for the Aggies to have some success in Nashville, too.
Never miss the latest news from TexAgs!
Join our free email list
PRESENTED BY