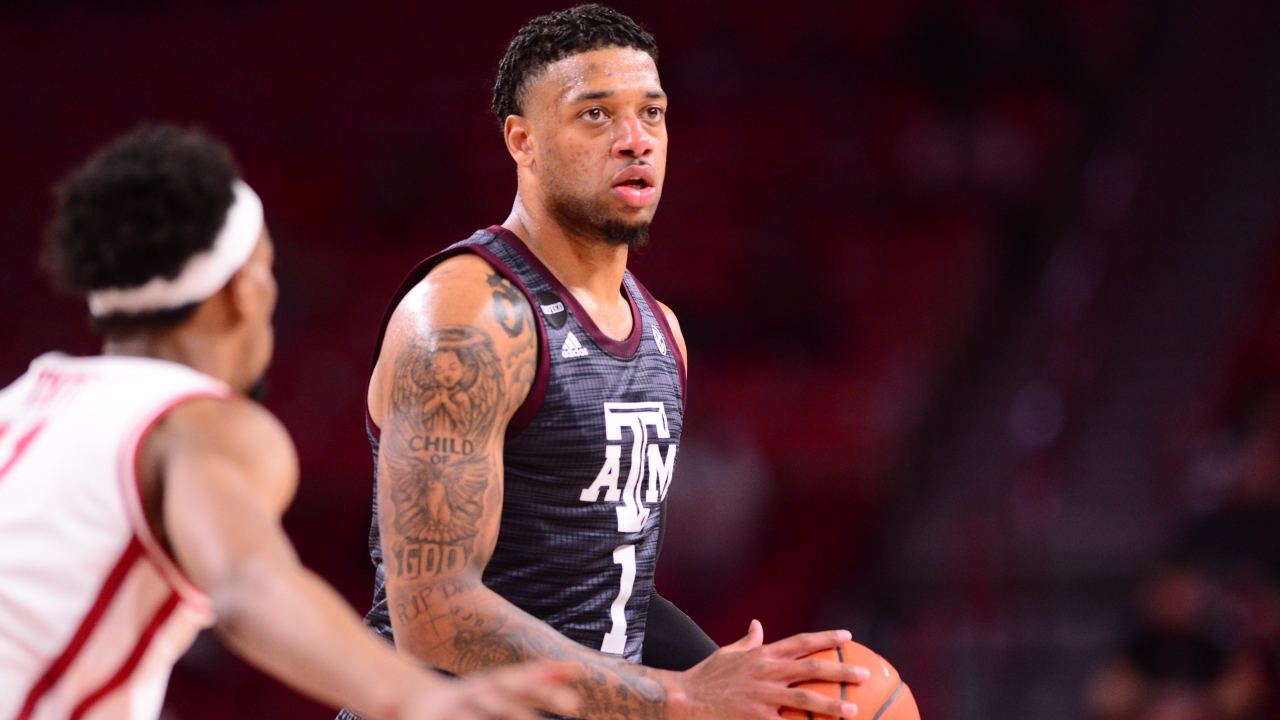 Buzz Williams
Jackson and Flagg
Texas A&M Basketball
Aggies come up short to No. 12 Arkansas, 87-80, to close regular season
---
The difference between No. 12 Arkansas and struggling Texas A&M — at least on Saturday — was one missed shot in the last minute.
The Aggies (8-9, 2-8) ran stride-for-stride with the Southeastern Conference's highest-scoring basketball team but were edged at the tape in an 87-80 loss in Fayetteville.
A&M trailed 81-78 with less than 30 seconds remaining. Jay Jay Chandler found Quenton Jackson open in the corner for a potential game-tying shot.
Jackson, who hit five treys, hit the front iron and didn't get a favorable bounce. Arkansas (21-5, 13-4) rebounded and closed out its 11th consecutive SEC victory.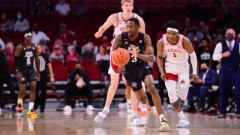 Arkansas Athletics
"I thought it was going in for sure," Jackson said of his near-miss. "It hit the front of the rim and bounced on the backboard. I thought it was going to fall in, but it didn't. (We've) Just got to keep pushing."
The Aggies, who haven't played as many games as Arkansas has won, pushed the Razorbacks to the limit.
Buoyed by a pair of 3-pointers by Andre Gordon and one each from Chandler and Savion Flagg, A&M launched an 18-2 run to take a shocking 35-21 lead with 7:11 remaining in the first half.
The Aggies maintained the advantage until Arkansas' guard Jalen Tate hit a jumper from the elbow for a 58-57 lead with 11:58 to play in the game.
From there, the lead changed six times until Moses Moody hit a 3-pointer to put Arkansas on top, 79-78.
A&M then committed the most critical of its 17 turnovers.
"The thing that hurt us today from a margin standpoint is we just had too many turnovers," Williams said.
Guard Davonte Davis deflected and stole a midcourt in-bounds pass by Flagg. That led to a Justin Smith dunk that put Arkansas up three with 34 seconds left.
Jackson looked like he had the answer on the ensuing possession but was just off the mark.
"I was watching Q's feet. I thought his feet were lined, so in my opinion, it was a good shot. It was the shot we wanted. We were trying to shoot and make a 3 to tie the game."
"It was a draw-up," Williams said. "We had not run (the play) since we have been here. It was exactly what we wanted. Our guys did a great job. Down three. Side out. Short clock. Exactly what we wanted.
"I was watching Q's feet. I thought his feet were lined, so in my opinion, it was a good shot. It was the shot we wanted. We were trying to shoot and make a 3 to tie the game."
That A&M was in a position to tie in the final minute was an accomplishment in itself.
Arkansas had posted seven consecutive conference victories since falling to Oklahoma State in the SEC/Big 12 Challenge on Jan. 30.
Because of COVID-19 issues and inclement weather, A&M has been largely idle in that span. The Aggies had played just one game — last Wednesday against Mississippi State.
Also, the Razorbacks entered the game with an SEC-best 83.2 scoring average. A&M was averaging an SEC-low 63.1 points.
But Emmanuel Miller and Jackson both scored 23 points. Flagg had 16, and Gordon had nine to allow the Aggies to keep up with the high-scoring Razorbacks, led by Moody with 28 and Tate with 22.
"I do think our guys are playing with a level of confidence," Williams said. "(They're) Almost liberated — if that's the appropriate word — after what they've been through. Like, 'Man, we're just thankful we're getting to play, and let's play for one another.'
"We had 14 assists. That tells you our guys are playing for one another. I think that's an attribute I've been most pleased with."
Yet, no matter how valiant the effort of threatening an opponent on the brink of entering the Top Ten, the Aggies were not pleased.
"We don't really look at the rankings and all of that," Flagg said. "We go against every team, treating every team with the same respect whether it's Rice, Southeast Louisiana, Kentucky, Arkansas. We expect to win every game no matter the name of their jersey."
Never miss the latest news from TexAgs!
Join our free email list