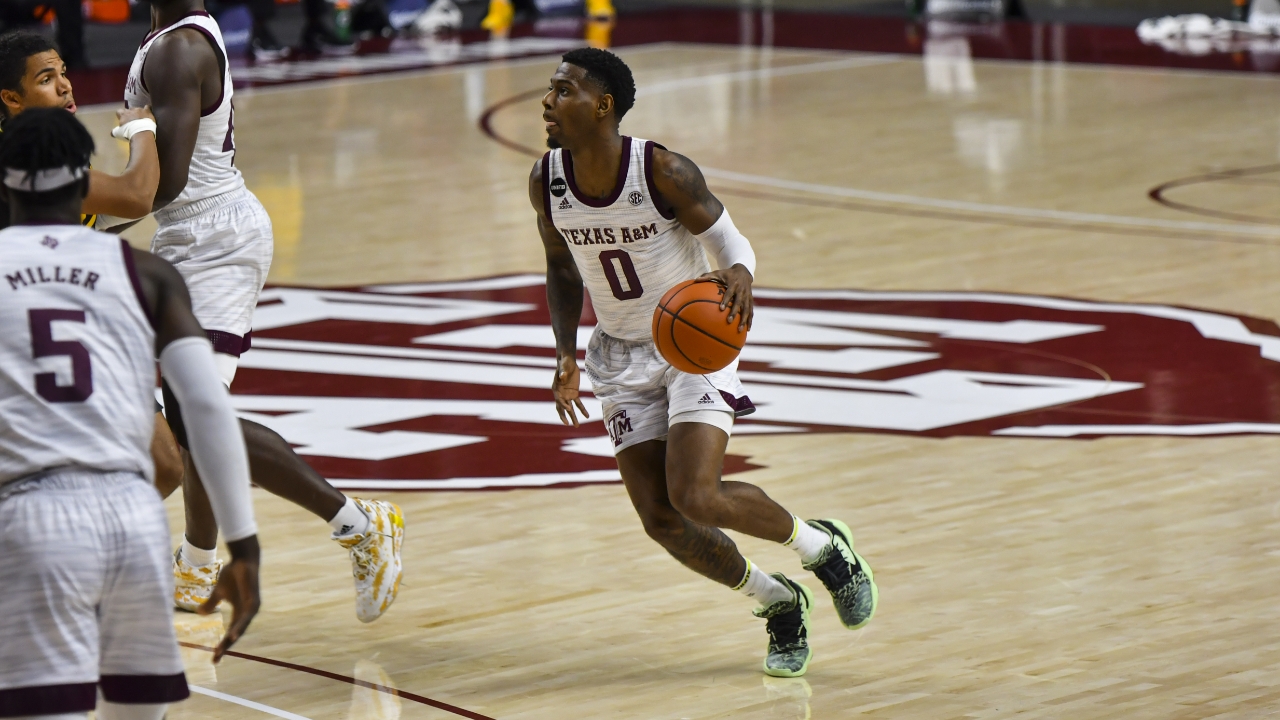 Photo by Jamie Maury, TexAgs
Texas A&M Basketball
Aggies take aim at two opponents: visiting Bulldogs and a month of rust
---
It seems like a month of Sundays since Texas A&M has played a men's basketball game.
Actually, it's "only" been a month. To be exact, 32 days have passed since the Aggies defeated Kansas State 68-61 on Jan. 30.
But the long pause caused by COVID-19 and inclement weather comes to an end on Wednesday night when A&M (8-7, 2-6) resumes its season against Mississippi State (13-12, 7-9) in a Southeastern Conference clash at Reed Arena.
It will also be Senior Night to honor seniors Savion Flagg, Jay Jay Chandler, Quenton Jackson and Kevin Marfo, who may be playing their last game at Reed.
"There is optimism for our guys in a very simple way, they're excited just to play," Aggies coach Buzz Williams said on Tuesday. "That does not necessarily mean we're going to be aesthetically pleasing. For a player to be able to play after such a month unlike any other they've ever experienced, I think there is some excitement in that regard."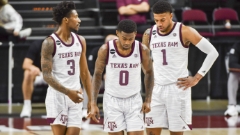 Lia Musgrave, TexAgs
No doubt, there will be plenty of excitement. There also figures to be plenty of rust, mistakes and substitutions.
As the Aggies have endured COVID protocols, they've had only one practice with the entire team involved since Feb. 1.
In many cases, they only had four or fewer players eligible to practice.
"Will we mess up a play? The answer is for sure prior to the first media time out," Williams said. "Will somebody forget a play? Yes. Will I call the wrong play relative to who's in the game? The answer is yes because some of the groupings of who's going to be in the game I don't anticipate will have many reps up until this point."
Combine the likely confusion with compromised conditioning and the outlook doesn't appear promising, even though A&M defeated Mississippi State 56-55 in Starkville on Jan. 13.
Chandler scored 12 points, Andre Gordon had 11 and Emanuel Miller had 10 in that victory. The Aggies closed the game on a 12-5 run.
"That was a good win," Williams said. "We were pretty good in the second half at their place. On the glass. It was our lowest turnover game up until that point."
Williams also offered a warning.
"If you look at their numbers when we played them in mid-January and where they're at in early March they have really, really improved. They were 110th defensively in some of the numbers that you study when we played them. They're in the top 40 now."
Mississippi State is ranked 33rd in the nation in field goal percentage defense. Opponents are shooting just 40.1 percent against the Bulldogs.
"There is optimism for our guys in a very simple way, they're excited just to play."
Forward Abdul Ado is second in the SEC in blocked shots. Forward Tolu Smith is 13th. Also, guards D.J. Stewart and Iverson Molinar average more than 16 points and a steal per game.
The Bulldogs have won two of their last three. The defeat was by five points to No. 6 Alabama.
"Their team has changed in a good way," Williams said. "And they have been playing and practicing. You can kind of see their progression as they've gotten to this point."
There are so many factors working against the Aggies. Winning remains the goal, but Williams is also looking for answers to several questions.
"Did we compete? Did we give our best?" he said. "Did we play together? We were unselfish? Were we on the same page in what we were trying to accomplish on both ends?"
Those might seem like modest goals. But after an idle month, modest goals make sense.
Never miss the latest news from TexAgs!
Join our free email list
PRESENTED BY