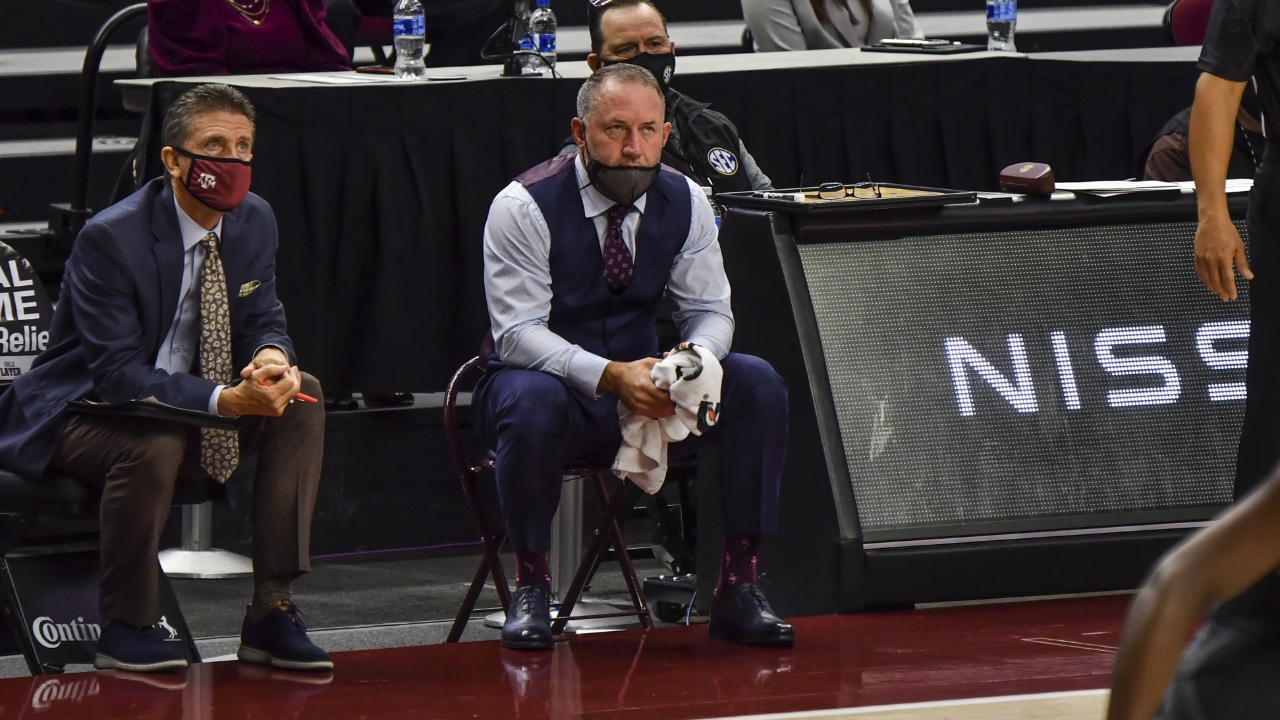 Photo by Jamie Maury, TexAgs
Texas A&M Basketball
A&M won't opt out of SEC tourney despite COVID-19 issues says Williams
---
Texas A&M basketball coach Buzz Williams said Saturday that the three-week interruption to the Aggies' season would not cause his team to opt out of the Southeastern Conference postseason tournament.
Sidelined by COVID-19 issues and inclement weather, Texas A&M (8-7, 2-6) has not played since defeating Kansas State 68-61 in the SEC/Big 12 Challenge on Jan. 30.
"Our guys want to play," Williams said. "As soon as we can play, we want to play. We were scheduled to play today (against Arkansas). We were going to meet the SEC minimum on guys suited up to play. We were going to play, and those guys that were able to play were excited to play. Those that weren't (able to play) understood why they couldn't."
The SEC Tournament is scheduled to start on March 10 in Nashville. That's less than three weeks away. Only three games remain on A&M's regular-season schedule, and a game at Kentucky on Tuesday night seems to be in jeopardy of being postponed.
"Our guys want to play. As soon as we can play, we want to play."
A&M officially is listing missed games as "postponed," though it's highly unlikely all — if any — will actually be made up.
Current standings project A&M to face South Carolina in the first round of the SEC Tournament. The conference might juggle seeding because teams have not played the same number of games.
"I don't know exactly how that will play out," Williams said. "We'll do whatever they want us to. We'll be happy to play whoever it is at that time will be able to play. They're (A&M players) anxious to play now and have been anxious to play."
A&M's basketball program had gotten through the fall and the first two months of the season without any positive COVID-19 tests.
But there were positive tests within the program after the team returned from Manhattan, Kansas. That caused the postponement of a Feb. 3 game against Vanderbilt. Following games scheduled against Arkansas on Feb. 6, Georgia on Feb. 10, Florida on Feb. 13, Alabama on Feb. 18 and Arkansas on Saturday were also postponed.
"We'd been fortunate that we've been able to go from the fall up until the first day of this month. We had no hiccups," Williams said. "And then one hiccup has led to multiple hiccups. That's typically what happens inside of a team. You try to catch the spread as soon as you can, but then it just kind of gets away from you. You just do your best."
Teams must have one coach and seven scholarship players to meet the SEC minimum standard required to compete.
A&M had spent much of last week practicing with just four players, but by Monday, the Aggies had met the minimum requirements to play Alabama.
However, an unprecedented cold blast dropped temperatures as low as five degrees and crippled College Station with snow and ice forced that game to be postponed twice.
The weather also delayed results of COVID-19 testing early in the week. The next results were available on Friday and showed another positive test, which forced the postponement of tonight's Arkansas game.
Never miss the latest news from TexAgs!
Join our free email list