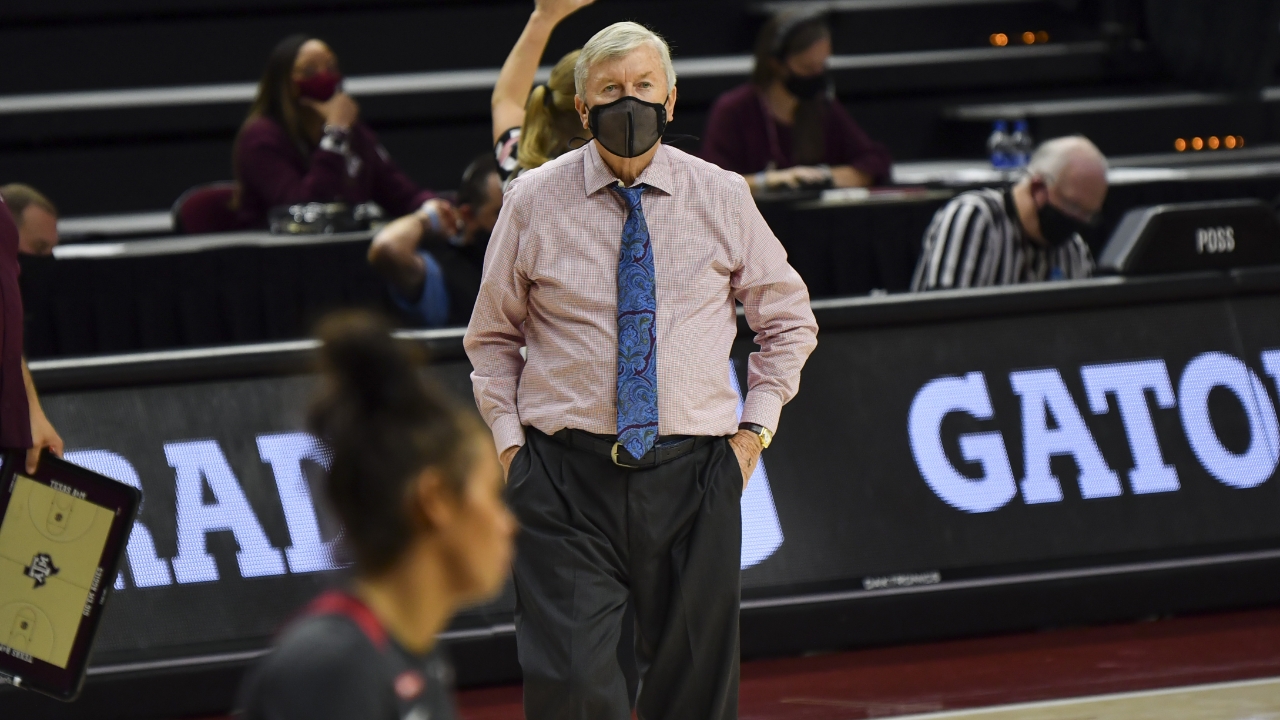 Photo by Jamie Maury, TexAgs
Texas A&M Women's Basketball
Gary Blair dissects A&M's latest winning streak, Jordan Nixon's clutch gene
---
Key notes from Gary Blair interview
In fact, after the win we had on Sunday afternoon, I came home and sat in my gray recliner. My wife went to a Super Bowl party, but I stayed in my recliner and watched the game, answering emails. It was good to sit on that recliner, eating junk food and feeling good about our win earlier in the day.

I teach off of everything. I've taught off of Buzz's play when Andre Gordon won that game here at home. I'll teach off football games and how they executed something where the offensive lineman had to make a key block. I will be teaching tomorrow about Athing Mu in the 400m. I will be showing her excellence to our team. I went to that meet to see her run; I wanted to see it for myself. I teach off everything I can, from NBA to WNBA games and special messages, such as the poet at the Inauguration, Amanda Gorman. You can do so many things to get young people's attention, and it doesn't have to be X's and O's. We have to talk about the good, and there is so much good going on. I want to make sure my kids stay current right now.

We're No. 5 in the coaches poll. That's the first time we've been in the top-five in a long, long time.

Jordan Nixon is our fifth or sixth-leading scorer, but when the ball is in her hands, she's the decision-maker. Most quarterbacks do not score the most touchdowns, but they make the decisions. It's the same with catchers handling pitchers in baseball. We ran an Alan Iverson play. Kayla Wells ran across a double-screen with a post-up action. They threw it to N'Dea Jones, but Nixon called for the ball back. We ran a screen with Ciera Johnson — who might be the best screener I've seen. Nixon did the rest. We did not want to call the timeout, and we executed the defense on that last play to seal the win.

Wells is playing awfully well. She's learning. Sometimes she hesitates with that open shot because she hasn't been shooting the three well. Still, she hits those mid-ranges. She's happy with her game, and she's playing heavy minutes. When she comes out, we've got someone who can contribute. Destiny Pitts and others aren't bringing bench minutes to the table. They're bringing starter minutes.

I would have loved to have played Tennessee on Dec. 31. We were playing well then. They have also gotten much better. Their 6-6 player will be a WNBA player, and they have three perimeter players who were McDonald's All-Americans and will all be pros. We could have some problems defensively, but the main problem with Tennessee is keeping them off the boards. Last year when we beat them, Chennedy Carter went off for 37 points. They're so long that they can play zone. You might see 50/50 man-to-man vs. zone. If we can rebound even with them, we will have a good shot because of our shooters, who are good from the perimeter. N'Dea Jones will clean up a lot of our rebounding issues.
Never miss the latest news from TexAgs!
Join our free email list