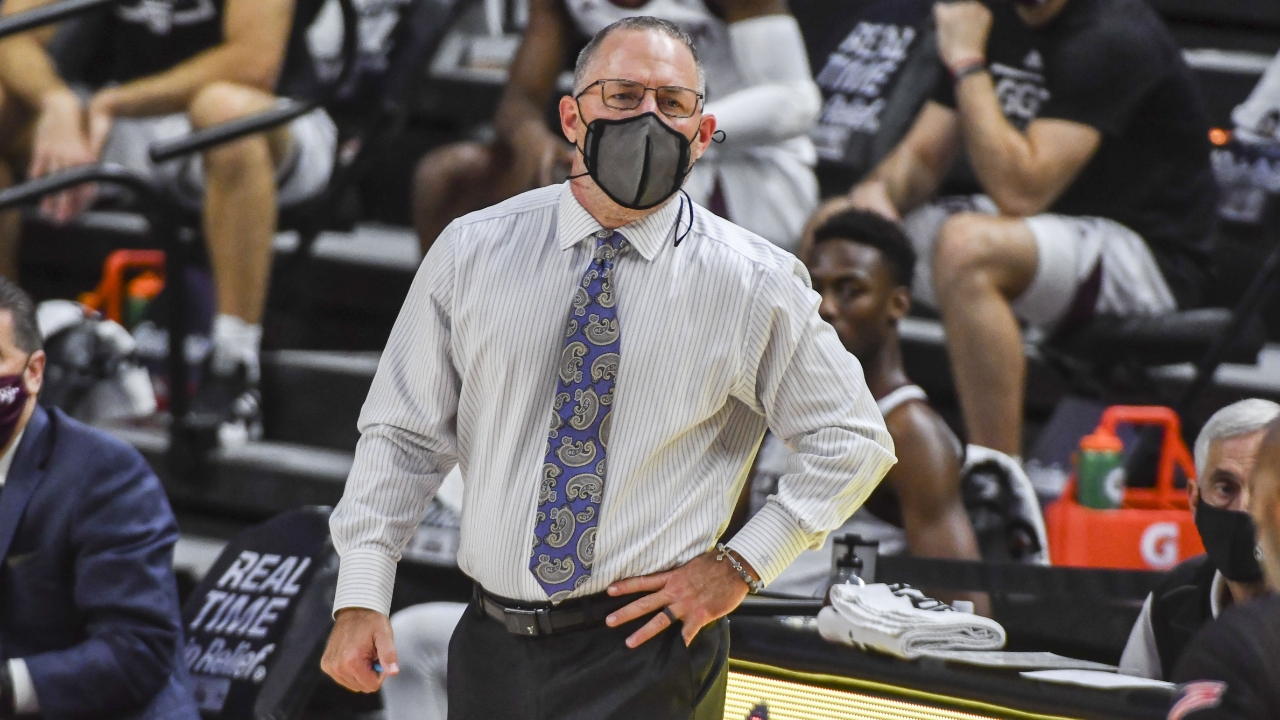 Photo by Lia Musgrave, TexAgs
Texas A&M Basketball
Williams, Aggies continuing to take it day-by-day during COVID pause
---
Key notes from Buzz Williams interview
One of the things I thought a lot about when they were texting me about this show is how fragile everything is. We won last week, and we're getting ready for our next game. Thirty hours later, everything happened, and our program was on hold. It's amazing how quickly this can all change.

It's delicate on what I can and cannot say regarding COVID-19, but this is the first time this has happened to us. Because of what has transpired each day, something has changed every day. We have all be in quarantine, including me. This began last Tuesday evening. Specific to this virus, based on what your tests reveal each day determines what changes and what doesn't with what we can do. We have done nothing. We have been at home alone. We have not been together face-to-face, and we have done zero basketball-related activities. Eventually, we will figure out when we can rejoin, but it'll play out based on what happens each day.

We have terrific kids. Sometimes, as a coach, I wish they could shoot better, run faster, or jump higher, but they're great kids. Everything they've been through over the last few months and how they've reacted has been incredible. Their character is fantastic. In many ways, I have learned more from them than they have from me.

You have to find creative ways to spend your time in isolation, but when you're a kid, you're probably alone. They have handled this amazingly, and they've been very mature. For us to get to the second week of February and not have an issue speaks volumes to how well we've handled this. There is no way to know how to avoid it because you cannot see this.

If you normalize what is going on, it changes your routine. Spacing everything out has become our new normal, and you have to be mindful of people's health, but you cannot normalize this. How can you make decisions so that history will judge how we've handled COVID-19 and social injustice in the right ways? I want to make decisions for their health, mental and physical, and I also want to impact them for the long-term.

My feeling is that we won't be going to Florida this weekend. I don't know right now, but for it to happen, a lot of good things would have to transpire, and a lot of good things have not happened recently. It would have to be perfect for us to go.

We are getting tested again tomorrow, and we won't know those results until tomorrow. The progression of what happens next depends on what happens today. We're in modes that are not based on when you are going to play next. We're in modes that are based on getting back together right now.

We played Lew Hill's UTRGV team because of my relationship with him. In 2004, I was 30 and about to turn 31. Acie Law was on the team. They hired coach Gillispie. In essence, I did replace Lew. When I was at A&M as an assistant, we were in the Big 12 competing against those Oklahoma teams.

Coach Hill had a great demeanor about him. I went up to him this year before the game, and I talked to him about everything that was going on. He took a tough job and had begun to build the program. His team was really good, and it took everything we had to beat them.

I got a text about Lew on Sunday. It's a reminder of how fragile all of this is. It's a great reminder to enjoy this moment because it's fleeting. His passing is very sad, and it's heavy. I'm praying for Lew's family, his staff, and his kids. A lot of people had their lives changed by his passing.

If you look at the roster when Billy Gillispie got here, the foundation was here because of Lew Hill. It's hard to argue what those guys that Hill brought in meant to that team. If you look at what Lew did at UNLV, Oklahoma and here as an assistant and what he did at UTRGV, he was part of changing programs for the better everywhere he went.
Never miss the latest news from TexAgs!
Join our free email list