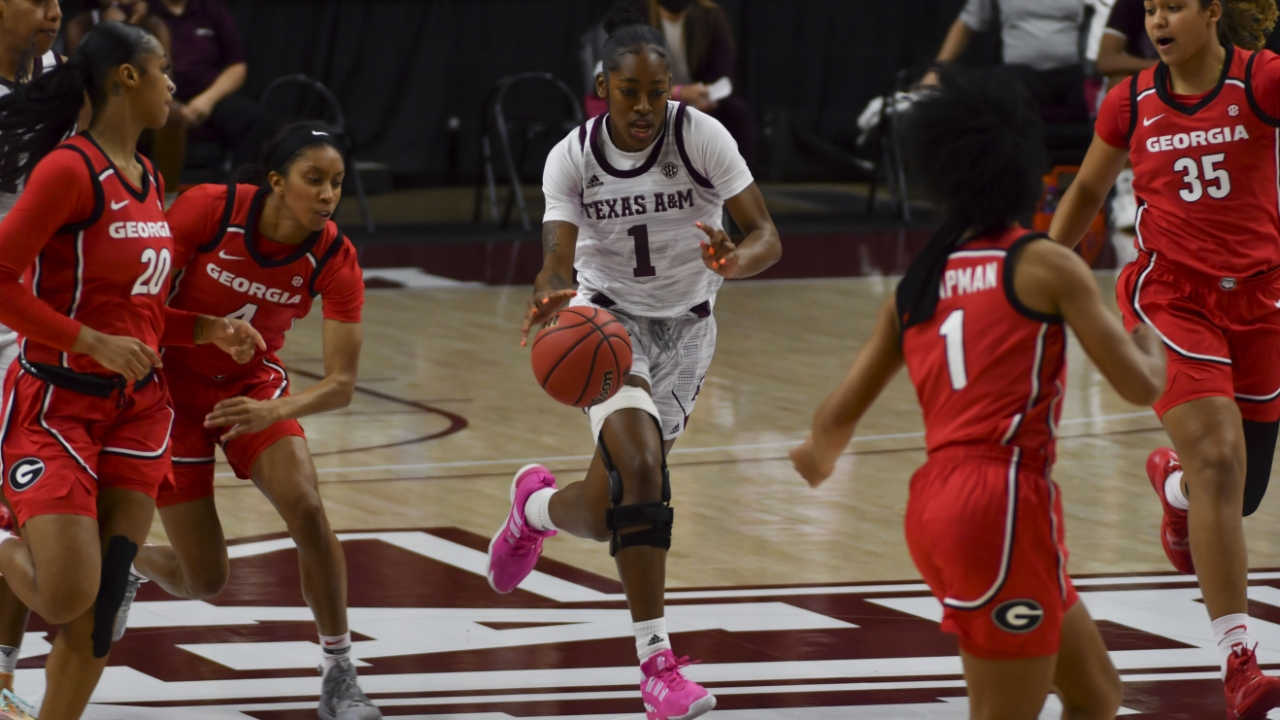 Gary Blair
N'dea Jones
Ciera Johnson
Texas A&M Women's Basketball
Strong second half performance lifts Aggies over Bulldogs, 60-48
---
No. 8 Texas A&M advanced to 16-1 on the season after the 60-48 victory over the No. 22 Georgia Bulldogs. Sunday afternoon consisted of both nostalgia and future success, as the Texas A&M women's basketball program welcomed back the 2011 National Championship team. Aggie forward N'dea Jones expressed postgame her feeling of playing in front of the 2011 team.
"We played with a lot of pride today," Jones said after the game. "We wanted to show our appreciation for them because they paved the way for success."
Just like the 2011 championship team, the current Aggies used the recipe of "defense wins championships" to remain undefeated at home and keep their winning streak alive. Georgia, which had scored 50-plus points in every game this season thus far, was held to a season-low 48 points on 19-61 (31%) shooting.
"Game plan is everything," Coach Blair said after the game regarding the defensive performance. "We have a lot of different schemes that we executed at a high level today."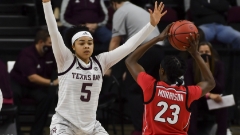 Lia Musgrave, TexAgs
Although A&M played great defense, especially in the first half, the Aggies and Bulldogs were tied at 22 going into halftime. Coach Blair demonstrated at halftime why he is a hall of famer, as he made a key adjustment to start Alexis Morris in the second half to up the tempo. The Aggies ended up scoring more in the third quarter (24) than they did in the first half.
"We pushed the ball more in transition in the third quarter," Aggie center Ciera Johnson said. "The timing of our plays was better and we executed at a higher level."
However, with a 46-35 lead going into the 4th quarter, the script flipped as the Aggies shifted to a slow pace, relying on their combination down low. Shortening the game, Texas A&M gave the Bulldogs no shot of coming back and advanced to 9-0 at home on the season.
On Thursday, Texas A&M will look to move to 10-0 at home as the Aggies host the LSU Tigers, the only team to defeat the Aggies so far this year. N'dea Jones shared postgame what she thinks is the most important aspect to change from their visit to Baton Rouge.
"Turnovers will be our biggest focus," Jones said. "LSU does a good job forcing turnovers, so we will need to take care of the ball more."
Thursday's game against LSU will tip off at 8:00 p.m. and will be streamed on SEC Network.
MESSAGE FROM OUR SPONSOR
Special thanks to 12th Man Technology for their sponsorship of women's basketball postgame stories throughout the season at TexAgs! For the ninth consecutive year, WBB content will be available to you for free!
Never miss the latest news from TexAgs!
Join our free email list
PRESENTED BY